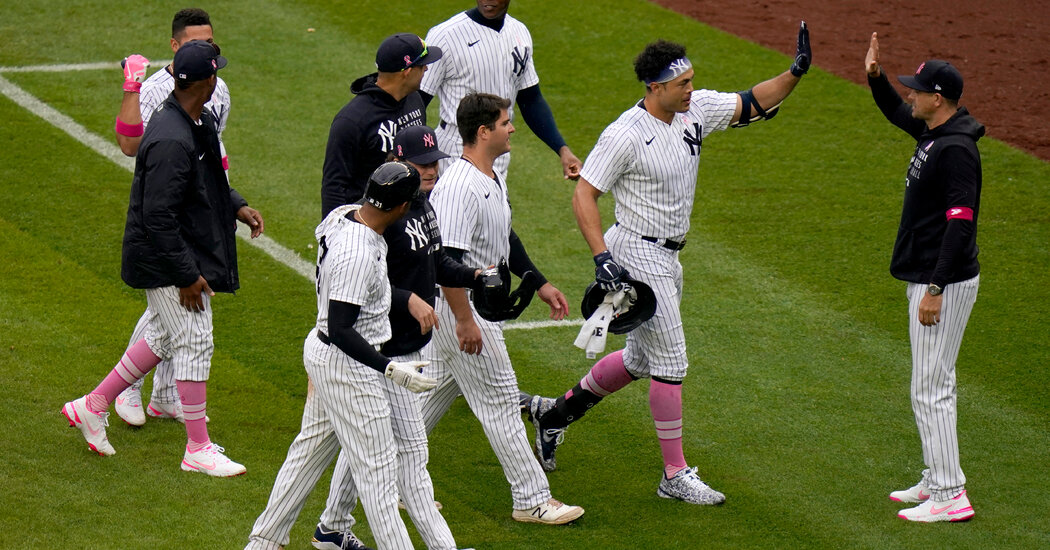 Not even the coronavirus pandemic kept Aaron Boone away from his players following the postponement of the start of 2020 season.
Boone, the Yankees' manager, made waves on social media that March when he recorded and lent his voice to a clip of pitcher Gerrit Cole throwing with his pregnant wife, Amy, at their Greenwich, Conn., home. The viral video was an example of Boone, 48, linking up with his players when baseball is out of season. He notably visited Gary Sánchez in the catcher's native Dominican Republic after a disappointing 2018 campaign and planned a similar trip to see Miguel Andújar, among others, in January 2020.
This off-season, however, a new obstacle has found a way to keep Boone away from his players.
As negotiations between the players' union and team owners continue for a new collective bargaining agreement, Major League Baseball's lockout of the players means team personnel, including managers and coaches, cannot contact players on 40-man rosters.
"I don't like it," Boone said with a laugh earlier this off-season, adding that winter exchanges are both a tool and a way of bonding. A manager can gather information on how a player is training or recovering from an injury, but such interactions also allow for a connection outside work.
"Just those simple things that you communicate, whether it be a phone call or a text message, I certainly miss," Boone said, adding his dismay over not knowing about players' families or holiday and vacation plans. "Especially with a lot of our players that we've been together now for four years that you have these strong relationships and history with."
At least Boone has the advantage of already knowing most of the players he's forbidden from talking to during the negotiations. Across town in Queens, the Mets hired Buck Showalter after the lockout began. He joins a long list of fresh faces in the organization: a mostly new coaching staff, General Manager Billy Eppler, and a group of free agents headlined by pitcher Max Scherzer, whose three-year, $130 million contract set a record for average annual value.
M.L.B. Hot Stove and Off-Season Updates
Showalter, 65, who last managed in 2018 with the Baltimore Orioles, has little personal experience with the players on his roster. He's tried doing some reconnaissance to make up for that, seeking out people who have played or worked with his players in the past. Showalter doesn't want to overdo that, though.
"There's been some situations where I've just kind of said where that's concerned, I want to make up my own mind," he said in late January. "It's good that the players know you have a fresh look. You're not going to be clouded by he said, she said, all the different things that go on. There's no secrets in the game. People are very willing to share information, but sometimes you get overloaded with it."
M.L.B. coaches, especially those who are new to their jobs, are in a similar position. With a new manager, the Mets had lots of turnover on their staff. So did the Yankees after a disappointing 2021 season, but they hired key positions from within — a decision that appears advantageous in these times of mandated radio silence.
For example, Dillon Lawson, the Yankees' new hitting coach, spent the last three years as the organization's minor league hitting coordinator. He's new to the majors, but not to many of the players he'll be coaching.
"I feel very lucky that I've been in the organization for the last three years," Lawson said last month. "One of the small benefits that came out of the 2020 season was the fact that it put me face to face with these players, whether it was at the alternate site or in the bubble, so there is experience with guys."
Lawson was able to spend time with players before the lockout, getting in the batting cage for workouts and going out to eat. His Tampa, Fla., residency put him close to the Yankees' player development complex, giving him and the players a chance to "get ahead of things" in anticipation of the work stoppage. It also gave Lawson a head start on relationship building, an important aspect of his job that he would have only had a "compressed window" for after the lockout.
Now unplugged from those players, Lawson spends time watching video of Yankees hitters and opponents alike (in addition to taking care of his 3-month-old son). Other Yankees coaches, meanwhile, are getting to know each other. New third base and outfield coach Luis Rojas — the man Showalter replaced in Flushing — spent time going over signs with Boone shortly after he was hired. Plans for spring training are starting to take shape, even as the chance of them being delayed increase with every passing day.
Still, Showalter is gearing up for a typical February, likely or not, after an off-season of interviews, house hunting and Zoom calls. He said he will head to Port St. Lucie, Fla., the Mets' spring training home, on Feb. 6 or 7. Assuming the lockout is still going at that point, he's hoping to run into some players who aren't on the 40-man roster — guys he won't get in trouble for speaking to.
"I think I'm just going to go down and wait 'til a player shows up, one that I can really talk to," Showalter said. "Some of the guys off the roster."