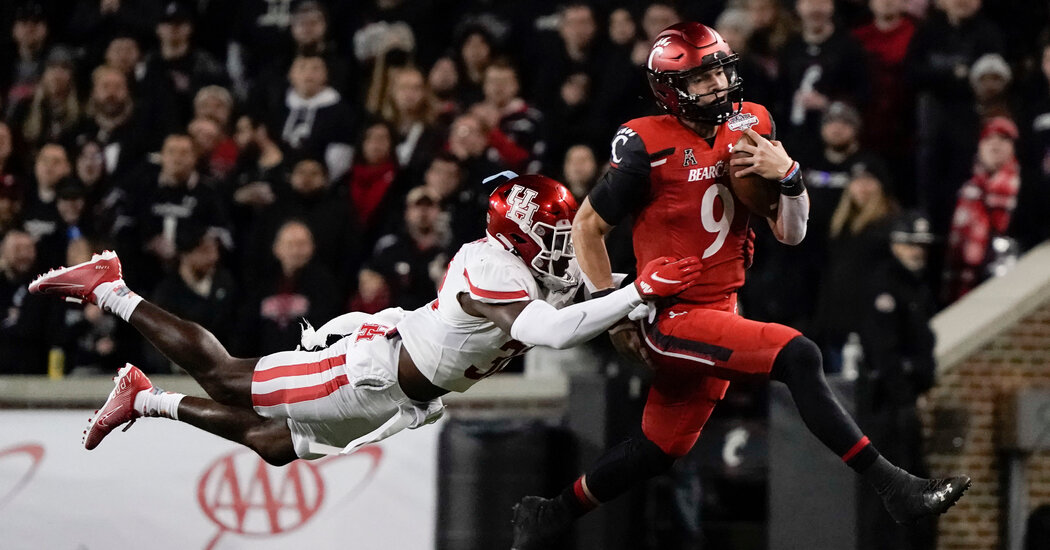 Kirby Smart, Georgia's coach, signaled Sunday that he remained supportive of Stetson Bennett IV, who was 29 for 48 with two interceptions against Alabama.
"Obviously, we have to play better in a lot of areas, but to put any part of that blame, or all of that blame, on Stetson, there's a lot more to it than that," Smart said. "We've got to play better around him. We've got to play better on special teams, defense and, really, all facets of the game."
Cincinnati (13-0) experienced nowhere near as much heartburn on Saturday, when it beat Houston, 35-20, in the American's league championship game. It had fixed a course for the playoff in October, when it went on the road and beat Notre Dame, 24-13.
The Bearcats have scored about 39 points per game and have averaged 429 yards of offense. The Cincinnati quarterback, Desmond Ridder, had a game this year in which he threw three touchdown passes, ran for a score and caught a throw for another touchdown.
But the Cincinnati defense has been particularly sturdy and has allowed an average of 4 yards per play this season. Cincinnati's opponents have scored a total of 25 touchdowns — the Bearcats have scored 70 — helping Cincinnati to lock down the conference lead for fewest points allowed per game (16.1).
"We don't want to think we're carrying some flag for the non-big schools, so to speak," Luke Fickell, Cincinnati's coach, said. "We just want to be us, and our guys have done an unbelievable job all year at kind of handling all of the different distractions and different things that we've kind of gone through with people trying to tell you how you need to play and what you need to do to have any chance."
In addition to the semifinal matchups, the playoff committee also announced pairings for four other major postseason games.