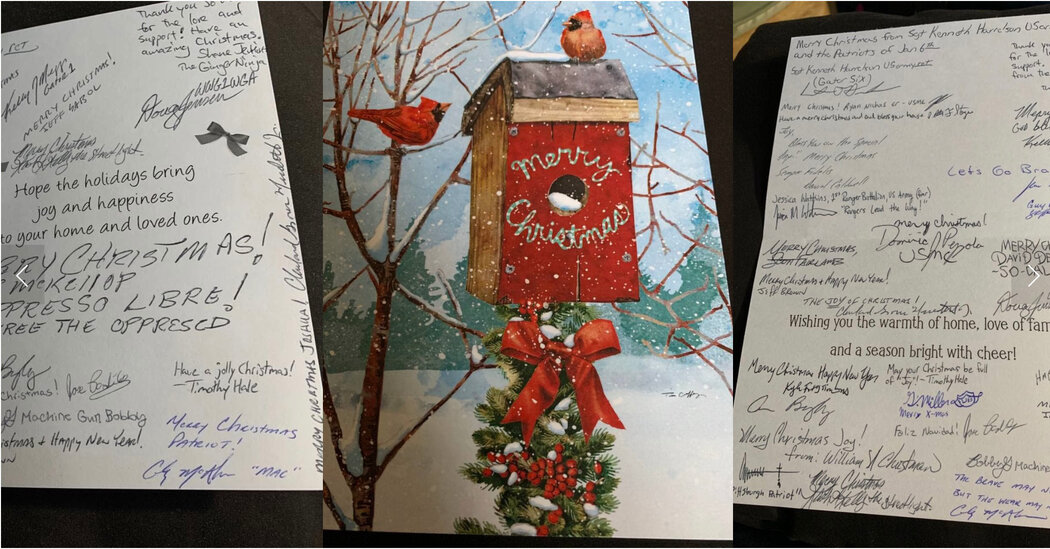 Washington's jails have long been a source of local shame and outrage. The U.S. Marshals Service recently reported finding sewage and water leaks at the jail, as well as instances of corrections officers withholding food and water as punishment. But the more extreme conditions were not in the section of the jail where the Jan. 6 defendants are held.
Karl A. Racine, Washington's attorney general, said last month that the squalid conditions in the jail — where most inmates are Black — had "received little attention until they were raised by mostly white defendants accused of perpetrating the Jan. 6 insurrection."
In court filings and accounts shared by supporters, though, the incarcerated Jan. 6 defendants have used these conditions to augment their portrayal of themselves as oppressed but resolute prisoners of war. Every night at 9 p.m., they stand to salute an American flag and sing "The Star-Spangled Banner."
But there have been cracks in this solidarity.
Steven A. Metcalf, a lawyer who represents two of the inmates — Edward Lang, a self-described social media influencer from Newburgh, N.Y., and Dominic Pezzola, a member of the far-right Proud Boys from Rochester, N.Y. — said he believed the government was purposely keeping the accused rioters together. "To see who is a leader, who is a follower and who might cooperate," he said.
But Mr. Metcalf said that an unhealthy environment had developed, with inmates in the "Patriot Wing" growing suspicious of who among them might be a government informant. He said that when one defendant mentioned another in a court filing, a fistfight broke out.
Key Figures in the Jan. 6 Inquiry
---
Questions have also arisen about creating a hothouse of sedition by keeping together like-minded inmates who are charged with attacking the seat of government.
In October, a lawyer for Thomas Sibick — a Buffalo, N.Y., man facing charges that include stealing an officer's badge and radio — told a federal judge that his client wanted to escape the Jan. 6 unit's "almost cultlike" environment so much that he had opted for solitary confinement. The judge released Mr. Sibick to the custody of his parents, in part because she worried that the unit's "toxic environment" might lead to further radicalization.