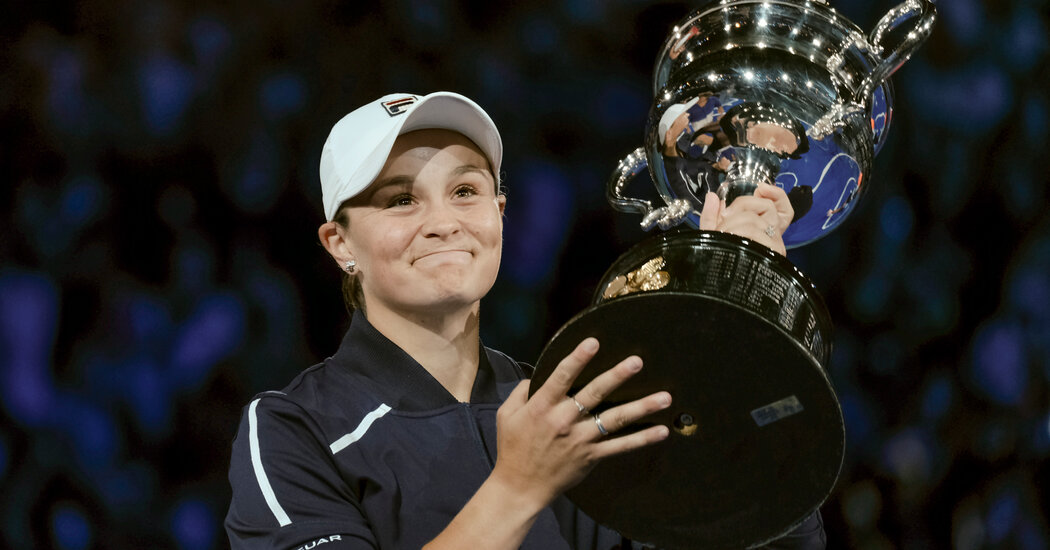 MELBOURNE, Australia — The 44-year drought was over in Ashleigh Barty's sunburned country. Barty, often inscrutable on a tennis court, had just finished letting her guard down with a full-flex howl of delight that could almost be heard above the roars in Rod Laver Arena.
Now, Barty, Australia's first Australian Open singles champion since 1978, was motioning to someone on the other side of the deep blue expanse, beckoning with both hands and a relaxed smile.
Casey Dellacqua emerged from the sidelines. They have been close for a decade — since Barty summoned the moxie at age 15 to ask her to play doubles — and it seemed appropriate on this fulfilling Saturday night that Dellacqua, now retired, be the first to embrace her.
"She brought me into the sport again," Barty said.
Dellacqua supported Barty's decision in September 2014 to leave the tennis tour. Barty, just 18, was depressed, lonely and desperate to live a more normal life than that provided by hotels and practice courts. And when Barty had spent more than a year away from the game, playing professional cricket and leaving the jet lag behind, it was Dellacqua who invited her out for a hit and helped her realize that she did indeed want to fully explore her prodigious tennis talent.
Barty returned to the tour in 2016 with no ranking but full commitment, and Saturday's 6-3, 7-6 (2) victory over Danielle Collins of the United States was the latest proof that she made the right decision, for herself above all, but also for her sports-mad country.
"She knows how proud I am of her," Dellacqua said as she sat next to Barty on the set of Australia's Channel Nine on Saturday. "Everybody thinks I have done a lot, but I cannot explain what Ash has done for me."
For a tennis nation like Australia, home to Rod Laver and Ken Rosewall and to grass courts in country towns and fancy clubs, it beggars belief that it would take 44 years to win any tournament, much less their own. But the drought was real in Australia, as homegrown champions like Patrick Rafter and Lleyton Hewitt and Samantha Stosur won major singles titles abroad but came up short in Melbourne.
Barty, now 25, has solved the riddle — aced it actually — by not dropping a set in any of her seven matches at this year's Australian Open.
Born and raised in the steamy Australian state of Queensland, Barty has been ranked No. 1 for more than 100 weeks and has become a hugely popular figure in her home nation. Her matches during the Open this year have attracted large television audiences.
But until now, her most significant triumphs also have come far from Australia. She won her first Grand Slam singles title in 2019 at the French Open and won Wimbledon last year when most Australians were unable to travel because of coronavirus restrictions.
But she was able to organize a "Barty Party" at home this year, defeating the 27th-seeded Collins in prime time.
After erasing two breaks of serve to rally from 1-5 deficit in the second set, she dominated the tiebreaker and finished off her victory with a forehand passing shot winner.
After hugging Dellacqua, Barty was presented the winner's trophy by another of her touchstones, Evonne Goolagong Cawley, a four-time Australian Open singles champion who, like Barty, is of Indigenous Australian heritage. The two women from different eras — Goolagong Cawley is 70 — have developed a deep connection, and Goolagong Cawley's appearance on Saturday night was kept a surprise from Barty, who had not seen her in a year.
"As an Aussie, the most important part of this tournament is being able to share it with so many people," Barty said in her victory speech. "You guys today in the crowd have been nothing shy of exceptional. This crowd is one of the most fun I've ever played in front of and you guys brought me so much joy out here today. You relaxed me and you forced me to play my best tennis and against a champion like Danielle I know I had to absolutely bring that today."
In truth, it was not Barty's best tennis: there were too many nervy shots, a first serve percentage of just 57 percent and even a missed backhand volley into an open court. But in light of the occasion and all that Aussie-Aussie-Aussie expectation, it was a stirring finish and it capped a dominant performance throughout the tournament.
Barty swept through the draw by controlled play with her precise and powerful first serve, crisply chipped backhand and versatile topspin forehand. She won 82 percent of her first serve points against Collins, an aggressive returner, working wonders repeatedly with her sliced serve in the deuce court and fighting through some shaky patches to find the angles and lines when she needed them most.
Barty has not beaten a player ranked in the top 10 in any of her three Grand Slam singles victories. That is not her fault, of course, and there were seven other top 10 players in Melbourne this year.
Collins will surely harbor some regrets about the second set. She was in firm command at one stage and seemed to be relaxing under duress while Barty was tightening, double faulting twice to go down 1-5. But though Collins was within two points of winning the set in three different games, she could not close the deal as the near-capacity crowd gave Barty nothing but positive reinforcement, meeting Collins's errors with cheers and her winners with polite applause.
Collins was unusually subdued early, though was soon pumping her fist and shouting her trademark "Come on!" But she said she has struggled with back pain during this deep run in Melbourne, which explains why she has been standing up on changeovers instead of taking a seat, and neither her body nor her nerve could sustain her in the second set.
"She started to push me back in the court a little bit more. I think I was having some issues really being able to fully rotate on some of my shots to be able to get my shots to where I needed them to be," Collins said. "It was really unfortunate, but did everything I could, tried to push through it, fell short."
Collins delivered an eloquent, moving speech, breaking into tears as she thanked her mentor, Marty Schneider, doing justice to the occasion and to Barty.
"It's been tremendous to watch her climb the rankings all the way to No. 1 and live out her dream," Collins said.
It was a road game for Collins, but she has played plenty of those in her long and challenging climb from the public parks of Florida to a Grand Slam final.
Collins, 28, was a two-time N.C.A.A. singles champion at the University of Virginia and did not turn fully professional until she was 22, quite a contrast with Barty, who began her professional career at age 14.
Collins will rise to No. 10 in the world rankings after her run and become the top-ranked American for the first time. But she could not stop Barty from giving Chris O'Neil company. O'Neil, the last Australian to win the Australian Open in singles was an unseeded player ranked outside the top 100 who never made another deep run at a major tournament after her victory in 1978.
Barty has now solidified her spot as the world's top-ranked player and has won her three Grand Slam singles titles on three different surfaces, red clay at the French Open, grass at Wimbledon and hardcourt in Melbourne. The only Grand Slam singles title she has yet to win is the U.S. Open, although she did win the women's doubles title in New York in 2018 with her American partner, CoCo Vandeweghe.
At 5-foot-5, Barty is not physically imposing in a sport increasingly populated by taller players like the 5-foot-10 Collins. But Barty is a complete threat, able to adjust her game on the fly and hit a particularly wide variety of shots.
When she returned to tennis in February 2016, she did so with a new coach, Craig Tyzzer. They have formed quite a partnership and have worked to develop Barty's game while preserving her mental health and enthusiasm.
She did not compete on tour for most of 2020 because of coronavirus restrictions, and after her successful summer in 2021, she was weary and homesick and chose to return to Australia after losing in the third round of the U.S. Open instead of remaining overseas and competing in the WTA Finals in Mexico. Despite the similarity between the hardcourt surfaces used in Melbourne and New York, Tyzzer surprisingly said on Saturday that he does not think that Barty will win the U.S. Open unless the tournament makes a move to using heavier balls that are better suited to her game, which relies heavily on spin.
But the decision to take a break certainly has paid off at the start of 2022. She is 11-0, winning the title in Adelaide and now, most significantly, seven matches at the Australian Open, giving Australians a much-needed lift after nearly two years of pandemic lockdowns and restrictions.
"It can't be easy playing with the weight of your country on your shoulders," said Todd Woodbridge, the former Australian Open star, at the awards ceremony.
But Barty's shoulders were sturdy enough, and the Daphne Akhurst Memorial Cup was soon glittering in her deft hands.