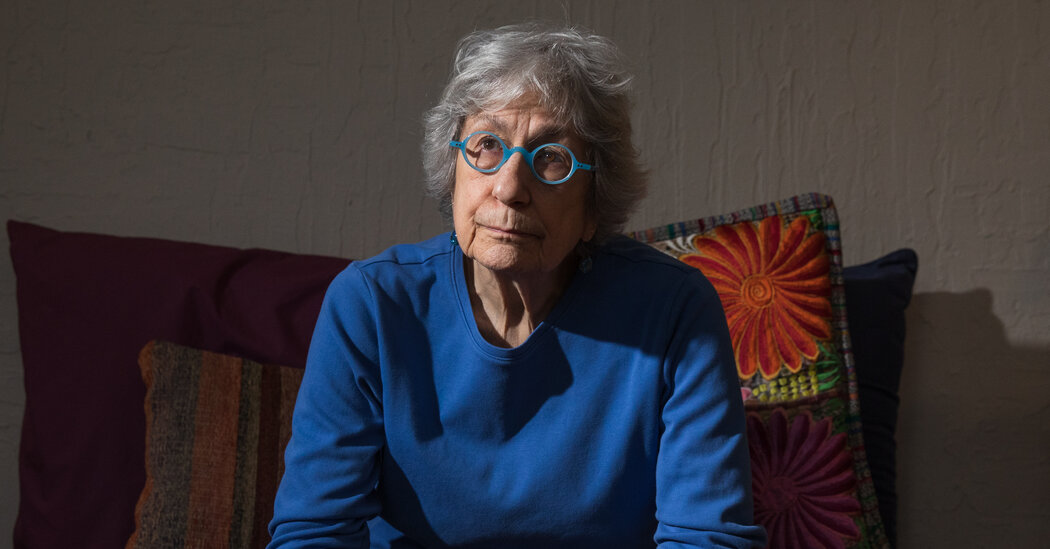 Judith Arcana was 27 and recently separated from her husband when she began driving women surreptitiously for safe — but illegal — abortions. The year was 1970, she was an out-of-work teacher on the South Side of Chicago, and she was spending her days counseling women in need.
"I don't think we were crazy," said Arcana, now 78. "I don't think we were stupid. I think that we had found something that was so important, so useful in the lives of women and girls."
"We were radicalized in the arena of women's bodies," she said. "We knew that what we were doing was good work in the world. And we knew that it was illegal."
Arcana was part of the Jane Collective, a disparate, rotating group of women who ensured safe abortions for thousands of women in Chicago between 1968 and 1973. Despite the law, women were still getting abortions. But they were often performing them on themselves and winding up in the hospital, or paying the mob with no guarantee of survival.
During these years, because of Arcana and other women, if you lived in Chicago and needed help, you could call a number and talk with a woman who would offer a safer alternative. Members of the collective provided counseling and arranged the procedures, which they eventually administered — 11,000 all told during that period. But then in 1972, Arcana and six other members of the group were arrested, each charged with 11 counts of abortion or conspiracy to commit an abortion with a possible 10-year sentence for each charge. Roe v. Wade, the Supreme Court decision issued in 1973, saved them all.
Now, close to 50 years later, members of the collective are sharing their stories in a pair of movies at the Sundance Film Festival, which begins Thursday: the HBO documentary "The Janes"; and a fictionalized account titled "Call Jane," starring Elizabeth Banks and Sigourney Weaver, and looking for distribution.
The movies are debuting at a particularly crucial time for abortion rights. The Supreme Court heard arguments in December over the legality of a Mississippi law that bans abortion after 15 weeks; it is expected to issue a decision this summer. Should the court uphold the law, the ruling would be at odds with Roe v. Wade, which declared abortion a constitutional right and forbade states from banning the procedure before fetal viability (23 weeks).
The Sundance filmmakers make no secret that they support abortion rights but say they want their work to show the complexity of the subject.
In "Call Jane," Banks plays Joy, a mother and housewife who seeks out an illegal abortion after learning that her pregnancy is life-threatening — her attempt to secure one legally having been denied by an all-male hospital board. The movie's director, Phyllis Nagy (whose credits include the screenplay for "Carol"), said she wished she could show it to the Supreme Court's conservative justices. "I would sit there and say, 'Now, talk to me,' and it wouldn't make any difference, probably," she said. "But artists need to start having the kinds of political conversations with society that aren't didactic," she added. "Nothing else has worked."
The makers of "The Janes" hope those with differing views will allow themselves a look at life before Roe v. Wade. "This is a glimpse at history; I don't think it's an advocacy film," said Tia Lessin, who directed with Emma Pildes, whose father used to be married to Arcana. Arcana's son, Daniel, and Pildes are producers on the film. Lessin added, "It's a real life story about what happened and the lengths that women went to to have abortions and to enable other women to have abortions."
"Do I hope that people's takeaway will be 'let's not go back there'? Sure. But I really hope it moves people to engage in conversation. Love the film, hate the film," she said before Pildes jumped in: "Talk about the issue."
And there is plenty to discuss.
The Jane Collective was formed when a college student, Heather Booth, now 76, received a desperate call from a friend looking for an abortion. Booth, active in the civil rights movement, found a doctor willing to help and passed along the information. "I made what I thought was a one-time arrangement," she said in an interview. Soon another woman called. Then another. Booth found herself negotiating fees and learning the intricacies of the procedure so she could counsel women. After a few years, Booth, by then a mother working on her graduate degree at the University of Chicago, recruited others to fulfill the growing need.
"I was working full time. The number of calls were increasing. It was certainly too much for one person," she added.
Marie Leaner, now 80, was raised Roman Catholic and taught to believe that abortion was a sin. At a community center on the West Side of Chicago, she ran a program for teenage mothers. "I just thought it was atrocious that these women didn't want to carry the babies but they felt this was their punishment for being in love or being sexually involved with someone," she recalled. "I decided I wanted to do something about it."
She offered up her apartment for the procedures and occasionally held the hands of the women who came through. As one of the few Black women in the group, she said, "I knew that Black and brown people wouldn't partake of the service if they couldn't see themselves involved in it."
The State of Abortion in the U.S.
---
Even all these years later, Arcana can still see the face of a 16-year-old girl who came to her home with her two friends asking Arcana for help. She was already five months pregnant, and Arcana performed the procedure on her living-room floor. She stayed with the girl all day and then drove her home.
"She said to me, 'But I want you to stop two blocks away from where I live, and I'll get out there,'" Arcana recalled. "She touched my shoulder and she said, 'Because you know,' and I said, 'Yes, I do. Yes, I do.' I let her out on that corner, and she went home to her parents. I have no idea what she said to them, but I will always remember that goodbye."
The Janes' story has been told before — in the 1995 book "The Story of Jane: The Legendary Underground Feminist Abortion Service," by Laura Kaplan; and in two films shown at festivals, "Jane: An Abortion Service," a 1995 documentary, and the fictionalized "Ask for Jane" (2018) with Arcana as a consulting producer.
Arcana was surprised Sundance chose to screen both new films. To the festival organizers, it seemed like an obvious choice. "We felt that the two are kind of in conversation with each other," said Kim Yutani, the director of programming, who also selected the French film "Happening," an adaptation of the memoirist Annie Ernaux's book recounting her own illegal abortion in France in the 1960s.
The films' "presence in our program is more an indication of a moment in society than any agenda of the programming team," the Sundance director Tabitha Jackson said. "If there is a statement to be made, it is the timeless one of 'we follow the artists.'"
Nagy's approach feels more personal. The director wasn't interested in anything resembling homework or what she called "an elevated after-school special." In her film, Joy spends less time fighting the system and more time fighting her circumstances as a married college graduate whose life has been reduced to the domestic tasks expected of a mother and a wife.
Yet Nagy doesn't shy away from the gritty details of abortion. The first 40 minutes of the film are spent on Joy's fruitless quest to secure one, and 10 more are dedicated to the procedure itself.
"I was really way more concerned with getting the medical facts correct," said Nagy, who didn't meet any of the Janes but did consult with a man who performed abortions back then. (The film's screenwriters, Hayley Schore and Roshan Sethi, shared early drafts with Arcana.) "You need to spend that time, I think, in order for people to get to know her. But more importantly, to know that this is putting women through the wringer. This is not something you can easily look away from."