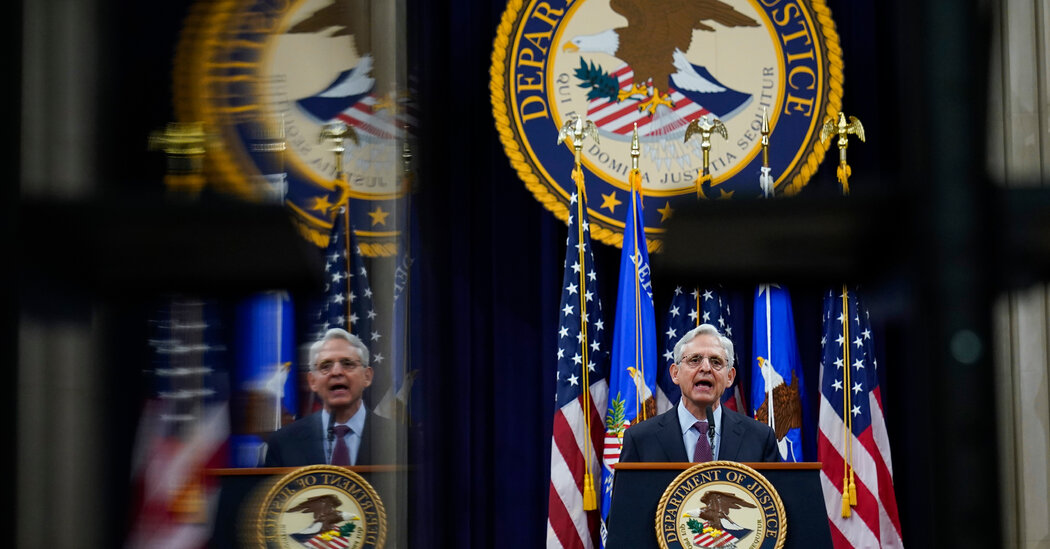 WASHINGTON — Under pressure from Democrats and a few Republicans to hold former President Donald J. Trump accountable for his role in inspiring the attack on the Capitol, Attorney General Merrick B. Garland vowed on Wednesday that the Justice Department would pursue its inquiry into the riot "at any level," saying he would defend democratic institutions from attack and threats of violence.
"The Justice Department remains committed to holding all Jan. 6 perpetrators, at any level, accountable under law — whether they were present that day or were otherwise criminally responsible for the assault on our democracy," Mr. Garland said. "We will follow the facts wherever they lead."
The remarks came a day before the anniversary of the Jan. 6 assault, when Mr. Trump's supporters ransacked the Capitol in a bid to stop the certification of Joseph R. Biden Jr.'s election victory. They also came as Mr. Garland faces pressure from Democrats to more aggressively investigate any role that Mr. Trump and his allies may have played in encouraging the violence.
Several of the attorney general's remarks appeared to respond to critics who have urged him to say more about the department's investigation into what he called "an unprecedented attack on the seat of our democracy," and to address whether investigators were scrutinizing Mr. Trump.
Mr. Garland reiterated that the department would not share details about its investigation. "I understand that this may not be the answer some are looking for," he said. "But we will and we must speak through our work. Anything else jeopardizes the viability of our investigations and the civil liberties of our citizens."
The attorney general also emphasized a commitment to the rule of law and to following the facts wherever they lead. While the House select committee investigating the Jan. 6 attack has signaled an openness to making a criminal referral to the department if it comes across evidence that Mr. Trump or others broke the law as they peddled false accounts of election fraud, Mr. Garland did not mention Mr. Trump or any specific investigation the department might be pursuing.
Mr. Garland has never given any substantive public indication of whether or how aggressively the department might be building a case against Mr. Trump or his advisers, and it is not clear what charges they might be subject to. Some Democrats have nonetheless been openly pushing him to make clear that he intends to act.
Last month, former Senator Claire McCaskill, Democrat of Missouri, said that Mr. Garland would either "rise to the occasion or go down in infamy as one of the worst attorney generals in this country's history" if he did not hold Mr. Trump accountable for the Jan. 6 attack.
Current and former Justice Department officials have pointed out that the department's Jan. 6 inquiry, among the largest investigations in its history, has so far resulted in more than 700 arrests, and more than 275 people have been charged with obstructing Congress's duty to certify the election results. The F.B.I. asked the public on Wednesday for help in identifying hundreds of additional suspects, and the government estimates that as many as 2,500 people could face federal charges.