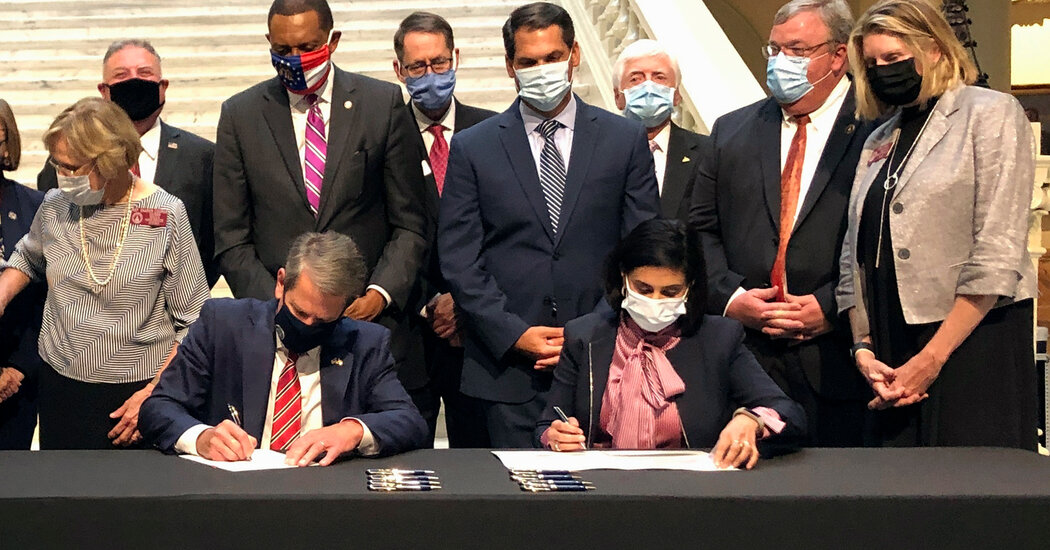 WASHINGTON — The Biden administration on Thursday rejected work requirements for Medicaid recipients in Georgia, the last state to have a federal waiver for such restrictions, as it extended its rollback of a signature health policy of the Trump administration.
The announcement from the Centers for Medicare & Medicaid Services, delivered in a 79-page letter to Georgia's health agency, also reversed a federal waiver allowing the state to charge premiums for the health insurance program for the poor.
The Medicaid agency said the worsening coronavirus pandemic, and the emergence of the Omicron variant, had made Georgia's work requirement "infeasible under the current circumstances" as Covid cases surged.
"Georgia's work requirements significantly compromise the state demonstration's effectiveness in promoting coverage for intended beneficiaries," a statement from the Medicaid agency said. "The lingering health consequences of Covid-19 infections further exacerbate the harms of these barriers to coverage for people with low income."
The decision also fell in line with President Biden's larger policy goals, dealing a critical blow to the already reeling effort to attach work requirements to Medicaid. The movement by more than a dozen states managed in practice to enact work requirements in only a few — and only for a short time — as it faced court setbacks, a pandemic and a new administration that has steadily dismantled such initiatives.
Georgia had not yet imposed the proposed work requirements — which limited Medicaid eligibility to those who work at least 80 hours a month — but it could have started the restrictions as early as next week, according to correspondence between the state and federal health agencies.
The premiums that Georgia proposed had also not been enacted. The Medicaid agency said that it was revoking the authority to charge the premiums because those fees "can present a barrier to coverage" and worsen health care inequality.
Katie Byrd, a spokeswoman for Gov. Brian Kemp of Georgia, a Republican, criticized the rollback of premiums and the work requirement, which she said were intended to "create a fair and balanced health care framework that increases options and lowers costs."
"Though they attempted to hide behind the holiday in announcing two days before Christmas, we plan to challenge their misguided — likely political — decision in a court of law," Ms. Byrd said in a statement.