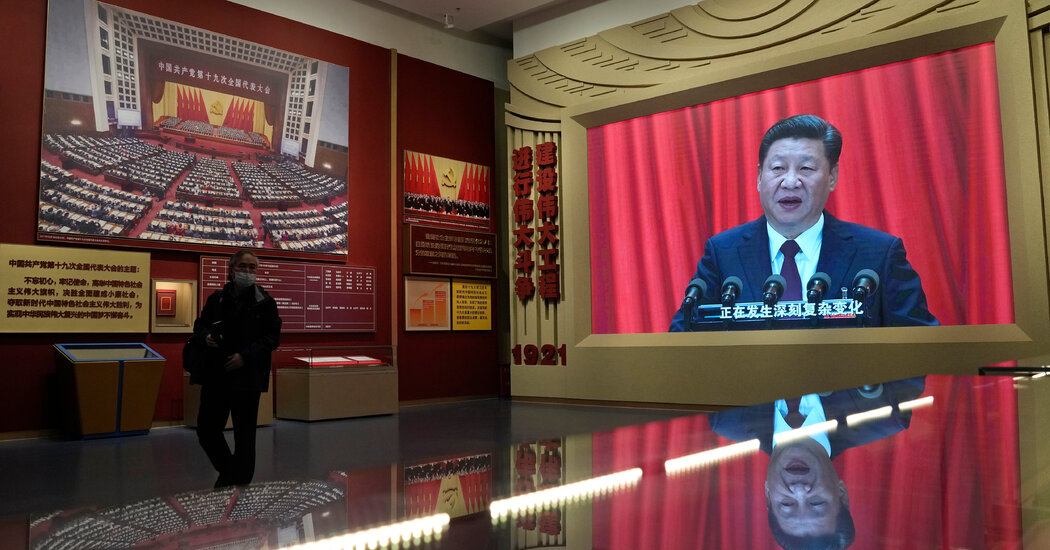 President Biden and President Xi Jinping of China will meet for more than three hours in a virtual summit on Monday evening as the United States seeks to engage in what the administration calls "intense competition" with China while preventing serious conflict.
Since becoming president, Mr. Biden has spoken twice with Mr. Xi, but they have not met in person this year. Administration officials said the virtual meeting was meant to reassure both sides that misunderstandings and miscommunications would not lead to unintended clashes.
A senior U.S. official told reporters on Sunday that the president would emphasize the need to keep "communication lines open" as the two countries confront disagreements over issues like the future of Taiwan, the militarization of the South China Sea and cybersecurity.
Mr. Biden has repeatedly suggested that it should be possible to avoid active military engagement with China, even as the United States engages in vigorous competition with Beijing and continues to confront the Chinese leadership on several significant issues.
But the call, which was initiated at Mr. Biden's request, reflects his administration's deep concern that the chances of keeping conflict at bay may be diminishing.
Members of Mr. Biden's team have been guarded about what topics he intends to raise with Mr. Xi on Monday. The senior administration official, who spoke on the condition of anonymity to preview the meeting, broadly outlined a few of the issues that were likely to come up.
The official said Mr. Biden planned to address several points of disagreement, including China's human rights abuses, America's commitment to defending Taiwan, China's support of its state-based industries and its policies regarding cybertechnologies.
Also on the agenda are areas in which Chinese and American interests appear to be aligned, including efforts to combat global warming. But the administration official said that Mr. Biden would make clear to Mr. Xi that working to prevent climate change was not a "favor" to the United States, but rather a decision by China to act in its own best interests.
It was unclear whether Mr. Xi intended to raise other issues, such as U.S. tariffs on Chinese goods or the recent U.S. deal to provide nuclear submarines to Australia. The senior official said that Mr. Biden was not planning to raise those topics unless Mr. Xi mentioned them.
The official declined to say whether the two leaders would discuss the possibility of U.S. representation at the 2022 Winter Olympics, which will be held in Beijing in February.
Biden administration officials have said they believe the U.S.-China relationship is in a new phase that is more dynamic and complex than it has been in years past. But it remains unclear how Mr. Biden will try to accomplish his goals when previous administrations tried and failed to make good on similar agendas.
President Barack Obama tried a similar balancing act with the Chinese, securing a commitment from Mr. Xi to avoid militarizing the South China Sea — a threat to international travel through the area — and to reduce cyberconflicts between the two countries.
Since then, China has built up its military presence in the South China Sea, and cyberclashes have intensified.