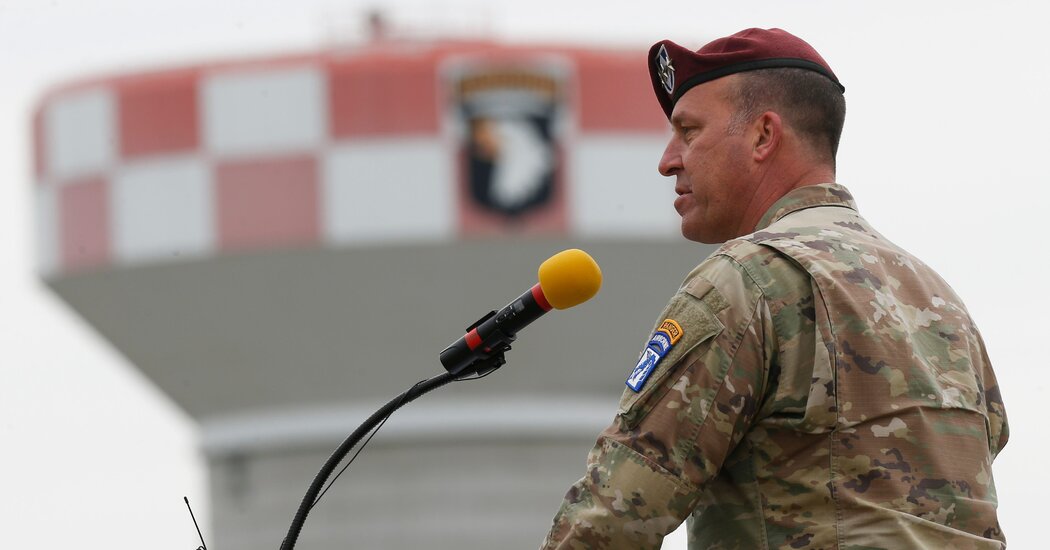 WASHINGTON — President Biden has nominated Lt. Gen. Michael E. Kurilla to be the next head of the military's marquee combatant operations command responsible for prosecuting the wars in Afghanistan and Iraq, according to paperwork sent to the Senate.
General Kurilla, if confirmed, would replace Gen. Kenneth F. McKenzie Jr., whose tenure is set to end this spring.
As the leader of Central Command, General Kurilla would be responsible for the administration's efforts to prevent terrorist groups from once again using Afghanistan as a launching pad for attacks on the West. In withdrawing American troops from the 20-year war there last year, Mr. Biden determined that the United States' new strategy would be to use drone and other strikes from afar, or "over the horizon," to quell any such threats that arise in Afghanistan.
The chaotic withdrawal from Afghanistan has largely consumed Central Command over the past year. But General Kurilla will also have to keep track of Iran, where stumbling efforts to revive the nuclear accord negotiated by President Barack Obama and abandoned by his successor, President Donald J. Trump, have led to increased tensions.
Central Command is also responsible for the Middle East, including Iraq and Syria, where military bases housing American troops were attacked on Wednesday. No American troops were killed in the strikes, but defense officials have said a series of recent attacks could be related to the anniversary of the Trump administration's assassination of Iran's top military commander, Qassim Suleimani, in January 2020.
General Kurilla is a combat-tested commander, having been wounded in a 2005 gun battle during the Iraq war in the city of Mosul when he was a battalion commander. He rose through the ranks, with stints as chief of staff to the head of the military's Central Command at the time, Gen. Joseph L. Votel, and assistant commanding general and director of operations at the Joint Special Operations Command.
General Kurilla was also commander of the 82nd Airborne Division, one of the Army's most battle-tested units. He is currently the commander of the Army's 18th Airborne Corps at Fort Bragg in North Carolina. Along with his nomination, he is being promoted to general from lieutenant general.
Raised in Elk River, Minn., the general holds a bachelor's degree in aerospace engineering from the U.S. Military Academy at West Point, an M.B.A. from Regis University in Denver, and an M.S. in National Security Studies from the National War College.
"While Lt. General Kurilla is honored by the nomination to serve as commander of U.S. Central Command, he is not presuming confirmation and remains solely focused on his present responsibilities in command of the XVIII Airborne Corps," Col. Joe Buccino, a spokesman for General Kurilla, said in a text.