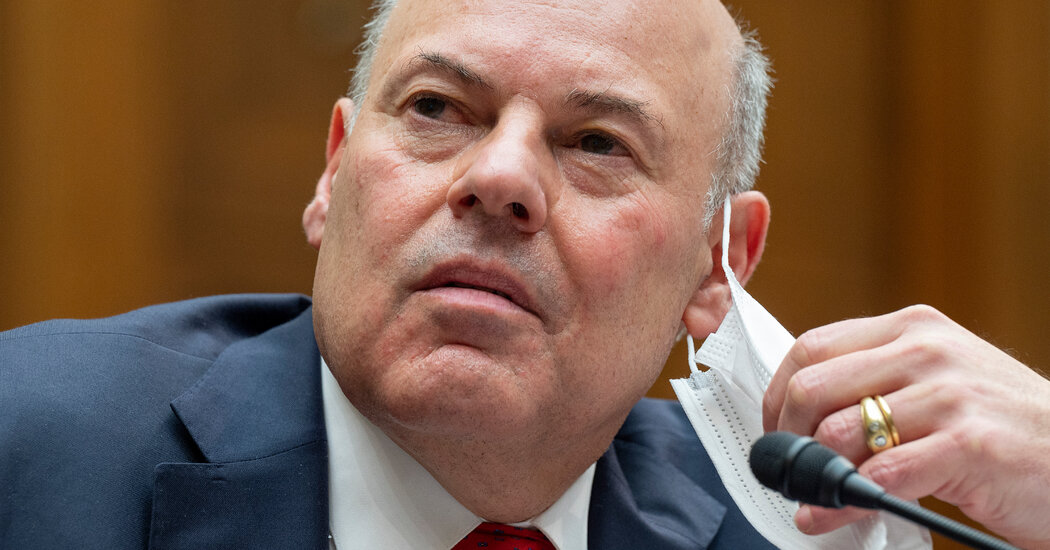 WASHINGTON — President Biden on Friday nominated two new members to the U.S. Postal Service's board of governors, a move that could jeopardize Louis DeJoy's position as postmaster general.
Mr. Biden nominated Daniel M. Tangherlini, a former administrator of the General Services Administration during the Obama administration, and Derek Kan, a Republican business executive and former deputy director of the Office of Management and Budget during the Trump administration, to serve on the board.
The president chose Mr. Tangherlini and Mr. Kan to succeed two board members whose terms are ending next month and who have been close allies of Mr. DeJoy. Those two members — Ron Bloom, the board's chairman and a Democrat, and John M. Barger, a Republican — were appointed by President Donald J. Trump.
Mr. DeJoy, a Trump campaign megadonor and former business executive, has been mired in controversy over cost-cutting measures that were faulted for slowing mail delivery during the 2020 election, when many voters used absentee ballots amid the coronavirus pandemic. The postmaster general can be removed only by the board of governors.
The board is currently made up of four Democrats, four Republicans and an independent. No more than five governors may be from the same party.
The announcement came as a surprise to postal industry officials, who expected Mr. Biden to renominate Mr. Bloom, a former Obama administration official and managing partner at Brookfield Asset Management, a real estate investment firm. Last week, the board re-elected Mr. Bloom as chairman over the objections of two board members nominated by Mr. Biden; the members had called on the board to postpone a vote.
Mr. Bloom has stood by Mr. DeJoy and has voiced support for his 10-year plan that would raise some prices and slow service in an effort to recoup billions in projected losses. In testimony before a House committee in February, Mr. Bloom backed the plan and said it would revitalize the agency.
"Its focus is on ensuring that the Postal Service is able to perform its essential public service mission and meet our universal service obligation in a reliable and affordable manner," Mr. Bloom said.
In a statement on Friday, the Postal Service thanked Mr. Bloom and Mr. Barger for "their steady leadership and dedicated service to the Postal Service" and congratulated the new nominees.
"We wish them well as they proceed through the United States Senate confirmation process," David Partenheimer, a Postal Service spokesman, said in the statement.
Congressional Democrats and liberal groups have sought to replace Mr. DeJoy since he assumed office in June 2020, and they had urged Mr. Biden to install more Democrats on the board who could oust him. In February, Mr. Biden nominated two Democrats and one independent: Anton Hajjar, the former general counsel of the American Postal Workers Union; Ron Stroman, a former deputy postmaster general; and Amber McReynolds, the chief executive of the National Vote at Home Institute. All three have since been confirmed by the Senate.
In recent weeks, some Democratic senators, including Senator Tammy Baldwin of Wisconsin, had called on the president to replace Mr. Bloom, given his support for Mr. DeJoy.
"I oppose Ron Bloom's nomination to a new term because I would like to see a new Postal Board of Governors show DeJoy the door and bring on a new postmaster general," Ms. Baldwin said in a statement this month.
Mr. Tangherlini, a managing director of Emerson Collective, the organization founded by the billionaire Laurene Powell Jobs, has worked in various roles in the federal government, including as the chief financial officer at the Treasury Department. He also worked for the District of Columbia city government for several years as city administrator and deputy mayor.
Mr. Kan, an executive at Deliverr, an e-commerce start-up, served in the Trump administration as an under secretary at the Transportation Department and later became the deputy director of the Office of Management and Budget. He previously served as a policy adviser to Senator Mitch McConnell of Kentucky, the Republican leader.