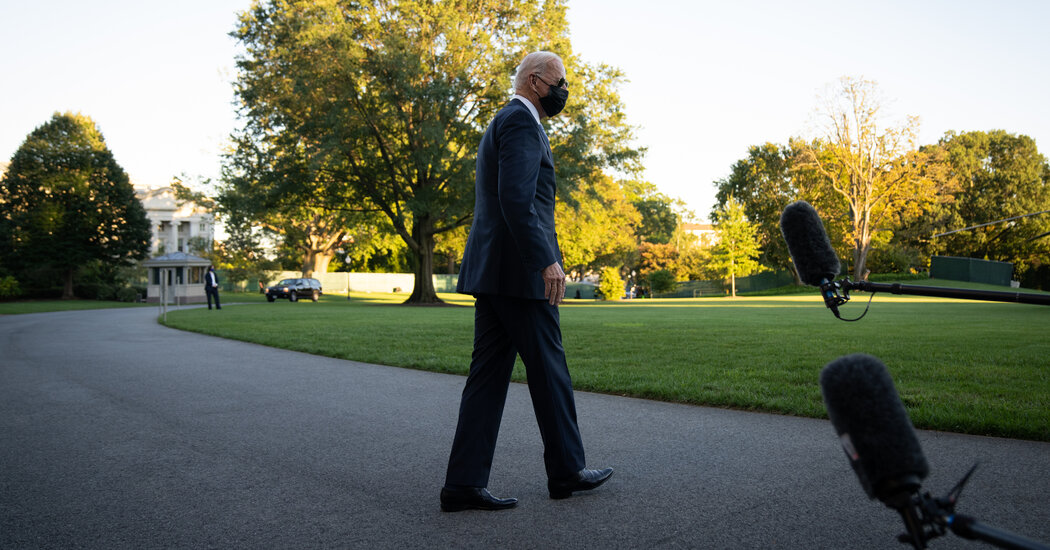 As president, Donald J. Trump was a media maximalist whose unavoidable-for-comment style helped generate saturation news coverage, for better or worse.
President Biden has taken a stingier approach to his dealings with the press — and not all his allies believe it's working out.
After nine months in office, Mr. Biden has conducted roughly a dozen one-on-one interviews with major print and television news outlets. That compares with more than 50 for Mr. Trump, and more than 100 for Barack Obama, in the same period, according to West Wing record keepers.
If the pulpit is one of a president's most powerful tools of communication, Mr. Biden has opted to rely more heavily on fleeting, impromptu exchanges with White House reporters, often taking a few shouted questions as he boards a helicopter or exits a photo-op. He has not sat for interviews with The Associated Press, The New York Times, Reuters, The Washington Post, The Wall Street Journal or USA Today. Even friendly venues like "The Late Show With Stephen Colbert" have gone unvisited.
It's a Rose Garden strategy in decidedly un-rosy times. As Mr. Biden's approval ratings have sagged in recent weeks, and his party confronts a tough outlook for next year's midterm elections, some Democrats have asked if the president has yielded too much control of the public narrative of his administration to others.
"What I believe in is sell, sell, sell," James Carville, the veteran Democratic strategist, said in an interview. "What they're missing is salesmanship. Everybody wants to be a policy maven, and no one wants to go door to door and sell pots and pans."
Mr. Carville expressed concern about a poll last month showing roughly 7 in 10 Americans knew "just some or little to nothing" about the president's signature domestic policy plans. The leader of the House Democrats' campaign arm, Representative Sean Patrick Maloney of New York, recently criticized the White House for "not getting the job done on messaging."
"Free Joe Biden," Mr. Maloney said, urging the president "to get himself out there."
White House aides reject the idea that Mr. Biden is avoiding the spotlight. Jen Psaki, Mr. Biden's press secretary, noted that on a day-to-day basis, the president has entertained informal questions from White House reporters more often than either Mr. Trump or Mr. Obama in their early tenures (although these exchanges, and his answers, tend to be brief).
"Taking 30 questions from the national press in a week, or over the course of 10 days or two weeks, is an opportunity for the national press corps to ask him tough questions and do follow-ups," Ms. Psaki said in an interview. "He fully expects it and he engages in it."
And after months of negotiations in Congress leading up to passage of the newly signed public works bill, Ms. Psaki said the president was now "in the early stages of a massive selling plan across the country." Last week, he visited a General Motors plant in Detroit, where he zipped around in an electric S.U.V. — "That Hummer is one hell of a vehicle, man," the president remarked — and toured a dilapidated bridge in Woodstock, N.H. On Monday last week, he presided over a pomp-filled signing ceremony on the White House lawn that was carried live on national TV.
Whether these efforts are coming too late is an open question. One recent poll showed a declining number of Democrats with favorable views of Mr. Biden's job performance. The president's social safety net and climate bill passed the House, but now faces an arduous path in the Senate. The danger, journalists and media strategists say, is that Mr. Biden has allowed his opponents too much room to set the terms of debate.
"The first impression of these packages was framed already by the Republicans," said Kurt Bardella, an adviser to the Democratic Party. "Now that we see more activity from the White House, they're coming up against a narrative that was painted by other people, and it becomes a little bit more challenging to stem that tide."
Scott McClellan, who served as press secretary to former President George W. Bush, said that presidents "can be overly cautious to your own detriment at times."
"There are risks, and certainly Biden has a history of sometimes going off-script and off-the-cuff, and message discipline is really critical at a time like this," Mr. McClellan said. "But those high-profile interviews give you the opportunity to really get across key points that you want to make, that are important in building public support."
Ms. Psaki said concerns that Democrats have already lost the framing battle "sounds awfully defeatist to me," pointing to polls showing that the underlying policies of Mr. Biden's legislative agenda remain broadly popular.
Mr. Biden's messaging team also prides itself on adapting the traditional White House media playbook to a new age of microscopic attention spans and 24/7 social media, where politicians are as likely to shape public perception with a TikTok video than a sit-down with a baritone-voiced news anchor. The Biden digital campaign has featured cameos from YouTube stars and celebrities like Olivia Rodrigo and Ciara. "We want to meet people where they are in 2021," Ms. Psaki said.
Still, there are moments where Mr. Biden seems to have set aside some of the unique advantages of his office.
Last week's bill-signing ceremony at the White House began at 3 p.m., a contrast from Mr. Trump's inclination to hold major events, like the naming of a Supreme Court nominee, in the evening to capture prime-time levels of viewership. Those events were criticized as reality-show-style stunts, but they usually proved effective in dictating the national news cycle.
"Every network would give him time if he asked for it," Mr. Bardella said, speaking of Mr. Biden. "He needs to use the trappings of the presidency."
The president has sat for a few major televised interviews with anchors from CBS, NBC, and ABC (twice). He also enjoys venues where he can answer questions from voters rather than reporters, appearing on three prime-time town halls on CNN. But his most recent CNN appearance, with Anderson Cooper in October, required some cleanup: His remarks suggesting muscular American support of Taiwan against a Chinese attack had to be clarified later by his press team.
The viewership for the October town hall on CNN also left something to be desired — a point in favor of the White House's argument that traditional media simply matters less these days. The 90-minute event attracted fewer viewers than simultaneous programming on MSNBC, and Fox News's hosts Tucker Carlson and Sean Hannity were seen by more than double Mr. Biden's audience that night.
"I suspect that they are of the understandable view of, 'What difference does it make?'" Mr. Carville said of the Biden team's cautious approach. "'Why do I have to sit there and be interrogated for 20 minutes when all I can do is make a mistake, and I can't move a Popsicle in terms of poll numbers?'"
How a president meets the media is just as often determined by personality as politics.
Mr. Obama was less enthused about facing gaggles of reporters, preferring one-on-ones where he could sidestep "topic of the day" lightning rounds and delve into a subject of his choice. Mr. Trump relished his jousts with journalists, even as he vilified the news media in increasingly menacing ways.
There is little doubt that Mr. Biden takes a brighter view than his predecessor of the news media and its role in the democratic process. Mr. Trump revoked White House press passes, labeled the media as the "enemy of the people" and increasingly restricted his appearances to Fox News opinion shows and other sympathetic stages. His administration also withheld press briefings for months on end. By contrast, Ms. Psaki holds extensive briefings nearly every day.
Still, Mr. Biden — who built his appeal on a colloquial, off-the-cuff style that leaves him vulnerable to gaffes — has never been especially chatty with reporters. One of his key advisers, Anita Dunn, was opposed to Mr. Biden regularly opening himself up to queries, an exercise that Ms. Dunn believed offered little upside and lots of downside.
Mr. Biden's reluctant media habits set off a minor revolt from his press corps last week: After he broke precedent by skipping a news conference with the leaders of Canada and Mexico, the White House Correspondents' Association formally complained. "Is the worry that you don't want the president taking questions?" one reporter asked a Biden press aide. (Reply: "The president often takes questions throughout the course of the day.")
"A calculation is made about the risk versus benefits of talking extemporaneously," said Jonathan Lemire, the host of "Way Too Early" on MSNBC and Politico's White House bureau chief. "But you sacrifice part of the megaphone by not having the president do these interviews."
Mr. McClellan, of the Bush White House, cautioned that Mr. Biden's advisers should work to avoid letting the perception of a disengaged Mr. Biden become ingrained in the public imagination.
"They may have been waiting until they'd gotten the legislation passed," he said, referring to the infrastructure law. "I'm not sure, given where things are right now in his presidency and given the outcome of the November elections — and looking ahead to where the midterms are trending — that they can wait too much longer."