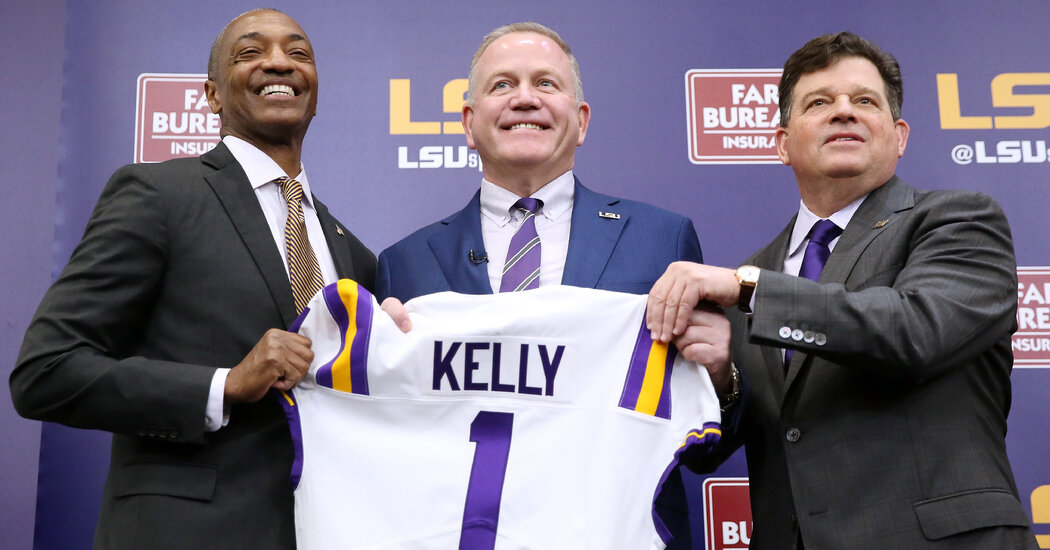 The contract terms for Louisiana State University's new football coach promise an unusually enormous payout for mediocrity: If the Tigers win just half of their regular-season games, de rigueur for a program with three national championships since 2003, Brian Kelly will receive $500,000 — on top of at least $9 million a year in other compensation.
And every July, no matter his record, Kelly will earn a $500,000 "longevity" bonus if he remains in charge in Baton Rouge.
The line items for middling achievements are helping to mark the pathway for college football's era of $10-million-a-year coaches. And they are part of the latest blur of coaching contracts and buyouts, collectively worth hundreds of millions of dollars, at a time when the college sports industry is facing accusations that it is exploiting the athletes who cannot earn salaries for actually playing the games.
"If you equate it to college education, it's insane," Jackie Sherrill, the retired Texas A&M University football coach and athletic director, said of the industry and its soaring coaching deals. "If you equate it to business, it makes sense."
A perk-loaded agreement that Sherrill signed in 1982, when he became the most well-paid public university employee in America, was worth about $831,000 a year in today's dollars, less than half of what some assistant coaches have recently commanded.
This year's maneuvering is proving especially wild and expensive, a reflection of a sport with fan bases known for impracticality and impatience. Kelly signed with L.S.U. even with his Notre Dame team still in the national championship picture, which will come into greater focus on Sunday when the College Football Playoff announces the four teams that will appear in semifinal games.
L.S.U., which agreed to pay $16.9 million to buy out the contract of Ed Orgeron, a coach who won a national title two years ago and then saw his personal life and program dissolve into turmoil, is just part of the frenzy. Florida, Southern California, Texas Christian and Virginia Tech are among the prominent schools that, intolerant of losing (or simply of watching rivals win too much), ousted coaches before the end of the regular season. Oklahoma and Notre Dame, two of the most celebrated programs in college football history, abruptly started searches for new coaches after U.S.C. and L.S.U. lured theirs westward.
Coaches have also renegotiated their deals to extraordinary heights in exchange for staying put, a signal of the turnover and tumult in college sports.
"I don't know that it's necessarily part of the new business model, but we are in a big-picture way experiencing the acceleration of change all around our culture, our society, our world," said Greg Sankey, the commissioner of the Southeastern Conference, which includes L.S.U., top-ranked Georgia and reigning champion Alabama.
2021 N.F.L. Season News and Analysis
"The days of working 40, 50 years and enjoying a pension in a corporate setting, those are gone, and that's not any different in college athletics," he added.
Wealthy boosters typically donate money for big contracts and buyouts; school officials sometimes grouse that the contributions favor coaches rather than chemistry laboratories, but often accept the money nonetheless. All told, the coaching windfalls are fueling greater skepticism of a college sports industry whose value has swelled alongside surging television rights arrangements. Although players have been allowed since July to make money off their fame through endorsement deals and the like, few of the roughly 16,000 athletes who play in the N.C.A.A.'s wealthiest and most visible tier have profited mightily.
Deals for their coaches, though, have roared upward for decades, in part because they came to encompass more of a coach's varied business arrangements, like appearance fees, than in the past. The market, saturated with TV money and other income, did the rest.
In 1997, Steve Spurrier was thought to be college football's first coach to earn $2 million a year (the equivalent of about $3.4 million now). In 2007, Alabama hired Nick Saban and agreed to pay him $32 million over eight years, or more than $5.4 million annually in today's dollars. In 2019, Clemson reached a $93 million deal for 10 more years with Dabo Swinney.
Saban and Swinney already had national titles on their résumés. Athletic directors often fret over what they see as a shortage of championship-caliber coaches, contributing to demand for coaches who do not have the same sterling track records, even if they have had exceptional seasons, or even a run of them.
Besides having Notre Dame in this year's title discussion, Kelly steered the Fighting Irish to playoff appearances during the 2018 and 2020 seasons. Lincoln Riley, the former Oklahoma coach who is now at U.S.C., earned three playoff berths and coached a pair of Heisman Trophy winners in five seasons atop the Sooners.
U.S.C., a private university, has not disclosed the details of Riley's contract, but it is widely believed to be larger than his previous deal at Oklahoma, where he was earning more than $7 million a year.
Kelly's terms at L.S.U. include a $400,000 base salary, plus at least $8.6 million a year in "supplemental compensation." Kelly can also earn incentives that together stand to add $1 million, and potentially much more, to his pay each year. On Friday, Notre Dame said the defensive coordinator Marcus Freeman would succeed Kelly as its head coach; the private university did not announce contract terms.
Coaches defend their contracts as market-driven and argue that football programs can broaden the profiles of their universities, strengthen campus culture and underwrite other athletic teams. Their squads, they note, dazzle millions of television viewers and fill stadiums with crowds that can exceed 100,000 people, with many in the audience clad in university-licensed apparel.
"I hear people say all the time, 'Well, you make a lot of money,'" Saban, who will soon earn more than $10 million a year before incentives, said in an interview with The New York Times in August.
"Yeah, but I create a lot of value," continued Saban, who had won six national titles at Alabama and one at L.S.U. "There's more money to reinvest because the revenue sports do very, very well, so that helps all of the other sports and all of the other opportunities that are created for all of the other sports."
Sherrill, who also led the football programs at Mississippi State, Pittsburgh and Washington State, noted the pressures and hours that coaches face. At the same time, he said, he has grown alarmed by what he perceived as a bonus culture gone mad.
"There's no way to justify it to win six games and get a bonus," he said, adding, "That's your job: to win games."
Beyond the angst of boosters who seem to live, die and write checks in conjunction with win-loss records, one factor in the quickened pace of hirings and firings these days is football's recruiting calendar. The early signing period, which lately has been the time of choice for many prized prospects to formalize their plans, will open on Dec. 15. Many schools believed that they needed to install coaches before then to reassure recruits and, possibly, to attract new ones.
Within days of Riley's arrival in Los Angeles, some players switched their commitments from Oklahoma to U.S.C.
But the machinations and contracts are fresh fodder for the industry's critics.
"Professional-level payouts for college coaches are only possible because colleges and the N.C.A.A. illegally collude to directly restrict compensation for the mostly Black athletes so that the mostly white coaches and industry executives get to keep all the profits for themselves," said Senator Chris Murphy, Democrat of Connecticut. "That's shameful."
There was some speculation among college sports executives last year, when the coronavirus pandemic strained the finances of athletic departments, that the market for coaches could reset. A resurgent economy all but eliminated that possibility for now.
A cap on coaching salaries would run afoul of current federal law — the N.C.A.A. tried and failed to limit pay for some assistant coaches in the 1990s — and the Supreme Court this summer made the college sports industry more vulnerable to antitrust cases. Although there have been rumblings in Washington about using legislation to try to curb coaching contracts, or to allow athletes to engage in collective bargaining, no measure is close to becoming law.
The money, though, is still flowing, and expectations are rising in tandem with bank account balances.
In California, a reporter asked Riley how quickly he might be able to turn U.S.C. into the juggernaut it once was.
Soon was a possibility, Riley replied, especially with the ability to redesign rosters quickly and with a machine like U.S.C. behind him.
"How," he said as he sat in his new pressure cooker, "is it not going to work?"