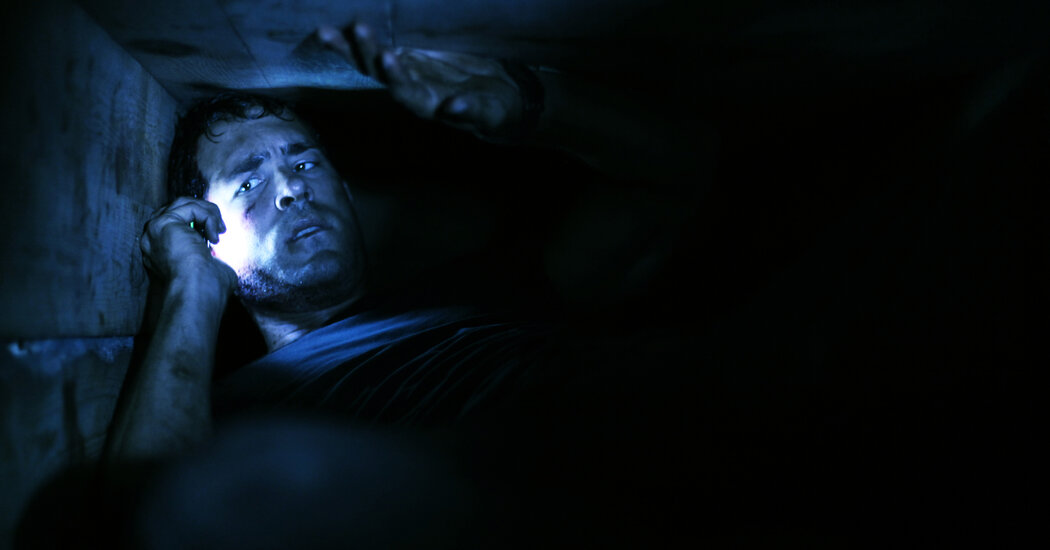 Taylour Paige — so electrifying as the title character of last year's "Zola" — shines brightly in a very different kind of role, in this wonderful comedy-drama from the writer and director Stella Meghie. Paige stars as Jean, a boho Brooklyn novelist whose career, love life and family seem to implode simultaneously. Sherri Shepherd, Gloria Reuben, Michelle Hurst and Erica Ash co-star as the women of the Jones family, and their dialogue crackles with the text and subtext of these lifelong relationships, with running jokes, passive insults and hidden resentments aplenty. It's sparklingly funny and breezily executed, and Paige is a tremendous presence, charismatic and likable even when she's making a mess of things.
This Sundance sensation is a heart-wrenching story of grief, pain, regret and struggle. The director and co-writer Jordana Spiro tells the story of Angel (Dominique Fishback, of "The Deuce" and "Judas and the Black Messiah"), released from jail on the eve of her 18th birthday and torn between getting her life together and finishing the crime that put her there. Spiro adopts a no-nonsense approach, digging into the nuts and bolts of the probationary process and the various ways in which the deck is already stacked against her protagonist; Fishback takes a similar tack, eschewing showy moments for a lived-in authenticity. It's an unforgettable performance in a quietly powerful movie.
'The Diary of a Teenage Girl' (2015)
Bel Powley is a revelation as Minnie Goetze, the challenging protagonist of Marielle Heller's adaptation of Phoebe Gloeckner's tricky novel. Minnie is 15 years old, in the care of a boozy, disengaged single mom (Kristen Wiig, playing marvelously against type), and a bundle of exploding hormones — which catches the attention of mom's sleazy boyfriend (Alexander Skarsgard). What could have been an exploitative leer-fest or a soppy melodrama is played as neither; Heller respects her protagonist, mistakes and all, and makes her journey one of both self-discovery and self-flagellation.
The title conjures up the kind of blistering cold and snowy days we're muddling through, but Hossein Amini's adaptation of Patricia Highsmith's novel offers up escape: the sunny skies of a holiday in Athens, and beautiful people in impeccable clothes and memorable hats. And the story isn't half bad either, a juicy tale of intrigue and betrayal that finds a well-to-do married couple (Viggo Mortensen and Kirsten Dunst) connecting with a fellow American (Oscar Isaac), first as a tour guide, then perhaps as more. The stars shine, the scenery shimmers, and the atmosphere is thick enough to slice.
'Eye in the Sky' (2016)
The perils and quandaries of drone warfare have been pondered by documentary filmmakers and op-ed writers, but this frightening, tightly constructed thriller from the director Gavin Hood ("Rendition") sifts those questions through the customarily jingoistic lens of the military thriller, with gripping results. Aaron Paul stars as a drone pilot working in concert, and then in conflict, with the icy colonel who's calling the shots; she's played, with ferocious precision, by Helen Mirren. Alan Rickman co-stars, in one of his final screen roles, as her superior.
'Outrage: Way of the Yakuza' (2011)
The writer, director and actor Takeshi Kitano takes another deep dive into the pulpy world of Japanese gangsters, detailing a pair of uneasily aligned crime families and the ins and outs of their various criminal enterprises. The expected double-crosses, bloody betrayals and all-out war ensue, but Kitano's script wittily pinpoints the conflict's origins in grievances, slights and grudges; these may be aging men of gravitas and power, but they're all petty, insecure teenagers at heart. Kitano has been making crime films for so long that he does so with a wink — he uses our expectations to either serve his story or subvert it, both to great effect. The violence is inventive; the dialogue slyly funny. And Kitano's direction is as stylish as ever.
Five Movies to Watch This Winter
---
'Buried' (2010)
Before he was trotting the globe in pricey Netflix movies with The Rock and Wonder Woman, Ryan Reynolds was making action films on a much smaller scale — in fact, this ingenious thriller from the director Rodrigo Cortés is about as small as they get. It begins with Reynolds waking up to discover he's buried alive in a wooden coffin, with only a cellphone and a minimum of supplies, and must figure out how to escape before his oxygen runs out. Not many actors can hold an entire film as the only character onscreen; Reynolds makes his desperation and fear palpable and haunting.
'Clive Davis: The Soundtrack of Our Lives' (2017)
A music executive whose unerring ear for stars and hits rarely failed him over half a century, Clive Davis had a hand in the ascendancy of everyone from Aretha Franklin to Bruce Springsteen and Whitney Houston. Chris Perkel's celebratory documentary is a decidedly hands-on affair; Davis tells much of his own story, and rarely in terms that are anything less than glowing. But what the film lacks in self-reflection, it makes up for in sheer entertainment value. Davis is a marvelous storyteller, spinning his yarn as if he were merely happy to be there, and the music is, unsurprisingly, first-rate.
'Limelight' (2011)
The filmmaker Billy Corben (best known for his series of "Cocaine Cowboys" documentaries) directs this profile of Peter Gatien, the colorful New York nightclub impresario behind such iconic '80s and '90s venues as Limelight, Palladium and the Tunnel — places where recreational drugs and casual sex were as omnipresent as the thumping dance music. Corben molds his filmmaking to the story he's telling, instinctively tuning in to the furious energy and fast pace of the period.