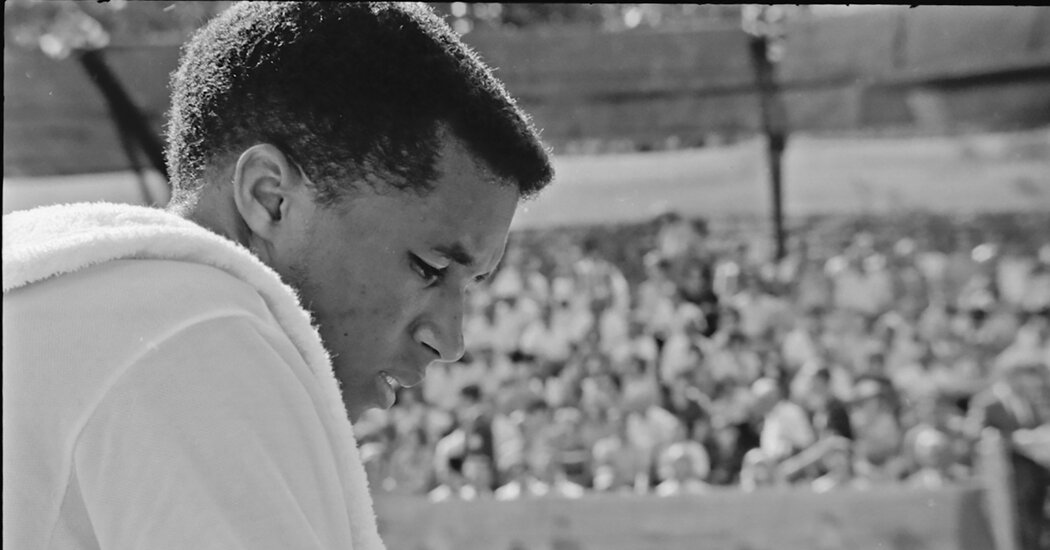 When a commentator in "Citizen Ashe" calls a tennis face-off "the most brilliant and fascinating tactical match I'd ever seen," you may find yourself nodding vigorously. You may also mutter hush, man, I need to focus on the game, which took place in 1975. That was the year that Jimmy Connors, tennis's reigning male champion and very bad boy, strutted onto the grass at Wimbledon to play a competitor he'd never lost to: Arthur Ashe. Connors had won the tournament the year before and was now its 3-to-2 favorite.
Let me spoil it for you: Ashe prevailed, outplaying and outthinking Connors to become the first African American man to win Wimbledon. The directors Rex Miller and Sam Pollard shrewdly tease this epic showdown at the start of their engrossing, politically astute documentary portrait. By the time they circle back to it, the movie has surveyed Ashe's personal life and charted his climb into the tennis stratosphere during Jim Crow. Ashe was already a veteran pioneer by 1975, with numerous wins and milestones. He had become the first Black man to win the U.S. Open. Since then, his ranking slid and, on the cusp of his 32nd birthday, he was a decade older than Connors.
It seems hard to believe, but from what I can tell, "Citizen Ashe" is the first full-fledged documentary film on this American legend. The movie site IMDB lists a smattering of television credits, with Ashe's name attached in assorted specials and episodes, like his 1969 appearance on "The Rosey Grier Show" and a 1980 guest turn on "The Dick Cavett Show." There are also some children's specials and a couple of TV movies, but that's about it. By contrast, I can tick off from memory the titles of several feature-length films that tell the story of Muhammad Ali, both in documentaries like "When We Were Kings" and in dramas like "Ali," Michael Mann's fictional consecration starring Will Smith.
The relative paucity of movies about Ashe speaks to who the industry believes worthy of veneration, including which Black heroes. Smith, for instance, is the star of another new movie, "King Richard." He plays Richard Williams, Venus and Serena's coach and patriarch. It's the kind of underdog story of struggle and triumph that Hollywood loves to tell, and it gives Smith some juicy scenes in which he chews out and swats away white people who just don't get what Williams is doing. Ashe's story certainly has moments of great drama and high tension, but, as a sports figure, he inspired decidedly undramatic sobriquets like "the gentle warrior." This documentary shows you a truer, sharper picture.
You understand why he earned that epithet in the warm, sympathetic "Citizen Ashe" and also why there was more to him. In a somewhat too-compressed hour and a half, the movie follows a familiar yet eye-opening trajectory that really takes off when Ashe discovers tennis. His family lived in a house in a segregated park that his father supervised in Richmond, Va. A swimming pool and baseball fields were scattered across the grounds, along with tennis courts, where Ashe watched Black women and men play, and where he soon picked up a racket.
It didn't take long for Ashe to win, and win again, inaugurating a career that the filmmakers smoothly lay out with originally sourced and superb archival material. There are some images from Ashe's childhood, which are a treat, and of course more photos and footage as the prodigy grew into a dominating force. The movie silkily traces that progression, noting how Ashe's formative tennis years were influenced by Dr. Robert Walter Johnson, a physician who mentored Althea Gibson, the first African American tennis player to win Wimbledon. (Rex Miller also directed the documentary "Althea.")
There's much to like about "Citizen Ashe," which at times seems ready (understandably) to succumb to full-fledged hagiography. Ashe was brilliant, he was beautiful, and his widow, Jeanne Moutoussamy-Ashe, is also one of the producers. If the documentary never loses its bite it's because the filmmakers know better (Pollard's credits include "MLK/FBI"). And Ashe's story makes it impossible to put a happy face on his achievements. He straddled the color line in his own stubborn, sometimes revelatory fashion, by turns smiling politely, absorbing unbelievable abuse and speaking truth to power as he fiercely, at times delightfully, demolished one white smirk after another.
Citizen Ashe
Not rated. Running time: 1 hour 34 minutes. In theaters.