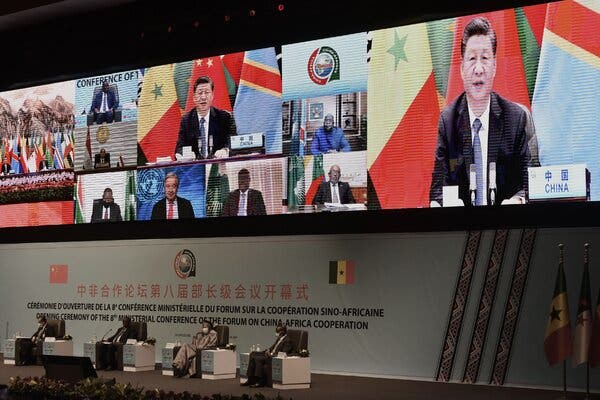 As Africa grapples with the new Omicron coronavirus variant, Xi Jinping, China's leader, has pledged to deliver another billion doses of vaccines to countries on the world's least vaccinated continent.
The announcement from Mr. Xi is part of China's continuing effort to burnish its image as a responsible global power helping to fight the pandemic, and it comes at a crucial time for countries in Africa, especially the southern region, where Omicron was first documented. Scientists fear that Omicron could already be spreading rapidly there, but they cautioned that much about the variant remains unknown, including where it originated.
Health officials in South Africa said on Monday that Omicron appeared to be driving a new wave there. The daily average of new cases in the country has increased by more than 1,500 percent over the past two weeks, according to data from the Center for Systems Science and Engineering at Johns Hopkins University, although the case numbers remain far below the year's earlier peaks.
Still, officials urged the public not to panic over the variant, and said it was still too soon to accurately assess whether it has a higher rate of transmission or causes more hospitalizations or severe illness.
With wealthy nations hoarding most of the global vaccine supply, Africa has the lowest vaccination levels of any continent, with just 10.3 percent of the population receiving at least one dose, compared with rates of at least 60 percent to over 80 percent in Europe, Asia, Latin America and the United States and Canada.
But in recent weeks, vaccine doses have started to flow into parts of Africa, and countries including South Africa — where nearly one-quarter of people are fully inoculated, one of the highest rates on the continent — are now dealing with the challenge of how to rapidly administer them. Shabir Mahdi, a virologist at the University of the Witwatersrand in Johannesburg, said that where doses are available, "countries are struggling to scale up."
Mr. Xi's announcement, made in a speech late Monday via video link at the opening of the Forum on China-Africa Cooperation, also appeared to be part of an effort to shift attention away from Beijing's missteps in its early handling of the coronavirus crisis.
He said that 600 million of the one billion vaccine doses would be donated, and that the rest would be provided through other means, like joint production between Chinese companies and African countries. He also said that China would send 1,500 medics and public health experts to Africa.
China aims to help the African Union achieve its goal of vaccinating 60 percent of the continent's population by 2022, Mr. Xi said.
Chinese officials had previously said that Beijing would make its vaccines affordable and give priority to Africa, where it has rapidly increased its investments in recent years. The new pledge of one billion doses comes after the more than 155 million shots that China had previously pledged to the continent. Of those, about 107 million have been delivered to 46 African countries so far, according to Bridge Beijing, a consultancy that tracks China's impact on global health.
After Omicron emerged, The Global Times, a Chinese tabloid controlled by the Communist Party, boasted of China's success in thwarting the transmission of the coronavirus, and said the West was paying the price for its selfish policies.
"Western countries control most of the resources needed to fight the Covid-19 pandemic," the piece read. "But they have failed to curb the spread of the virus and have exposed more and more developing countries to the virus."
Questions remain, however, about the efficacy of the Chinese-made vaccines. Several countries that had relied heavily on them to inoculate large parts of their populations were spooked by subsequent outbreaks this year.
Omicron adds to the uncertainty, as scientists around the world race to find out whether the current vaccines protect against it. Sinovac Biotech, one of China's main vaccine producers, told The Global Times that it was also studying its vaccine's effectiveness against Omicron.