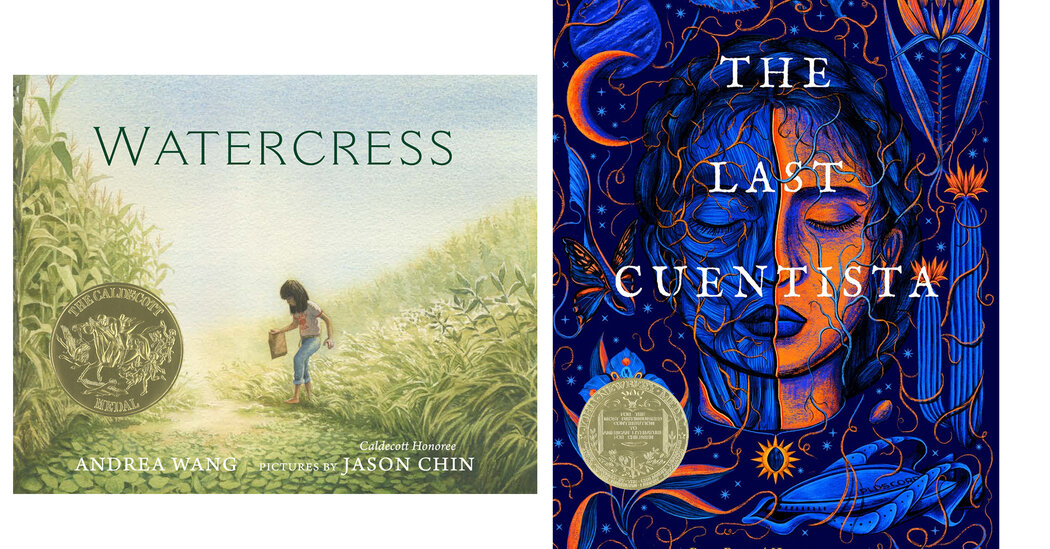 "The Last Cuentista," Donna Barba Higuera's dystopian yet hopeful middle-grade novel, received this year's John Newbery Medal on Monday, winning one of the most prestigious prizes in children's literature.
In the book, published by Levine Querido, 12-year-old Petra Peña and her family are among those chosen to escape Earth before Halley's comet collides with the planet. Put to sleep for nearly 400 years, they wake up with everyone's memories erased but Petra's.
In The New York Times Book Review, Tae Keller, who won the Newbery last year for "When You Trap a Tiger," said "The Last Cuentista" "certainly veers into the dark end of middle-grade fiction, with brainwashing, 'purging' (murder, though always off-page) and, yes, the destruction of our entire planet. But it doesn't dwell in the darkness, preferring to give its readers healthy doses of hope, wonder and page-turning action."
The Randolph Caldecott Medal, the top award for an American picture book, went to "Watercress," illustrated by Jason Chin and written by Andrea Wang. The book, published by Neal Porter Books, follows a young Chinese American girl living in a mostly white town in rural Ohio in the 1970s.
Reviewing the book for The Times, Jennifer Krauss wrote that the watercolor illustrations, which draw on both Chinese and Western techniques, combine "meticulous, gut-wrenching realism with dreamlike panoramas."
The Newbery and Caldecott awards were among the children's literature prizes and honors presented by the American Library Association on Monday at a virtual ceremony.
The most honored book was "Unspeakable: The Tulsa Race Massacre," written by Carole Boston Weatherford and illustrated by Floyd Cooper. Published by Carolrhoda Books, an imprint of Lerner Publishing Group, the book won both the Coretta Scott King illustrator and author awards, which are presented to African American writers and illustrators.
"Unspeakable" was a finalist for the Caldecott as well as the Robert F. Sibert Informational Book Award, which went to "The People's Painter: How Ben Shahn Fought for Justice With Art," written by Cynthia Levinson and illustrated by Evan Turk.
The Michael L. Printz Award for young adult literature went to "Firekeeper's Daughter," a debut novel written by Angeline Boulley and published by Henry Holt and Company. The book is being adapted for television at Netflix by Higher Ground, former President Barack Obama and Michelle Obama's production company.
The Stonewall Book Awards, which recognize books with gay, lesbian, bisexual and transgender themes, went to "Last Night at the Telegraph Club" and "Too Bright to See."
"Last Night at the Telegraph Club," by Malinda Lo, won in the young adult literature category. Her book, which also won the National Book Award for children's literature in 2021, takes place in San Francisco's Chinatown during the Red Scare and follows a queer 17-year-old.
"Too Bright to See," by Kyle Lukoff, won in the children's literature category. A finalist for last year's National Book Award, it is about an 11-year-old named "Bug" who is transgender.
A complete list of the winners and honorees can be found at ALA.org/YMA.