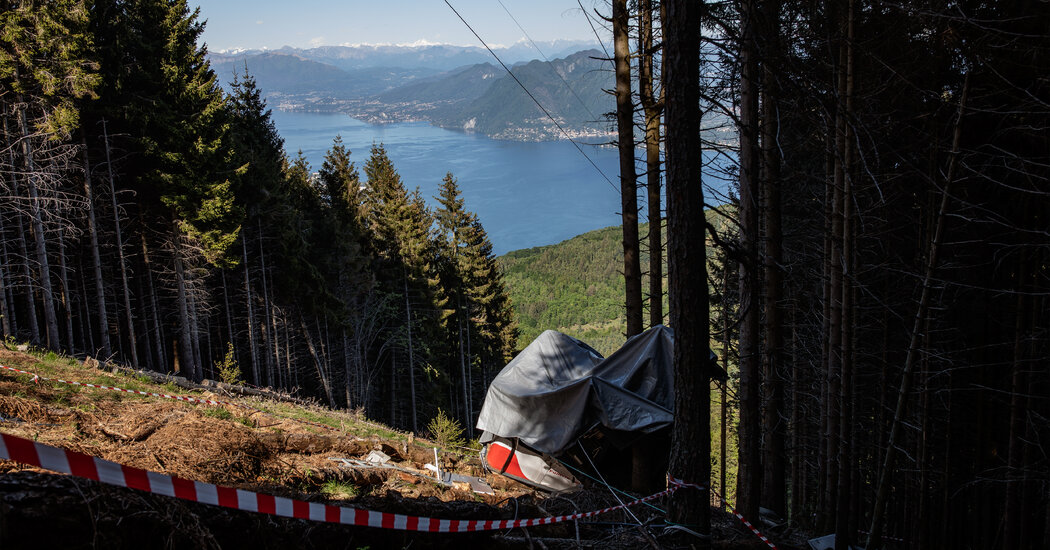 ROME — Nearly three months after he was spirited by his grandfather to Israel, setting off an international custody battle, a 6-year-old boy who was the sole survivor of an Italian cable car crash returned to Italy on Friday.
The boy, Eitan Biran, survived a tragic cable car crash in May that killed 14 people including his parents, and his return to Italy caps a monthslong legal clash in Israel over the boy's guardianship that will continue in the Italian courts.
He arrived late Friday on a flight to Milan, Italy, to return to the custody of his aunt.
Italian authorities are pursuing kidnapping charges against the boy's Israeli grandfather and an Israeli man described as a former operative for Blackwater Worldwide security company. They are accused of abducting the boy in "a strategic and preplanned operation," according to an Italian arrest warrant.
The grandfather, Shmuel Peleg, picked Eitan up from the house of his aunt, Aya Biran, in Italy, in September for what was supposed to be a toy-shopping spree.
But instead of returning Eitan in time for dinner, as promised, the grandfather drove the boy across the border to Switzerland and then took him to Israel on a private plane.
According to an Italian arrest warrant, Mr. Peleg had help from Gabriel Abutbul-Alon, who was described as a former "mercenary working for Blackwater."
Blackwater Worldwide was a private security company, since sold and renamed, that became a symbol of the excesses of American military contractors after four of its guards killed 17 Iraqi civilians in 2007.
Mr. Peleg was summoned for questioning by the Israeli police, before the warrant was issued, and released on bail. Mr. Abutbul-Alon was arrested in Cyprus last month and released.
The alleged kidnapping turned the tragedy into an international custody battle that drew world attention, with relatives in Italy and Israel each claiming to be looking out for Eitan's best interests, and civil and criminal cases playing out in both countries.
The boy lost his parents, his 2-year-old brother and two great-grandparents on a sunny weekend afternoon in May when a cable snapped on a gondola they were riding up Mottarone mountain.
Eitan was injured but survived, and a court in Turin appointed Ms. Biran as his legal guardian.
Ms. Biran, the sister of Eitan's father, an Israeli who was studying medicine in Italy, lives in a small town near Pavia, in northern Italy. Eitan had been living with his parents in a nearby town since he was two months old.
Mr. Peleg argued that Eitan's parents had always planned to return to Israel, where Eitan was born and had relatives.
However those questions were not at issue in Israeli family court, which considered only whether Mr. Peleg's taking the boy to Israel violated The Hague Convention's provisions on the international abduction of minors.
The court ruled in October that it did, and ordered that Eitan be returned to Italy. Mr. Peleg appealed to district court, which upheld the lower court's decision. Israel's Supreme Court declined to hear the case last month, clearing the way for Eitan's flight on Friday.
The alleged involvement of Mr. Abutbul-Alon raises fresh questions about how Eitan was taken from Italy.
According to the Italian arrest warrant, planning for the abduction began in July, months before Mr. Peleg's flight to Israel with the boy. This was, according to the warrant, the beginning of "strategic planning on the part of Shmuel Peleg in partnership with Gabriel Abutbul-Alon" that would end with an abduction.
According to the warrant, Mr. Abutbul-Alon coordinated the rental of a private plane that flew Mr. Peleg and Eitan from Lugano, Switzerland, to Israel.
Mr. Peleg said in a text that he had received "legal advice in Italy" that no custody had been awarded and that he was free to take the child to Israel.
"Unfortunately, the court in Israel did not want to deal with the issue of the best interests of the child, did not agree to approve further medical treatment and did not ask to hear the child's wishes firsthand," the text said. "The court once again tore Eitan out of his large and loving family in Israel, who might not be able to see him from now on."
Italy is seeking Mr. Peleg's extradition from Israel.
Mr. Abutbul-Alon's lawyer in Israel, Uzi Pinhasi, said that Mr. Abutbul-Alon had "acted in accordance with the law in all his business activities."
"Unfortunately his name is tarnished without any justification and after he committed no crime," Mr. Pinhasi said in a text. "I am confident that upon completion of the investigative proceedings, the case against my client will be closed without any indictment being filed against him."
The Israeli Justice Ministry declined to comment on Friday.
As he returned to Italy, lawyers cautioned the news media to respect the boy's privacy.
"The protagonist is a child and we should put his interests at the center" by dimming the media frenzy, said Sara Carsaniga, a lawyer for the Peleg family.
Shmuel Moran, a lawyer for Ms. Biran, said, "We are happy that an Israeli court has established the principle of zero tolerance for kidnappings of children."
"We very much hope he will have some peace, at least from any more legal proceedings," he added.
Eitan was expected to return to her home in northern Italy in time to celebrate the final days of Hanukkah with his family there.
Elisabetta Povoledo reported from Rome, and Ronen Bergman from Tel Aviv.