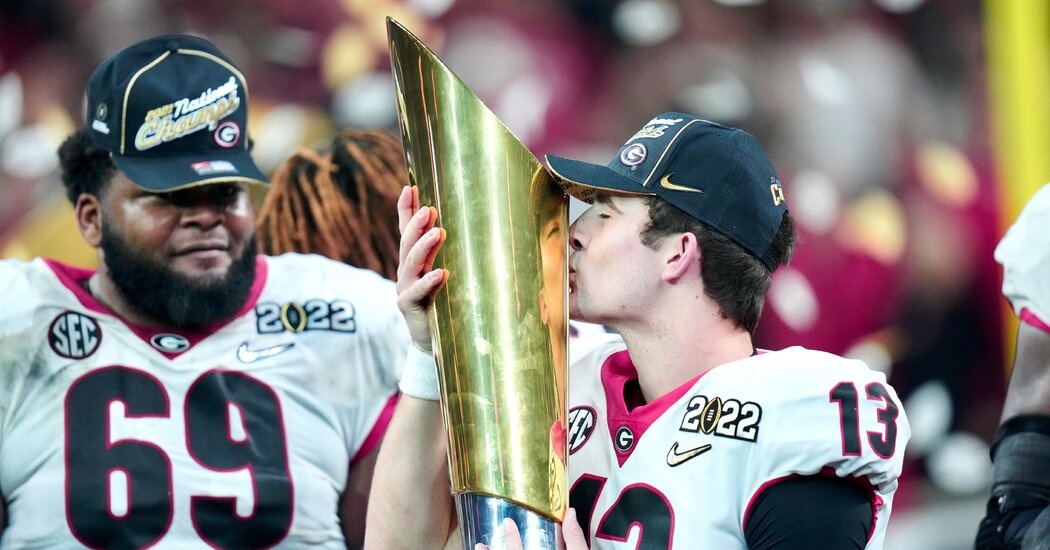 INDIANAPOLIS — If this is a new era of college football, with its sandlot schemes, pyrotechnic offensives and analytics dictating that fourth down isn't for punts or field goals, the sport was dragged back to an earlier time on Monday night.
Back to football's prehistoric age, when championships were won with chin-strap busting defenses, offenses content to collect 3 yards with their cloud of dust, and coaches who cherished a reliable kicker.
Georgia vanquished its old nemesis before a supportive capacity crowd on Monday night at Lucas Oil Stadium, rallying past Alabama, 33-18, in a bare-knuckler-turned-white-knuckler of a game that wasn't secure until Kelee Ringo returned an interception 79 yards for a touchdown in the final minute.
It was Georgia's first title since the 1980 season and its first win over the Crimson Tide since 2007, a string of defeats that included an gut-wrenching loss in the 2017 season's title game.
"I can tell you what, there's going to be some property torn up in Indianapolis tonight," Georgia Coach Kirby Smart said on the field afterward, a nod to the touchdown call by Larry Munson, the former Georgia broadcaster who died in 2011, after the miraculous Buck Belue-to-Lindsay Scott touchdown pass against Florida that kept Georgia's unbeaten season alive 41 years ago.
If Monday night was celebrated in some quarters as a moment of Southeastern Conference supremacy — Georgia became the conference's third different team to win in the last three seasons — the field goal fest may well have been another reason for those outside the South to begin clicking off their TV sets well before the confetti landed.
This season's semifinals were the second- and third-lowest rated broadcasts in the playoff's eight seasons and if it is due in part to SEC fatigue, there may be more of the same to come. Earlier Monday, the College Football Playoff management committee once again failed to come to an agreement that would expand the field and perhaps spice up the tournament.
But if you were an old-school purist, who appreciated battles in the trenches and didn't mind seeing quarterbacks getting dirtied, this was your game. The teams combined for seven sacks, 14 tackles behind the line of scrimmage and umpteen jarring hits. Neither team breached the end zone until Georgia's Zamir White bulled in from 1 yard out with just over a minute remaining in the third quarter, giving the Bulldogs their first lead, 13-9.
That score seemed to open up the game.
Alabama kicker Will Reichard booted his fourth field goal, a 21-yarder early in the fourth quarter, and then linebacker Christian Harris turned in what looked like a game-turning play, drilling quarterback Stetson Bennett IV deep in Georgia territory. The ball squirted from Bennett's hand as he threw and was ruled a fumble that bounced into the hands of safety Brian Branch as his foot was millimeters from the out-of-bounds line at the Georgia 16.
Five plays later, Alabama — aided by a pass interference penalty, one of 10 infractions against Georgia — regained the lead, 18-13, when Bryce Young side-armed a 3-yard touchdown pass to tight end Cameron Latu and Alabama failed a 2-point attempt.
Bennett, a flip-phone-wielding former walk-on with a patrician name and a pedestrian game, redeemed himself by firing a 40-yard touchdown pass to Adonai Mitchell, who made a leaping catch in the end zone to put the Bulldogs ahead, 19-18, with 8 minutes 9 seconds remaining.
He added another when the freshman Brock Bowers turned a short reception into a 15-yard touchdown that put Georgia ahead by 26-18 with 3:33 remaining.
"I wasn't going to be the reason why we lost that game," said Bennett, who now has a football origin story that approaches his grandfather, who hitchhiked to South Carolina in the late 1950s after Stetson University dropped football and promptly became the Gamecocks' starting quarterback. .
Ringo sealed the victory when he picked off an errant pass deep in his own territory and zigzagged his way through Alabama tacklers, being shadowed by Smart along the sideline, and bounded into the end zone.
His jaunt was confirmation that Georgia would land a long-coveted title.
But the game ended fittingly enough on linebacker Nolan Smith's sack of Young.
The Bulldogs, from September through November, were the class of college footballwith a throwback team: a bruising, debilitating defense and a steady offense directed ably enough by Bennett.
Georgia shackled Clemson early and then ran roughshod through the SEC until its aura was punctured by a familiar boogeyman: Alabama, which scorched them, 41-24, in the conference championship game.
Saban had lost only once to a former assistant — five of whom are now coaching in the SEC. None, though, have been closer to him or endured as many crushing defeats against Saban as Smart. He spent 11 seasons in three places — Louisiana State, the Miami Dolphins and Alabama — working under Saban. And those defeats included two in SEC championship games and another in the 2017 season's national championship game, with Georgia blowing double-digit leads.
That title game was the most excruciating: Alabama freshman quarterback Tua Tagovailoa, who had come off the bench at halftime, hit a streaking DeVonta Smith down the sideline on second-and-26 for a walk-off, overtime touchdown.
The Bulldogs, who had not beaten Alabama since 2007, had spent the last 10 days answering questions about their record against the Crimson Tide. "It's the truth," senior left tackle Jamaree Salyer said. "You can't really run from the truth."
Georgia began the night as if it was spooked simply by the sight of the Tide.
Bennett was sacked on his first snap and dropped the ball while scrambling on the second (he recovered it). The Bulldogs failed to get the next snap off before the play clock expired — the first of seven penalties in the first half. The team that mowed down Michigan from the opening snap of the semifinal netted 1 yard on its first two drives, which seemed to be a good indication of why Smart deferred when he won the coin toss.
As much as Alabama is a regular presence in the playoff, missing it only once, it is remarkable how close they were to winning their seventh title since 2009.
But for the starburst performance in the SEC championship game, this was not the same Crimson Tide team that stormed through last season with a cavalcade of offensive stars — from running back Najee Harris to quarterback Mac Jones and a star-studded receiving corps led by Smith, the Heisman Trophy winner — that operated behind the country's best offensive line.
This team was talented, to be sure, but it was also young, inexperienced and lacking in leadership at the start.
The quarterback, Young, was the prized prospect in the country two years ago but he threw just 13 passes before this season. The running back corps was thin and the offensive line had to replace three starters. The defense returned eight starters, including the star pass rusher Will Anderson, but it was a unit that had hiccups in 2020.
Saban was concerned enough about leadership that he brought in Alex Rodriguez last summer to address his team on the perils of repeating as champion — something the former Yankees star never did in his lengthy career. It also explains why the notoriously demanding coach has been gentler and kinder when his team was upended by Texas A&M and emerged with harrowing wins over Florida, Louisiana State and Auburn.
"I don't want to call it nurturing," Saban said after the semifinal victory over Cincinnati. "But I felt like we needed to do that with this team, just getting on these guys all the time was not going to help their confidence, it was not going to help the young players develop."
That development eventually came — but so, too, did a litany of injuries.
Among them was receiver John Metchie III, who tore knee ligaments in the conference title game. Then on Monday the other elite pass catcher, Jameson Williams, who had torched Georgia for two touchdowns last month, exited early in the second quarter after his left knee buckled after catching a long pass from Young.
Perhaps an intact Williams would have made a difference for Alabama, which will have to wait until next season to wash away disappointment and regret, something Georgia knows all too well.