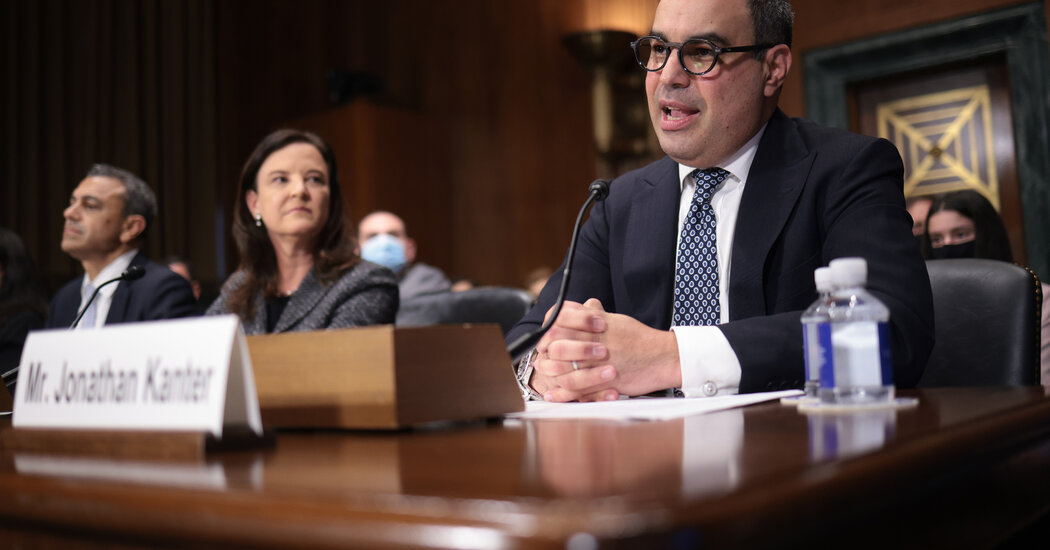 Google asked the Justice Department on Friday to investigate whether its new top antitrust official, who has represented Google rivals, needs to step back from inquiries and lawsuits against the company.
In a letter to Justice Department leaders, an outside lawyer for Google said the "reality, and the appearance, of partiality are fairly called into question" by Jonathan Kanter's past work for the company's critics. Google pointed to his work with Yelp and the News Media Alliance, which represents publishers including The New York Times Company.
"Mr. Kanter's past statements and work representing competitors who have advocated for the cases brought by the department raise serious concerns about his ability to be impartial," Peter Schottenfels, a Google spokesman, said in a statement.
Mr. Kanter, who was confirmed by the Senate earlier this week as the assistant attorney general for antitrust, has been a longtime behind-the-scenes player in building arguments against tech giants.
Google's lawyer said Mr. Kanter had represented Yelp in connection with an antitrust case filed against Google that was led by a group that included the Justice Department. Google also claimed that Mr. Kanter has represented critics in an investigation — led by Texas — into its ad technology business.
The Justice Department declined to comment. Mr. Kanter did not immediately respond to a request for comment on Friday.
The request is the latest attempt by a tech company to discredit the regulators leading antitrust investigations into their practices. Facebook has asked for Lina Khan, the chair of the Federal Trade Commission and a prominent tech critic, to be recused from the agency's lawsuit against the company. Amazon has also asked that Ms. Khan be recused from any antitrust investigation into the company.
While federal officials are supposed to avoid real or perceived conflicts of interest, experts have said that Mr. Kanter's situation may be different because he is not switching sides in the cases against Google. Instead, he is going from being a Google opponent on behalf of private clients to arguing similar concerns on behalf of the government.
Google also said that Mr. Kanter had made previous statements critical of Google that showed he had "prejudged" whether it had violated antitrust laws. Failing to recuse Mr. Kanter "might also add fuel to suggestions that the department's actions might be unduly influenced by Google's competitors," said the Google lawyer, Virginia Gibson, from the law firm Hogan Lovells.