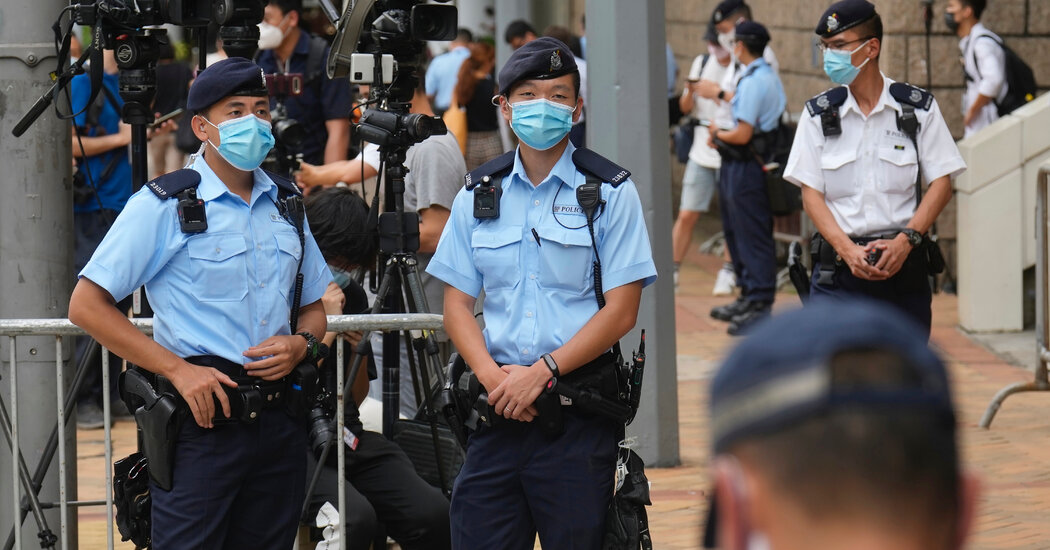 HONG KONG — A Hong Kong court on Tuesday sentenced a student activist to three years and seven months in prison for secession and money laundering, in the latest example of a powerful national security law being used to criminalize speech and stifle dissent.
The student, Tony Chung, 20, is the third person, and the youngest, to be sentenced under the security law, which Beijing imposed on Hong Kong in June 2020. Prosecutors had accused him of promoting independence for Hong Kong, a semi-autonomous Chinese territory, on social media and through activities run by a now-defunct activism group, Studentlocalism. The money laundering charge stemmed from donations he received in support of the group.
Mr. Chung pleaded guilty to the secession and money laundering charges earlier this month, and the court chose not to proceed with two related charges.
"I have no shame in my heart," Mr. Chung said when pleading guilty, before being warned by the judge, Stanley Chan, not to make any "political declaration."
Many of the social media posts the prosecution pointed to were written before enactment of the security law, which is not supposed to be retroactive. But prosecutors argued they were important context for Mr. Chung's continued activism last year.
Dozens of leading activists have been convicted of illegal assembly, including seven who were sentenced in October to prison terms of up to a year for a demonstration on July 1, 2020.
The security law, however, goes far beyond previous statutes in that it provides a powerful new tool to clamp down on dissent. Here is why it is different, and what other cases are expected to be brought.
What does the new ruling say?
Earlier this month, another activist, Ma Chun-man, was sentenced to five years and nine months in prison for inciting subversion, after shouting pro-independence slogans at a series of protests.
Unlike the first trial, which covered both an act of speech and an act of violence, Mr. Ma was charged purely because of the words he said and displayed on signs in peaceful protests and interviews over the past year.
His chanted slogans included "Hong Kong people, establish our state" and "Hong Kong independence: The only way out." Another of his slogans, "Liberate Hong Kong, revolution of our times," was the same one that Mr. Tong was convicted of using.
The origins of the national security law
Beijing enacted the law at the end of June 2020 after a year of widespread protests in Hong Kong. A previous push for the city to put its own security legislation in place was dropped after a mass demonstration in 2003.
China's central government then took up the initiative, secretly drafting the law it imposed on Hong Kong.
What makes it different?
The security law introduces some elements of China's socialist legal system to Hong Kong's common law system. More than a year after the statute was unveiled, the system is still being worked out, but some elements are clear.
The law targets terrorism, subversion, secession and collusion with foreign forces. Its language is broad and carries many changes to Hong Kong's legal system. It sets up an extensive infrastructure in the city, including a security committee that includes Hong Kong's chief executive and Beijing's top representative. China's security forces are allowed to operate openly in Hong Kong for the first time.
Perhaps the most significant elements are the changes to the city's judiciary.
Hong Kong's chief executive now selects the judges who are allowed to handle security cases. The power to interpret the law has been given to the central Chinese government — meaning Hong Kong's courts have little ability to moderate it. Complicated cases can now be tried in mainland China, although that provision has yet to be used.
The law now makes it much harder for defendants to be granted bail, and most of the 100 people who have been charged under the measure remain in jail. The vast majority of those charged have been accused of speech crimes, including saying or writing things judged to be calling for Hong Kong independence or actions by other countries, such as sanctions by the United States, deemed harmful to Hong Kong.
What have been its effects?
The security law has helped curb protests in Hong Kong and has silenced much of the outspoken dissent that was once commonplace here.
Most leading activists are either in custody or in exile. Others have censored what they say publicly. Dozens of civil society groups, including protest organizers and pro-democracy unions, have shut down because they have become the subjects of national security investigations or fear their work would make them a target.
One of the city's largest newspapers, Apple Daily, was forced to close in June after the authorities froze its bank accounts, and several top editors and executives were arrested in a national security investigation.
Film censorship has increased, and new rules are expected to pass this year allowing the authorities to retroactively ban movies that had previously been approved.
Pro-government politicians have warned that some works of art at the city's new M+ museum could violate the security law. Some books have also been scrutinized, and members of a speech therapists union have been charged with publishing seditious materials in children's books that portrayed security forces as wolves.
How has the rest of the world responded?
The United States and other Western governments have sharply criticized the security law, and several, like Australia, halted extradition agreements with Hong Kong. The United States also imposed sanctions on several Hong Kong and Chinese central government officials over the crackdown in Hong Kong. China has retaliated with sanctions on Americans, including Wilbur Ross, the former commerce secretary.
China has shrugged off foreign criticism of the security law, which it says has brought needed stability to Hong Kong after years of unrest. Hong Kong's chief executive, Carrie Lam, in an interview broadcast in October by the Hong Kong public broadcaster RTHK, said that the city's international reputation had been damaged by mischaracterizations of the law.
"Hong Kong's international reputation has suffered some damage because many foreign politicians, organizations and Western media have amplified the idea that the correct enforcement of the national security law is equivalent to suppressing human rights and freedom," she said.
"The Hong Kong government has to do more explaining in this regard."
What trials come next?
This fall, Hong Kong courts are expected to try Jimmy Lai, the founder of Apple Daily, and other top editors and executives from his company on security law charges that accuse them of colluding with foreign forces by appealing to the United States to enact sanctions against Hong Kong.
Three others have pleaded guilty to national security charges, including the activist Andy Li and the paralegal Chan Tsz-wah, who are expected to testify in Mr. Lai's trial.
The largest single case under the law involves 47 politicians and activists who have been charged with conspiracy to commit subversion for a campaign platform that called for blocking the Hong Kong government's agenda and forcing Mrs. Lam to step down.
They are expected to go on trial this year. Their bail hearings in March lasted so long that some defendants were hospitalized with exhaustion, prompting criticism from legal experts about the disorderly process.
Since the protests began in mid-June 2019 the police have arrested more than 10,000 people, and more than 2,700 of them have been prosecuted. Mrs. Lam said this month that Hong Kong would build a "mega courtroom" to handle the city's shortage of court space.
Joy Dong contributed reporting.