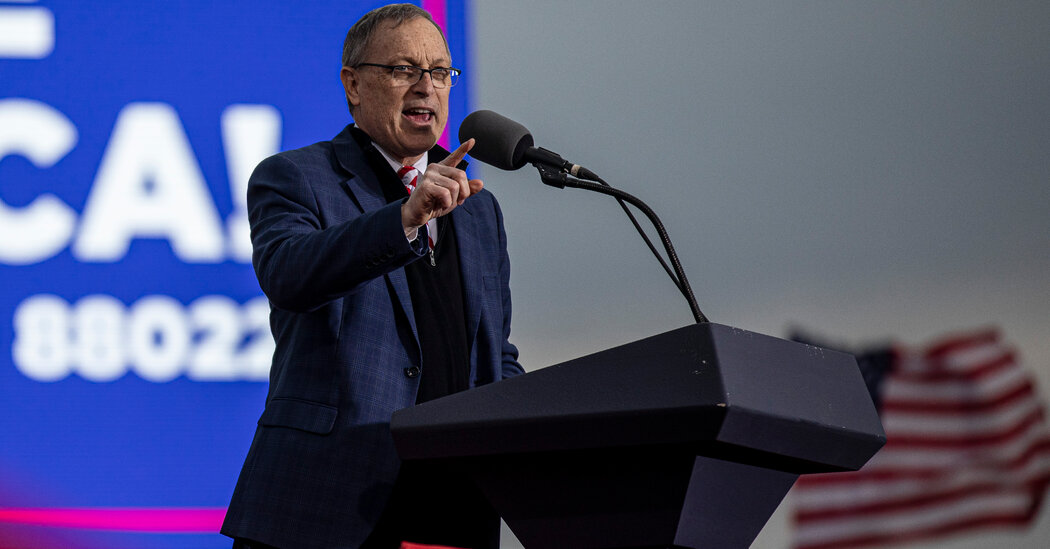 WASHINGTON — The House committee investigating the Jan. 6 attack on the Capitol sent letters on Monday seeking interviews with three Republican members of Congress, and the panel said it had gathered evidence that some House Republicans sought presidential pardons in the aftermath of the violence that engulfed the Capitol.
The committee requested interviews with Representative Andy Biggs of Arizona, the former leader of the ultraconservative House Freedom Caucus; Representative Mo Brooks of Alabama, who has said former President Donald J. Trump has continued to seek reinstatement to office; and Representative Ronny Jackson of Texas, Mr. Trump's former White House doctor. All three quickly declined, seeking to paint the committee's work as illegitimate.
In a letter to Mr. Biggs, the committee's leaders wrote that they wanted to question him about evidence they had obtained on efforts by certain House Republicans to seek a presidential pardon after Jan. 6 in connection with Mr. Trump's efforts to overturn the 2020 election.
"Your name was identified as a potential participant in that effort," Representative Bennie Thompson, Democrat of Mississippi, and Representative Liz Cheney, Republican of Wyoming, the leaders of the committee, wrote to Mr. Biggs. "We would like to understand all the details of the request for a pardon, more specific reasons why a pardon was sought and the scope of the proposed pardon."
The committee also said it wanted to interview Mr. Biggs about a Dec. 21, 2020, meeting he attended at the White House with several other members of the Freedom Caucus. There, the discussion included a plan in which former Vice President Mike Pence would unilaterally refuse to count certain states' certified electoral votes on Jan. 6.
Investigators said they also had evidence about Mr. Biggs's efforts to persuade state legislators to join Mr. Trump's push to overturn the 2020 election.
The panel also wants to question Mr. Biggs about Ali Alexander, a prominent organizer of so-called Stop the Steal rallies with ties to far-right members of Congress who sought to invalidate the 2020 election results. Mr. Alexander has said that he, along with Mr. Biggs, Mr. Brooks and Representative Paul Gosar of Arizona, set the events of Jan. 6 in motion.
"We four schemed up of putting maximum pressure on Congress while they were voting," Mr. Alexander said in a since-deleted video posted online. He added that even if they couldn't lobby the lawmakers, "we could change the hearts and the minds of Republicans who were in that body, hearing our loud roar from outside."
The committee described Mr. Alexander as "an early and aggressive proponent of the Stop the Steal movement who called for violence before Jan. 6."
"We would like to understand precisely what you knew before the violence on Jan. 6 about the purposes, planning and expectations for the march on the Capitol," Mr. Thompson and Ms. Cheney wrote to Mr. Biggs.
Mr. Brooks, who wore body armor onstage that day as he told the crowd to "start taking down names and kicking ass," and Mr. Biggs, who provided a video message for Mr. Alexander to play at a Dec. 19 rally, have denied coordinating event planning with Mr. Alexander.
The panel wants to question Mr. Brooks about statements he made in March claiming that Mr. Trump had asked him repeatedly in the months since the election to illegally "rescind" the results, remove President Biden and force a special election.
Mr. Brooks said Mr. Trump had made the request of him on multiple occasions since Sept. 1, 2021. He said the former president did not specify exactly how Congress could reinstall him, and that Mr. Brooks repeatedly told him it was impossible.
"I told President Trump that 'rescinding' the 2020 election was not a legal option. Period," Mr. Brooks said.
Investigators said they had questions for Mr. Jackson, the former White House doctor who is now a member of Congress, about why he was mentioned in encrypted messages from the Oath Keepers, a militia group, some of whose members have been charged criminally in connection with the attack. In the messages, the militia members appear to have Mr. Jackson's cellphone and say he is "on the move" and "needs protection" as the violence was underway.
Members of the Oath Keepers, including its leader, Stewart Rhodes, exchanged encrypted messages asking members of the organization to provide Mr. Jackson personally with security assistance, suggesting that he has "critical data to protect," according to federal prosecutors.
"Why would these individuals have an interest in your specific location? Why would they believe you 'have critical data to protect'?" Mr. Thompson and Ms. Cheney wrote to Mr. Jackson. "Why would they direct their members to protect your personal safety? With whom did you speak by cellphone that day?"
On Jan. 6, Mr. Jackson posted photographs of himself at Mr. Trump's rally on the Ellipse that preceded the violence, and posted to Twitter: "American Patriots have your BACK Mr. President! We will FIGHT for YOU and we will fight for OUR country!!"
Mr. Thompson and Ms. Cheney wrote to Mr. Jackson: "We would like to discuss how and when you returned from the Ellipse to the Capitol, and the contacts you had with participants in the rally or the subsequent march from the Ellipse to the Capitol."
In a statement, Mr. Jackson denied being in contact with the members of the Oath Keepers.
"I do not know, nor did I have contact with, those who exchanged text messages about me on Jan. 6," Mr. Jackson said. "In fact, I was proud to help defend the House floor from those who posed a threat to my colleagues. The committee's witch hunt against me is nothing more than a coordinated attempt to do the media's work on taxpayers' dime."
Capitol Riot's Aftermath: Key Developments
---
Mr. Brooks said in a statement that he had "already given numerous sworn affidavits and public statements about Jan. 6."
"At one time, I would have voluntarily testified before the Nancy Pelosi Witch Hunt Committee, provided the testimony was in public, the questioners were congressmen and the questions were limited to events related to Jan. 6," he said in a statement, referring to the House speaker. "But that time has long passed. I wouldn't help Nancy Pelosi and Liz Cheney cross the street."
Mr. Biggs said the committee operated with a "bias" that "everyone is guilty and must demonstrate their innocence."
"Its entire purpose is to destroy President Trump and his supporters, intimidate members of Congress and distract Americans from real issues that are destroying this country," he said in a statement.
The committee has so far chosen not to issue subpoenas for the testimony of members of Congress, citing the panel's "tremendous respect for the prerogatives of Congress and the privacy of its members."
"At the same time, we have a solemn responsibility to investigate fully the facts and circumstances of these events," Mr. Thompson and Ms. Cheney wrote.
The panel has already sought interviews with Representative Kevin McCarthy of California, the Republican leader; Representative Jim Jordan of Ohio; and Representative Scott Perry of Pennsylvania.
Each has refused to meet with the committee's investigators.
The panel has interviewed more than 935 witnesses to date.
The letters to members of Congress come after the committee picked up a court victory late Sunday against the Republican National Committee, which had attempted to block a subpoena to a vendor, Salesforce.com.
The panel is investigating how Mr. Trump's campaign and the Republican Party raised hundreds of millions of dollars from donors while making the false claim that the election had been stolen, and a federal judge ruled investigators may obtain the Republican National Committee's marketing email data.
The Jan. 6 committee is planning a series of public hearings in June to reveal its findings. Mr. Thompson has said eight hearings will take place over several weeks beginning June 9, some in prime time in an effort to attract a large television audience.
Alan Feuer contributed reporting.