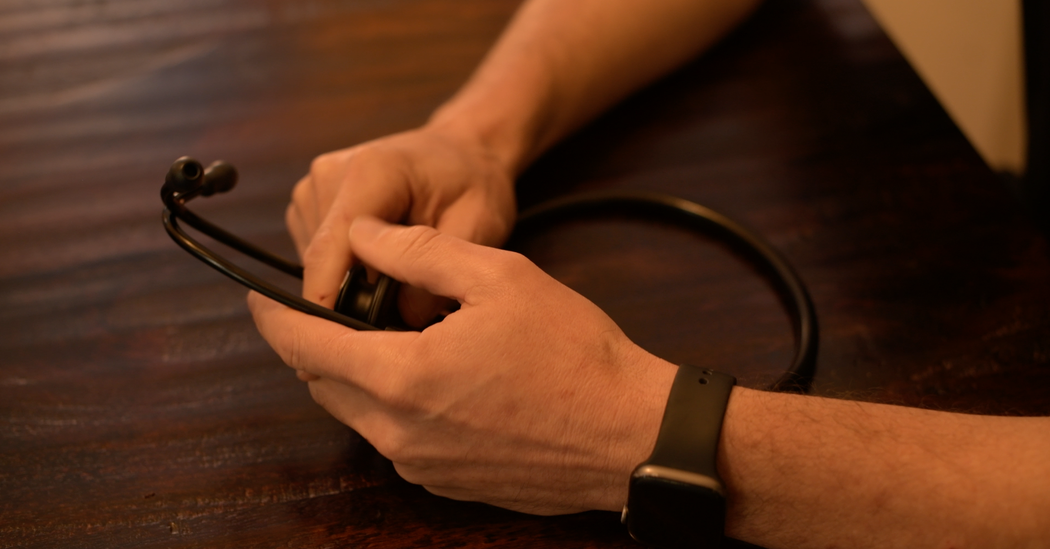 Recently a patient in his 70s came seeking care at the small rural hospital in West Michigan where I've worked as an emergency physician for two decades. He had tested positive for the coronavirus earlier in the week, was running a high fever and struggled to breathe. When asked if he'd been vaccinated, he snapped back, "I don't approve of the vaccine."
A few days later, a young patient sick with Covid-19 was admitted with dangerously low blood oxygen levels. His spouse and infant child came in to say goodbye just before he was sedated and intubated. "I don't think I'll see you again," he said. He died before the end of the week. He was unvaccinated.
As of last Monday, nine hospitals in Michigan were 100 percent full, and at least 20 others were at or above 90 percent capacity. Statewide, nearly one in four hospital patients has a confirmed or suspected case of Covid-19. In the last few weeks, my hospital has been consistently at or near capacity and nearly every day the vast majority of those patients are sick with Covid-19. Nearly all have been unvaccinated.
In a small hospital, our patients are our neighbors, friends and old high school classmates. The profound sadness of failing to save a life hits us every time. Familiarity deepens our sadness, but more and more we feel frustrated and angry. Losing a patient is never easy. Losing one so senselessly, when the death could have been avoided with a free, safe and effective vaccine, is devastating.
I often feel full of trauma, guilt and despair. I'm mad at the Fox News personalities and the Republican politicians who downplay vaccination. I'm frustrated with people who aren't doing more to protect themselves and their loved ones. Sometimes, I'm just mad with a kind of seething aimless anger. But even on the hardest days I box my emotions and get back to the work of caring for patients because I made a commitment to heal people, not hold grudges.
On some shifts, the stress in the air is palpable. My colleagues and I know the patients are piling up, but there just are not enough nurses to properly triage everyone. A patient experiencing heart failure waits in an emergency room because inpatient rooms upstairs are all occupied. Patients who need surgery can't be transferred because nearly every hospital within a two-hour drive is near or at capacity, too.
Opinion Conversation
Questions surrounding the Covid-19 vaccine and its rollout.
Nurses in my emergency department work double duty, checking on admitted patients and tending to new ones streaming in seemingly every hour. They've done this shift after shift for at least a month with no end in sight. And they did it during the last surge, in the spring, and the one before that, last winter. One of the best emergency nurses I've ever worked with told me that she cries on her drive home after every shift.
Like in the rest of Michigan, an overwhelming majority of patients in our hospital are unvaccinated, including 98 percent of acute critical care patients. Given that only about 62 percent of Michigan residents have had at least one dose of vaccine, lagging behind the national rate by about nine points, I fear we won't see an end to the tide of sick people anytime soon, and hospitals can absorb only so many surges.
Michigan's health infrastructure isn't the only one teetering on the verge of collapse. The Arizona Department of Health Services reports 94 percent of beds in the state are full, with Covid-19 patients making up about a third of those hospitalized. In Texas between mid-January and October, unvaccinated people made up a vast majority of reported Covid-19 cases and deaths there. The domino effect of strained operations carries a cost, and the data shows that patient safety is suffering under the crush of too many sick people and not enough health care workers.
As immunity from vaccinations wanes, infections will most likely increase if a persistently large number of people remain unvaccinated. A vaccine mandate is the only way to break the endless cycle of surging infections that in turn push hospitals to the brink, and to save lives in conservative, pro-Trump communities like mine where Covid-19 misinformation is pervasive and death rates are far higher than in other communities.
For close to two years, doctors and public health professionals have tried to persuade people to wear masks and socially distance. For most of 2021, we have coaxed people to do their civic duty and get vaccinated. We have shared the science. We have used facts. We have explained how vaccinations suppress and ultimately stop diseases. We have gone on TikTok. We have held town halls.
My colleagues in health care and I know we can't silence the charlatans who spout nonsense about lifelong natural immunity and unproven cures. We aren't winning with facts because one-seventh of Americans still say they will not get vaccinated. Despite the growing body of peer-reviewed studies and scientific research under our belt confirming masks and vaccinations are how we stop Covid-19, millions of Americans are still unpersuaded.
With every shift, I see the strain people sick with Covid-19 put on my hospital. Their choice to not get vaccinated is not personal. It forces patients with ruptured appendixes and broken bones to wait for hours in my emergency department; it postpones surgeries for countless other people and burns out doctors and nurses.
The coronavirus has sickened nearly 50 million Americans and killed over 788,000. New mutations continue to appear, and the winter's chill will bring flu season along with it. Personal choice cannot be an acceptable reason to endanger other people. With cases and deaths continuing to rise and antivirals in short supply, time is not on our side. A widespread vaccine mandate may be the only thing that can save our hospitals and our patients.
Dr. Rob Davidson (@DrRobDavidson) is an emergency physician in West Michigan and the executive director of the Committee to Protect Health Care.