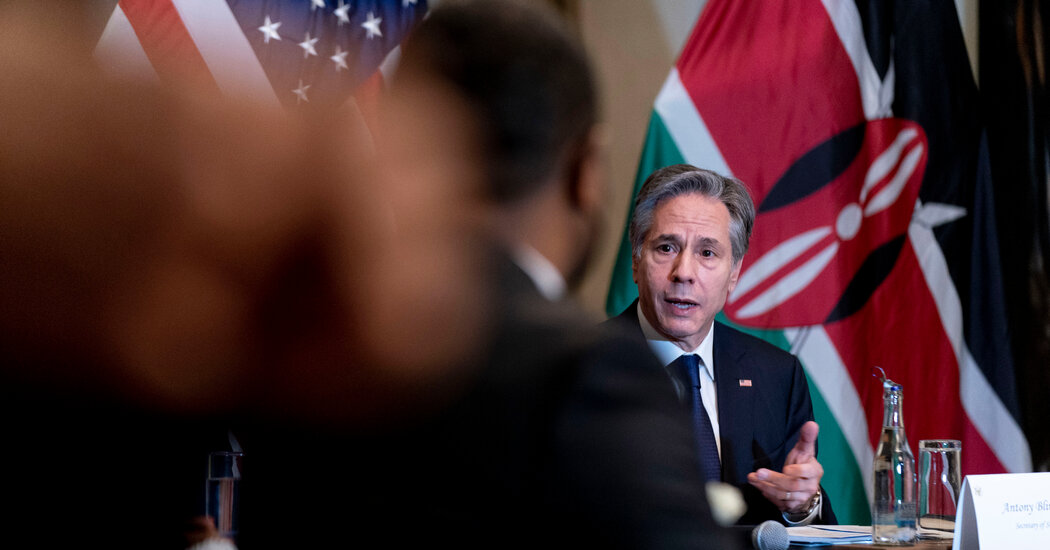 NAIROBI, Kenya — Secretary of State Antony J. Blinken's first visit to sub-Saharan Africa was intended to be a grand gesture of American support for the continent. But his first day also illustrated the frustrating limits of American influence in a region undergoing deep turmoil.
As Mr. Blinken met with officials in Nairobi, Kenya, security forces in the capital of neighboring Sudan shot and killed at least 15 pro-democracy protesters and wounded many others in the deadliest violence since a military coup on Oct. 25 set back hopes for the country.
At the same time, a civil war continued to rage in Ethiopia, where the beleaguered prime minister Abiy Ahmed, once a darling of the West, lashed out at international critics, even as Mr. Blinken renewed his appeal for an end to the fighting — another jarring juxtaposition that raised new doubts about Washington's powers of persuasion in a turbulent region.
It is an unhappy context for Mr. Blinken's visit to Africa, where he plans to give a speech on Friday in Nigeria outlining the Biden administration's vision for a continent that President Donald J. Trump often treated with a mixture of indifference and contempt.
Mr. Blinken's team has poured much diplomatic energy into East Africa over the past year, hoping to stop the atrocity-laden war in Ethiopia and protect Sudan's fragile transition to democracy. But as he landed in Nairobi, those efforts seemed to have achieved little.
Speaking to reporters alongside his Kenyan counterpart, Cabinet Secretary for Foreign Affairs Raychelle Omamo, Mr. Blinken said the war in Ethiopia "needs to stop," calling on both sides to enter talks without preconditions. For more than a year Mr. Abiy has been battling rebels from Ethiopia's northern region of Tigray in an expanding war that many fear could tear apart Africa's second most populous nation.
Events in both Ethiopia and Sudan on Wednesday seemed to defy Mr. Blinken's admonitions. The Ethiopian prime minister launched a thinly-veiled broadside against Western efforts to resolve the war with a Twitter message that blamed woes on a "sophisticated narrative war" led by unnamed enemies, a reference to more than just his Tigrayan antagonists. These forces, he said, were "using disinformation as a pathway for their sinister move."
On Sudan, Mr. Blinken renewed his call for the reinstatement of Prime Minister Abdalla Hamdok, who was deposed in last month's coup and held under house arrest, and pointed to his diplomatic efforts to pressure the Sudanese military leaders who ousted Mr. Hamdok.
"I've been working the phones," Mr. Blinken said.
But in the Sudanese capital of Khartoum and other areas, security forces opened fire during the latest day of mass protest against the coup, killing at least 15 people and wounding many more, medics said. It was the highest daily toll since protests began.
Many had been shot "in the head, neck or torso," the main doctor's association said in a statement. It brought the number of reported deaths during recent protests to at least 39.
There was even turmoil in neighboring Uganda, where residents of the capital, Kampala, where still reeling from suicide bombings by militants from a group that claims to be affiliated with the Islamic State. Four people were killed in the bombings on Tuesday.
Mr. Blinken mentioned that attack, but his main focus was the crises in Sudan and Ethiopia. Even as some call for a more aggressive U.S. approach, Mr. Blinken did not detail what further steps the United States might take to influence events in either country. But he did warn that there would be consequences for what he called "atrocities" in Ethiopia.
"There needs to be accountability, and we are determined there will be," he said.
Mr. Blinken's visit to East Africa came after months of intensive engagement by his regional envoy, Jeffrey D. Feltman, who has been shuttling between capitals in recent weeks in a frantic scramble for diplomatic solutions.
In Sudan, American officials are pressing for the immediate reinstatement of a transitional government that took power in 2019, following a wave of popular protest that ousted the country's longtime dictator, Omar Hassan al-Bashir. If Sudan's generals rolled back their coup, the country would be rewarded with renewed financial aid from the United States and other nations, Mr. Blinken said.
For now, though, his offers appear to be falling on deaf ears.
In Ethiopia, the Biden administration has turned to increasingly coercive means to pressure both sides to stop fighting, including visa restrictions on Ethiopian officials linked to alleged atrocities and threats of sanctions against leaders on both sides.
At the United Nations, American officials have issued impassioned appeals for international unity. "Do African lives not matter?" a visibly exasperated Linda Thomas-Greenfield, the U.S. ambassador to the United Nations, said in July.
Those efforts have failed to halt Ethiopia's slide. Two million people have been forced from their homes; seven million urgently need humanitarian assistance; and human rights abuses continue unabated, according to aid organizations and international observers.
Mr. Abiy, who is facing off against ethnic Tigrayan rebels pressing toward the capital, has spurned repeated American appeals to negotiate.
Some critics blame the Biden administration for reacting too slowly to the various crises in East Africa, and in particular for not taking firm action sooner against Mr. Abiy.
The United States is also contending with a growing field of foreign countries with competing interests in the Horn of Africa — including the United Arab Emirates, Turkey, Qatar and Russia — that have sometimes frustrated American diplomacy.
China's influence in Africa is also a growing concern to U.S. officials who consider competition with Beijing as their top priority. On Wednesday, the hotel where Mr. Blinken stayed was also hosting a meeting of a China-Kenya business group.
The defense of democracy has become a defining feature of President Biden's foreign policy, especially as the United States competes for influence with authoritarian China in Africa and around the globe.
Mr. Blinken also had cautionary words about Kenya's political system, which human rights groups say has shown authoritarian tendencies in recent years. He began his day by meeting with Kenyan civil society leaders, who warned of threats to the country's democratic progress as Kenya heads toward national elections in August.
"Not just in Kenya, but around the world, you've seen over the last decade or so what some have called a democratic recession," Mr. Blinken said. "Even vibrant democracies like Kenya are experiencing these pressures, especially around election time."
Such talk failed to prevent Mr. Blinken from receiving an effusive public welcome from his counterpart, Ms. Omamo. She said that Mr. Blinken's visit showed that "the U.S. is indeed back and interested in the advancement of our continent," an apparent implicit contrast to President Donald J. Trump, who never visited the continent and disparaged some of its nations with a vulgar epithet.
Ms. Omamo even echoed one of President Biden's signature slogans, saying that Kenya and the United States would be "building back better" together.