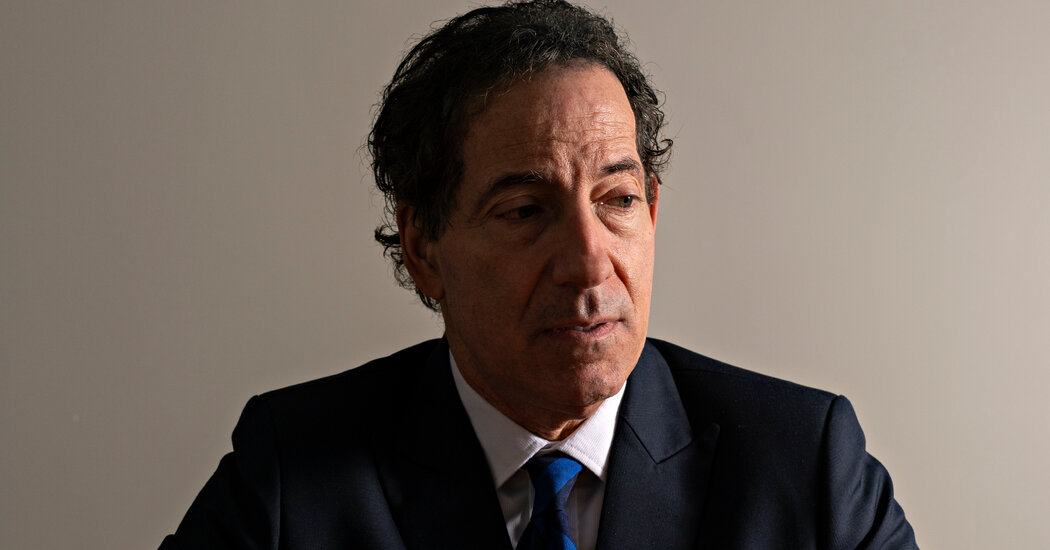 Hi. Welcome to On Politics, your guide to the political news in Washington and across the nation. We're your hosts, Blake and Leah.
'Unthinkable' twin traumas
On the morning of Dec. 31, 2020, Representative Jamie Raskin went down to his basement and found his son Tommy, 25, lying dead on the bed where he had been sleeping while staying with his parents. He had committed suicide after a long struggle with depression.
Raskin was shattered. He and his son had been uncommonly close, sharing a passion for legal arcana and late-night Boggle games and an unyielding liberal idealism.
One week after Tommy's suicide, a violent mob burst into the Capitol, forcing Raskin, a lawmaker from Maryland, to seek shelter in a congressional hearing room. His youngest daughter, 23-year-old Tabitha — who had come to Washington to look after her traumatized father — barricaded herself in another member's office.
Six days after that, House Speaker Nancy Pelosi asked Raskin to lead the second impeachment of former President Donald J. Trump.
He immediately said yes.
"I had no choice," Raskin said in an interview at his home in Takoma Park, Md., a proudly progressive enclave just outside Washington. "I felt it was necessary, and Tommy was with me every step along the way."
Raskin choked up at this point, bowing his head on folded hands.
"Pelosi's got some magical powers," he went on, after collecting himself. "That was a very low moment for me. I wasn't sleeping. I wasn't eating. And I wasn't sure if I would ever really be able to do anything again. And by asking me to be the lead impeachment manager, she was telling me that I was still needed."
A secret mission
Months earlier, Raskin reveals in "Unthinkable," his wrenching new memoir, Pelosi had tapped him for a special assignment: to think like Trump.
Two men could hardly have been more different: Raskin, an earnest constitutional law scholar who keeps a vegan diet; and Trump, a showman with a cynical disregard for legal niceties and a preference for well-done steak.
As early as May 2020, Pelosi had begun to worry that Trump would try to win a second term as president by any means — even if he lost at the ballot box.
Understand the Jan. 6 Investigation
Both the Justice Department and a House select committee are investigating the events of the Capitol riot. Here's where they stand:
She confided in Raskin, who had long been obsessed with the Electoral College system, which he thought was full of "booby traps" that someone like Trump could exploit.
So when Pelosi asked him to game out what Trump might do in November, Raskin undertook the task with characteristic vigor. Over the next few months, he tried to piece together the Trump team's likely strategy.
"We all had become great students of Donald Trump and his psyche," Raskin recalled. "I just figured out what they would do if they wanted to win."
Raskin summed up his findings a few months later in a memo to Pelosi's leadership team.
"Everything he ended up doing we essentially predicted, other than unleashing the violent insurrection against us," Raskin said. "I fault myself for not having taken seriously the possibility of the outdoors violence entering into the chamber."
When investigators later unearthed a proposed six-step plan by John Eastman, a fringe conservative scholar who advised Trump on his Jan. 6 gambit, Raskin found it eerily similar to his own thinking.
"It was not as good as my memo. I would have done a better job," Raskin said, allowing himself a sly smile. "It was a shoddy, superficial product, but it was as I predicted."
Some colleagues, Raskin said, suggested he was overthinking the prospect for Republican misdeeds, saying, "There's the constitutional law professor again, you know, lost in the nooks and crannies of the Constitution."
12th Amendment arcana
As Raskin delved deeper, he realized that Democrats were vulnerable to one potential Trump move in particular: the triggering of a "contingent election" in the House of Representatives.
Under the 12th Amendment, if no candidate musters a majority of the Electoral College to Congress on the appointed day, the House must immediately vote to choose the new president. But there's a catch. Instead of a simple majority of House lawmakers, a majority of House delegations picks the winner. All the representatives from each state vote on that state's choice for president, and then each state casts one vote.
That put Democrats at a disadvantage, because before the 2020 election, Republicans controlled 26 states to Democrats' 22 (two others were tied). But if Democrats could flip at least one Republican-held delegation, they would deny the G.O.P. a majority.
So Raskin sought to change the balance of power via the upcoming election. First, he identified nearly two dozen Democratic candidates who would be crucial to either defending or flipping House delegations. Then, he steered money toward them through a group he named "Twelfth Amendment Defenders Fund."
Back then, educating donors about such a hypothetical scenario proved to be quite an endeavor. "I had to engage in a mini-constitutional seminar with everybody we were asking for money," Raskin said.
He ultimately raised nearly half a million dollars. Each of his candidates ended up getting around $20,000 from the fund — welcome help, but hardly a flood of cash.
On Nov. 3, 2020, Republicans knocked off nearly a dozen House Democrats. They flipped the Iowa delegation after unseating Representative Abby Finkenauer, meaning the G.O.P. now had a 27-22 majority of state delegations even though Democrats still controlled the House as a whole. Another of Raskin's Iowa candidates, Rita Hart, lost by just six votes.
Now, if Raskin's worst fears were realized and Trump engineered a contingent election in the House, President-elect Joe Biden would lose.
Raskin believed that on Jan. 6, the fate of American democracy hinged on how Vice President Mike Pence understood his constitutional role. Would he simply pass along the results of the Electoral College, as his predecessors had all done? Or would he toss out the electoral votes of a few battleground states Trump had lost, throwing the election to the House?
Key Figures in the Jan. 6 Inquiry
---
"We were very close to all of that happening," Raskin said. "If Mike Pence had gone along with it, it certainly would have happened."
'A religious and political cult'
Today, Raskin is weary of thinking and talking about Trump. He even insisted that the former president's name appear nowhere on the jacket of his book, including on any signs in the cover photograph of the Capitol mob.
But Raskin is also deeply anxious about how Trump's fixation on the 2020 election is reshaping the G.O.P., from his efforts to bolster hard-right candidates in key offices to his allies' push for new laws that seem aimed at consolidating Republican power.
"The Republican Party is no longer operating like a modern political party," Raskin said. "It is operating much more like a religious and political cult, under the control of one man."
Raskin often consulted his son, by all accounts a brilliant student at Harvard Law School, for legal and political advice. He had been planning to ask him to review his Jan. 6 speech. The loss of an intellectual partner, alongside the grief of losing his only son, was doubly crushing.
If he were alive today, Raskin says, Tommy most likely would have found ways to empathize with the Capitol rioters, even as he condemned their cause.
"Tommy was tough as nails intellectually and politically, but he had a perfect heart," Raskin said. "He wanted to redeem the good in everybody's humanity at every turn. But he also wanted to fight fascism."
What to read tonight
One more thing…
On Thursday's episode of The Daily, Representative Liz Cheney publicly confirmed for the first time that she had a furious exchange with a fellow Republican on the House floor on Jan. 6.
Our colleague Michael Barbaro asked Cheney: "It has been reported that on that day, a member of the Freedom Caucus and a House Republican colleague of yours, Jim Jordan, was standing in the aisle as members of Congress were being escorted away from, from the mob, from the protesters, and that he said something to you, he said, 'We need to get the ladies away from the aisle. Let me help you.'"
Barbaro then asked Cheney to confirm that she pushed away Jordan's hand, saying, "Get away from me" and "You did this," along with an expletive that underscored her anger.
To which Cheney responded: "Yeah, it's, it's, it's, it's true … It was both that I certainly didn't need his help, and secondly, I thought clearly that the lie that they had been spreading and telling people had absolutely contributed to what we were living through at that moment."
Is there anything you think we're missing? Anything you want to see more of? We'd love to hear from you. Email us at onpolitics@nytimes.com.