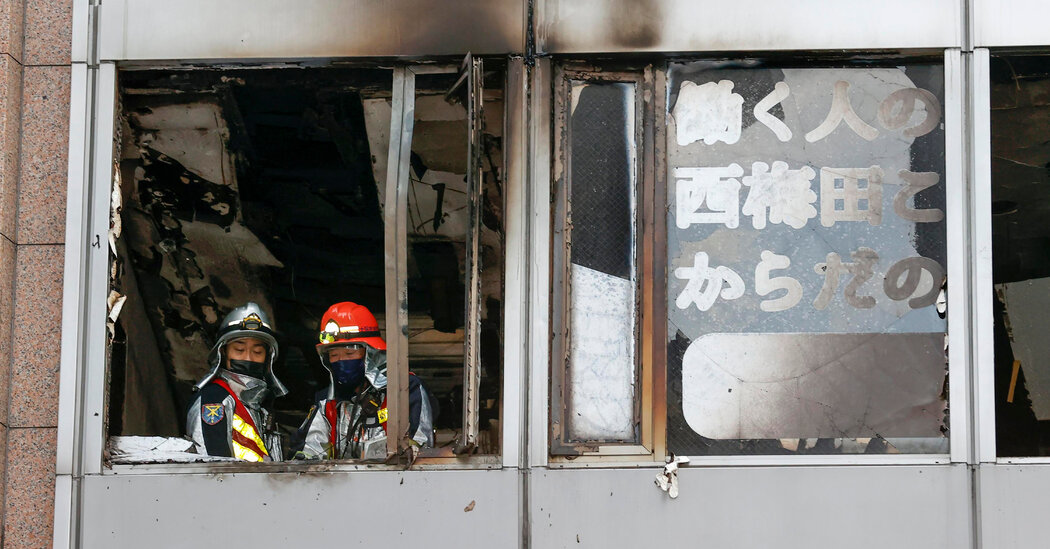 TOKYO — Twenty-seven people were feared dead in a fire on Friday that burned through the fourth floor of a busy office building in downtown Osaka, the largest city in western Japan. The police were investigating the possibility of arson.
The fire was first reported around 10:20 a.m. and was put out a little more than 20 minutes later. Rescue workers were seen carrying people out of the building on stretchers, the national broadcaster, NHK, reported. There was one survivor, the broadcaster said.
The blaze burned an approximately 200-square-foot area of the eight-story building, located next to the biggest train station in the port city. The fourth floor, where the fire is believed to have begun, was home to a medical clinic specializing in internal medicine and psychiatry.
Police officials told NHK that a witness reported seeing, shortly before the blaze started, a man in his 60s carrying a paper bag that was leaking fluid.
With the reports of possible arson, the fire immediately brought to mind the 2019 blaze at an anime studio in Kyoto, another city in western Japan, in which an arsonist killed 33 people and injured dozens.
Before that, the last major fire in a downtown building in a Japanese city occurred two decades ago, in the Shinjuku neighborhood of Tokyo. Forty-four people were killed as they tried to escape down a blocked staircase.
Speaking to NHK, Ai Sekizawa, an expert on fires at Tokyo University of Science, called Friday's blaze "shocking."
"We don't know the details yet, but small multi-tenant buildings sometimes have only one emergency staircase," he said, adding that a fire near the exit could have led to death by suffocation or smoke inhalation as people tried to escape.
Hikari Hida contributed reporting.