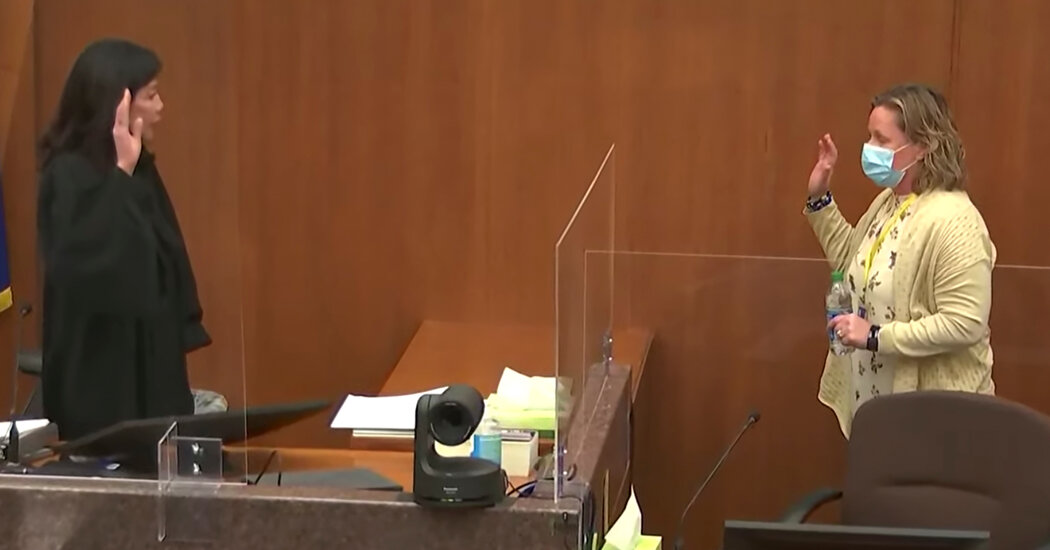 MINNEAPOLIS — Twelve jurors began weighing manslaughter charges on Monday against Kimberly Potter, who fatally shot a man during a traffic stop in a Minneapolis suburb while seeming to think she was using her Taser.
They began deliberating after hearing closing arguments from prosecutors and from lawyers for Ms. Potter, a white officer who resigned from the Brooklyn Center Police Department after killing Mr. Wright, a Black man who had been driving to a carwash.
The jurors discussed the case for about five hours without reaching a verdict. They will be sequestered until they decide the case, likely staying in a hotel and returning to the courthouse in Minneapolis on Tuesday to continue deliberations.
In closing arguments, Earl Gray, Ms. Potter's lead lawyer, said his client should not be sent to prison for a shooting that prosecutors concede was a mistake. He argued that Mr. Wright had "caused his own death" by trying to flee from the police.
"This lady here made a mistake, and my gosh, a mistake is not a crime," Mr. Gray said, motioning toward Ms. Potter.
Erin Eldridge, a prosecutor, told jurors that they should find Ms. Potter guilty of the two charges she faces — first-degree and second-degree manslaughter — because she acted recklessly and violated her training by mixing up her Taser and her gun, costing Mr. Wright, 20, his life.
"Accidents can still be crimes," Ms. Eldridge said. She added, "This was a colossal screw-up, a blunder of epic proportions."
If the jury convicts Ms. Potter on either manslaughter count, a judge would probably sentence her to at least several years in prison, and possibly a decade or longer.
Before closing arguments on Monday, Judge Regina Chu read instructions to the jury on the two charges. Parts of the instructions that deal with Ms. Potter's knowledge of what she was doing could prove crucial in the case because prosecutors and defense lawyers differed sharply in their closing arguments over whether her mistake amounted to a crime.
Judge Chu said that in order to convict Ms. Potter of first-degree manslaughter, jurors would have to find that she had committed "a conscious or intentional act" regarding her handling of a gun that created a risk that she was aware of and disregarded. To convict on second-degree manslaughter, the judge said jurors had to find that Ms. Potter had consciously taken a chance of causing great bodily harm.
Nine of the jurors deciding the case are white, two are Asian and one is Black. The jury is evenly divided between men and women, and their ages range from the 20s to the 60s.
The jurors began discussing the case just before 1 p.m. Central time on Monday, after hearing testimony from 33 witnesses over nearly two weeks.
The final witness was Ms. Potter, 49, who broke down in sobs several times on the witness stand as she described the moments before the shooting. She said she had seen fear in another officer's face and had never meant to hurt anyone. "I'm sorry it happened," she said. "I'm so sorry."
Understand the Killing of Daunte Wright
---
Ms. Potter was training a rookie officer, Anthony Luckey, on April 11 when Officer Luckey decided to pull over Mr. Wright's car after seeing an air freshener hanging from the rearview mirror, which is against the law in Minnesota and many other states. He also noted that the car's registration sticker was expired.
When the officers ran Mr. Wright's name through their computer, they discovered that a judge had recently issued an arrest warrant for Mr. Wright after he missed a court date related to charges that he had illegally carried a pistol and had run away from Minneapolis police officers in June 2020.
On the roadside in Brooklyn Center, the officers asked Mr. Wright to step out of his car. But when Officer Luckey went to handcuff him, Mr. Wright pulled away and got back into the driver's seat, where he struggled with Officer Luckey and a sergeant who had been called to the scene.
Police body cameras recorded Ms. Potter shouting "Taser! Taser! Taser!" immediately before firing a fatal bullet from her Glock handgun. Mr. Wright, mortally wounded, said "ah, he shot me," and his car lurched forward, crashing into an oncoming car a short way down the block. He was pronounced dead at the scene. In the videos, Ms. Potter is heard saying that she had drawn the wrong weapon and is seen collapsing to the ground. "What have I done?" she asks at one point.
The killing of Mr. Wright, a father who had recently been working at a shoe store, happened while the trial of Derek Chauvin, the Minneapolis officer who was later convicted of murdering George Floyd, was in progress. It set off several nights of intense protests in Brooklyn Center, during which the police arrested hundreds of people.
Criminal charges against police officers who kill while on duty remain rare, and convictions even more so.
Instances of "weapons confusion" have also been rare. Even so, in the last two decades, at least three officers have been convicted in cases where they said they had confused a gun with a Taser, including two cases in which the person they shot died.