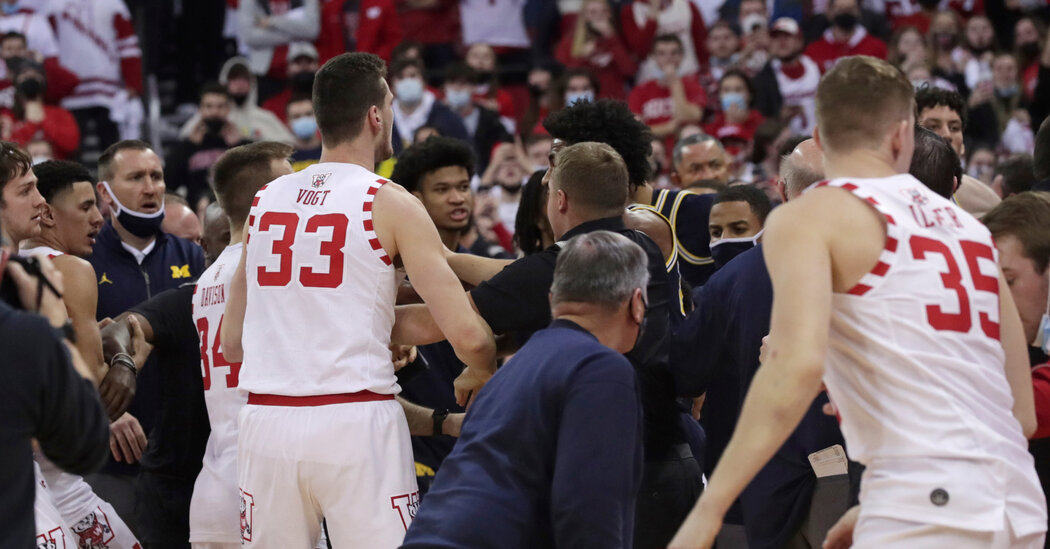 After Wisconsin routed his team, 77-63, Sunday afternoon, Michigan Coach Juwan Howard slapped Joe Krabbenhoft, a Wisconsin assistant coach, in the head during the postgame handshake line, precipitating a scrum between the two teams.
Howard, the former Miami Heat assistant coach and a member of Michigan's famed Fab Five recruiting class in the early 1990s, originally did not enter the handshake line but then came in late. Wisconsin Coach Greg Gard at first appeared to use his left hand to grab at Howard's right elbow to stop him so they could talk.
Howard then appeared to tug at Gard's shirt, point his index finger in Gard's face and get into a heated discussion with Gard. As the coaches were separated by police officers, assistant coaches and players, Howard landed a right-handed slap on Krabbenhoft's head. Players from both teams then began pushing and shoving one another.
Howard could be suspended for "no more than two contests" and fined up to $10,000, in accordance with the Big Ten Conference's Sportsmanship Policy, and either Michigan or the conference's Group Executive Committee could elect to impose additional penalties. The Big Ten said in a statement that it was aware of the incident.
"The conference is in contact with both member institutions and is currently assessing the incident," the statement said. "The conference will provide more information and will take swift and appropriate disciplinary action when it completes its review."
Michigan's athletic director, Warde Manuel, said in a statement he apologized to his Wisconsin counterpart, Chris McIntosh.
"There is no excuse for any of our staff or student-athletes to get into a physical altercation with others regardless of instigating factors," he said.
Manuel added: "We will review the situation more thoroughly and work with the Big Ten Conference as they determine their disciplinary actions and will determine if any further disciplinary actions are needed."
Gard said in a television interview that Howard was upset with the timeout Gard had called with 15 seconds remaining and Wisconsin up by 15 points. Michigan was pressing the Wisconsin backups when he called the timeout.
"Apparently, he didn't like that I called a timeout to reset the 10-second call," Gard told CBS. "We only had four seconds to get the ball over half-court and I didn't want to put my backups — I had all my bench guys in the game — I didn't want to put them in that position of scrambling with only four seconds, so I took a timeout and it got us a new 10 seconds and it helped them to get organized to get the ball in."
He added: "He did not like that when he came through the handshake line. I'll leave it at that and the tape will show the rest."
Howard said he objected to Gard initiating contact in the handshake line.
"Well, basically I addressed with the head coach that I will remember that because of that timeout, and for someone to touch me, and I think that was very uncalled-for for him to touch me as we were verbalizing and communicating with one another," Howard told reporters. "So that's what ended up happening and that's what escalated it."
Sunday was not the first time Howard had been involved in an altercation with another Big Ten coach. During the 2021 conference tournament, Howard had to be separated from Maryland's Mark Turgeon, when he felt Turgeon "charged" at him. Howard was ejected from the game with about 11 minutes remaining in the second half, but not suspended.
No. 15 Wisconsin (21-5, 12-4 Big Ten) won Sunday behind 25 points from Johnny Davis. The Badgers are competing with No. 5 Purdue and No. 12 Illinois for the conference title.
Michigan (14-11, 8-7) remains on the bubble for the N.C.A.A. tournament. The Wolverines were ranked as high as No. 4 earlier in the season but haven't been in the top 25 since the Nov. 29 Associated Press poll.
A year ago, Michigan won the Big Ten regular-season title and lost to U.C.L.A. in the round of 8 in the N.C.A.A. tournament.