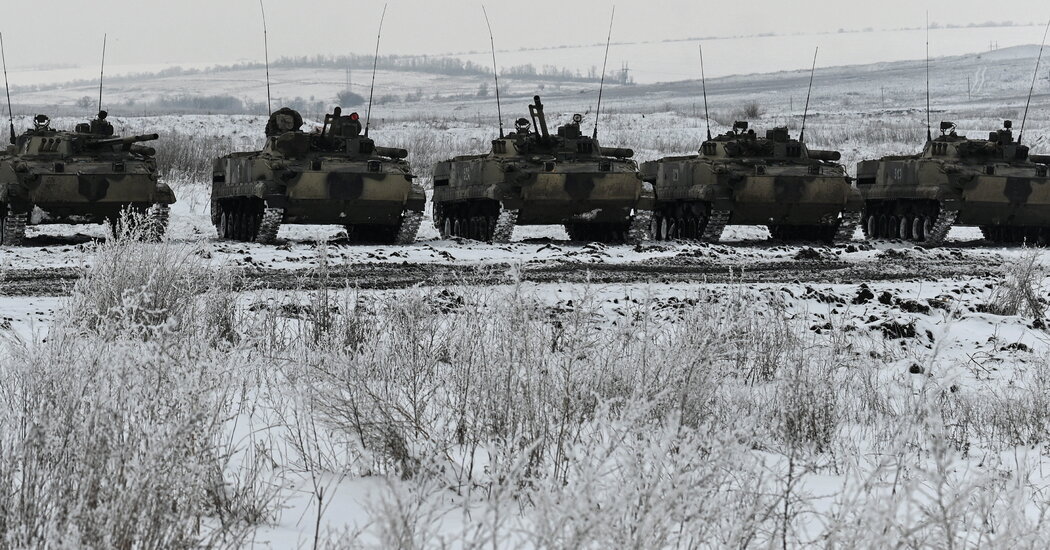 KYIV, Ukraine — A bomb is about to go off.
Callers have communicated some variation of those words to the police in Ukraine at least 300 times in the past month, a spate of fake bomb threats that officials say is designed to sow panic and fear.
With tens of thousands of Russian troops amassed at its borders and the West warning that war could break out any day, the bomb threats have added to the growing sense of anxiety in the nation of 44 million.
While the Pentagon warned on Friday that Russia had now amassed enough troops to launch a full-scale invasion of the country, analysts have said that Russian aggression aimed at destabilizing the government could come in many forms. And it is the collapse of the state from within — abetted by Russian efforts — that Ukrainian officials have called the most clear and present danger.
The rate of bomb threats in January in Ukraine was six times higher than the average for last year.
The Ukrainian police say they have checked more than 3,000 buildings since the beginning of January in response to more than 300 phoned-in bomb threats. So far the threats have all turned out to be fake — causing disruption but no damage or loss of life.
In a statement, the country's security service said the goal was obvious: creating chaos, stirring fear and undermining the government.
The threats have been mostly aimed at schools and shopping malls, forcing evacuations and closures and in some cases keeping children out of classes for days.
Ukraine's interior minister, Denys Monastyrsky, wrote on social media that the fake bomb alerts were mostly coming from Russia, from Russian-controlled territory in eastern Ukraine and from Russian allies, including Belarus.
The threats come as Ukraine braces for more cyberattacks — which could range from efforts to cripple the country's infrastructure to propaganda campaigns aimed at sowing fear and confusion.
A Ukrainian government website was recently hacked and a message was posted: "Be afraid and expect the worst."
President Volodymyr Zelensky of Ukraine has repeatedly expressed his concern that internal destabilization posed perhaps an even greater danger than an invasion. Panic, he has said, puts the economy in danger.
It is this concern that prompted him to publicly call on the United States and other European leaders to cool their talk of war being imminent. At the same time, he has blamed Russia for the bomb threats and efforts to cause turmoil within Ukraine.
"Why are you doing this?" Mr. Zelensky said at a news conference in comments directed at Russian President Vladimir V. Putin, in which he mentioned both the military buildup at the border and the flurry of bomb threats. "To threaten us? What is this sadomasochism? What is the pleasure of this? Of someone being afraid?"
Russian officials have repeatedly denied meddling in Ukraine's internal affairs. And they say they have also been dealing with their own wave of bomb threats, which have forced Russian schools and shopping centers to evacuate tens of thousands of people. They have blamed Ukraine for the surge.
In Ukraine, the fake bomb alerts have disrupted classes at dozens of schools, and some Ukrainians are blaming the government for the problem.
"It's getting scary," said Anastasia Kuznetsova, a parent in Kryvyi Rih, a city in central Ukraine. Her 9-year-old daughter could not go to school for nearly two weeks this month because of repeated bomb threats to the building.
Olena Ronzhyna, mother of a 12-year-old from Cherkasy, in central Ukraine, said people were upset and blaming the government.
"Children have been home for almost a month," she said.
Yet Ms. Ronzhyna believes that if Russia is hoping to damage Ukraine by undermining trust in its government, it will not work. Ukrainians have always taken great pride in their deep distrust of their government, and they relish criticizing it harshly and openly.
"We never trust any of our governments," she said. "Starting from the first day after an election."