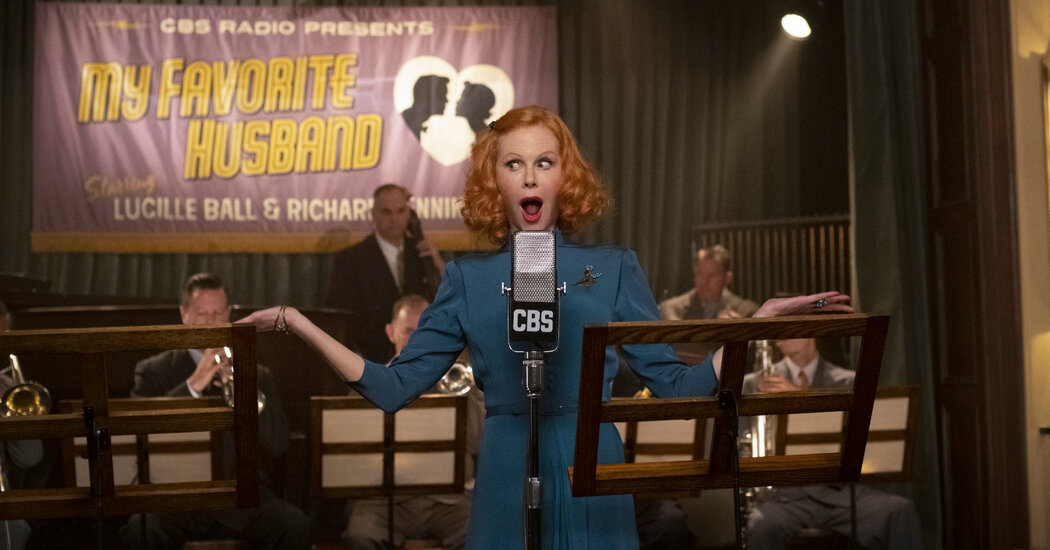 All of a sudden, here's Lucy.
The small-screen icon Lucille Ball has reappeared on the big screen in two current releases: first in fictionalized form as the boisterous harridan Lucille Dolittle (Christine Ebersole) in Paul Thomas Anderson's "Licorice Pizza," then, more significantly, as her full-blown, no-nonsense, businesslike self, as portrayed by Nicole Kidman in the Aaron Sorkin biopic "Being the Ricardos."
When the Australian actress was announced for the role, the news prompted an internet backlash among fans and insiders. As the co-author of a book on Desilu Productions and a longtime "Lucy" aficionado, I shared their concern.
It was a pleasant surprise, then, to see how deftly Kidman conveyed the nuances of the star offscreen — challenging, direct, competent, professional — and often humorless. What was lacking was her genuine, spontaneous tenderness toward her husband, Desi Arnaz (played by Javier Bardem), so frequently captured in the "I Love Lucy" shows. In the film, her affection was alternately expressed as either sexual passion or jealous rage. (By contrast, "Licorice Pizza" offers a one-dimensional sketch of a big, obnoxious star.)
In fact, there was a seldom-seen soft side to Lucille — I use her full name here to distinguish the actress from the TV character — which I discovered the first time I met her.
Lucille has long been touted as a hard-nosed, shrewd businesswoman, the first to run a TV studio. But she actually hated that job and the accompanying label. She ran Desilu Studios because Arnaz left the company after their divorce. She inherited the responsibility and could hardly wait to get out from under that yoke.
Wary and self-protective, Lucille was always suspicious of strangers and their motives, a trait that intensified after her fame exploded. Her son-in-law, the actor Laurence Luckinbill, once aptly described her reaction to new people thusly: "Halt! Who goes there?" As he put it, "Lucille was a sentry in her own life."
Lucille Ball has been a figure of importance to me since I was 13, when I began watching reruns of the classic 1950s "I Love Lucy" shows, then nearly two decades old, and discovered her extraordinarily natural line delivery, exquisite timing, gift for deft physical comedy and astonishing ability to communicate her thoughts through facial expressions. But on contemporary talk shows, she seemed brittle and harsh, a completely different person than she appeared to be in that series. It became my mission to figure out why.
Soon I was in libraries on a pre-Google quest, compelled to track down biographies and articles from which I could glean more about her. (I was unknowingly researching a book I would one day write with Coyne Steven Sanders, "Desilu: The Story of Lucille Ball and Desi Arnaz.") But after I graduated from college, I moved from Florida to Manhattan to pursue a career in journalism and decided to put the Lucy obsession behind me.
Yet within nine months, I found myself seated right beside her, and that's when I came to see firsthand Lucille's evasive softer side.
I was a guest at a birthday party for a gentleman named Kieth Dodge, whom I had befriended by happenstance and later came to find was assistant to Lucille's daughter, Lucie Arnaz, who was starring on Broadway in "They're Playing Our Song." We all dined together one evening, and the conversation got around to Lucie's appearances on her mother's later series. I had seen every episode (and let her know it). Shortly thereafter, I received an invitation to a birthday brunch Lucie was throwing for Kieth at Tavern on the Green that happened to be on Mother's Day.
Upon arrival, I was shown to a table set for 11. Empty spots awaited the arrival of the guest of honor and the hostess. I chose a seat next to an empty chair, with my back to the entrance to the dining room. The place was packed, abuzz with Mother's Day excitement.
Suddenly there was a hush, followed by the sound of silverware dropping to plates, then a wave of murmurs: "Lucille Ball, Lucille Ball, Lucille Ball." A red, white and blue pack of Philip Morris Commander cigarettes was abruptly plopped down on the place setting to my left, and there she stood. Lucille lived in Beverly Hills. In no way could I fathom she would be on the guest list.
After introductions, I noticed that when Lucille spoke, she made general pronouncements for the benefit of all the guests. As I had seen in her chat-show appearances, she was serious and brusque, but she tried to please because everybody expected her to be funny.
A man with a thick Puerto Rican accent at the other end of the table said something loudly but unintelligibly, and Lucille leaned over to me and quietly asked, "What is Ricky Ricardo down there saying?"
That seemed like an icebreaker, so I boldly asked if she ever visited her hometown, Jamestown, N.Y., just to let her know I was one of the "cognoscenti." She said she hadn't been there in years. I then went even further and asked if she ever spoke to Marion Strong, her childhood pal whose name was borrowed for a character on the original series. She said she had recently spoken to Marion on the phone.
Lucie Arnaz suddenly interjected: "Mom, he knows everything about you."
Lucille replied, "Yes, I know. He just asked me about Marion Strong." And added, as if I wasn't sitting right there, "What does he care?"
I was flattened, certain I had overstepped and afraid that she thought I was some psychotic fan. To save face, I turned my attention toward the guests at the other end of the table. Shortly, a beautifully manicured hand holding a crystal water goblet came into my range of view, with Lucille saying, "Take your glass." Befuddled, I thought my glass was in her way and she wanted me to place it elsewhere, so I reached out to take the glass from her. She withdrew it then pushed it toward me again and commanded, "Take your glass." Once again I tried to take the glass from her, and she withdrew it.
Five Movies to Watch This Winter
---
It felt like I was part of a "Lucy" sketch — or the butt of a joke.
Finally, she offered the glass again, motioning toward the goblet directly in front of me, and ordered, "Take your glass." Ah! She was trying to propose an interlocking toast!
"Get with it, Tom," cracked Lucie.
It was such a thoughtful gesture and put the awkwardness behind us. I decided I liked her.
After that, we chit-chatted about general topics. She grabbed my arm and used me as a prop in a story she was telling the other guests. I finally screwed up the courage to get somewhat personal again, and asked about her longtime co-star Vivian Vance. "She's dying," Lucille grimly confided. (Vance died of cancer three months later.)
After brunch, we retired to a guest's loft for dessert and birthday gifts. In my penurious state, I didn't have much of a budget for the present — I ended up with a meticulously wrapped $12.95 Lucite tape dispenser. The procedure was to pass the gifts around for the guests to admire. Kieth wasn't impressed with my utilitarian choice and quickly moved it along, on to the next gift. But when my sad little desk tool made it across the room to Lucille, she exclaimed loudly, "Wow! This is the greatest tape dispenser I've ever seen! I love, love, love it! All of mine are so clunky. Where did you get it?" I did not notice her making a fuss over any of the other (clearly more expensive) gifts.
I liked her even better.
The host of the dessert event was a professional photographer, and as things wound down, we all gathered for a group photo surrounding the birthday celebrant, who was seated on a hassock near Lucille and Lucie, the rest of us spread around behind them. I was on the far end, and Lucille reached back and grabbed me by my shirt, pulling me directly behind her. "Is he in the picture?" she asked the photographer, knowing how important the resulting photo would be to me.
It was then that I loved Lucille.