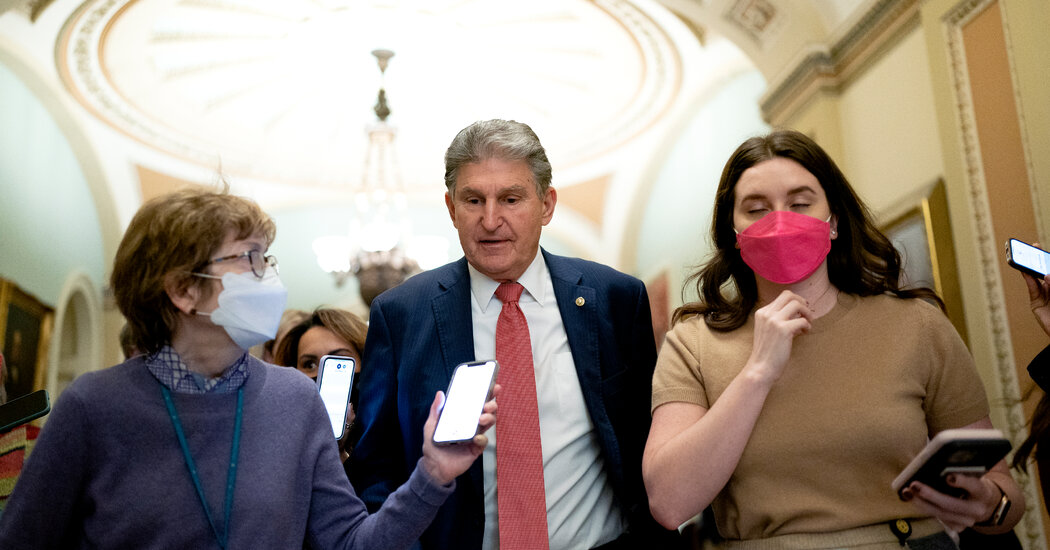 WASHINGTON — Senator Joe Manchin III, Democrat of West Virginia, said on Sunday that he could not support President Biden's signature $2.2 trillion social safety net, climate and tax bill, dooming his party's drive to pass its marquee domestic policy legislation as written.
The comments from Mr. Manchin, a longtime centrist holdout, dealt the latest and perhaps a fatal blow to the centerpiece of Mr. Biden's domestic agenda, barely a day after senators left Washington for the remainder of the year after Democrats conceded they could not yet push through any of their top legislative priorities, from the social policy bill to a voting rights overhaul.
"I cannot vote to continue with this piece of legislation," Mr. Manchin said on "Fox News Sunday," citing concerns about adding to the national debt, rising inflation and the spread of the latest coronavirus variant. "I've tried everything humanly possible. I can't get there. This is a no."
In a statement released shortly afterward, he was even more scathing toward his own party, declaring that "my Democratic colleagues in Washington are determined to dramatically reshape our society in a way that leaves our country even more vulnerable to the threats we face."
"I cannot take that risk with a staggering debt of more than $29 trillion and inflation taxes that are real and harmful," he said.
It amounted to Mr. Manchin's most definitive rejection of the sprawling measure, which party leaders muscled through the House in November, after maintaining a drumbeat of concern about its cost and ambitious scope. With Republicans united in opposing the legislation, Democrats needed to secure the vote of all 50 senators who caucus with their party for the measure to pass an evenly divided Senate, effectively handing each lawmaker veto power.
His comments provoked an unusually blistering broadside from Jen Psaki, the White House press secretary, who accused Mr. Manchin in a lengthy statement of reneging on his promises. As recently as Tuesday, Ms. Psaki said, Mr. Manchin had pledged to work with administration officials to finalize a compromise agreement and had even shared his own outline for legislation that mirrored the size of Mr. Biden's initial $1.85 trillion framework.
"If his comments on Fox and written statement indicate an end to that effort," she said, "they represent a sudden and inexplicable reversal in his position, and a breach of his commitments to the president and the senator's colleagues in the House and Senate."
At stake is what Mr. Biden has hailed as transformative, New Deal-style legislation that would touch virtually every American life from birth to death, from subsidies for child care to price controls for prescription drugs to funding for the construction and maintenance of public housing. The legislation, originally sketched out as a $3.5 trillion blueprint, had already been curtailed substantially to satisfy Mr. Manchin and a few other centrists, through months of laborious negotiations.
The impasse also jeopardizes Mr. Biden's own reputation as a dealmaker — he had campaigned on his ability to capitalize on nearly four decades of Senate experience to helm negotiations and unite his party's narrow majorities in both chambers. Just last week, even as Mr. Biden confirmed that efforts to pass the legislation had stalled, he waxed optimistic, saying on Thursday that talks with Mr. Manchin would continue and that he believed that "we will bridge our differences and advance the Build Back Better plan."
The senator's staff informed party leadership and the White House of his position Sunday morning before his televised appearance, according to one official familiar with the outreach, who spoke on condition of anonymity.
Work on the package was far from complete when senators quietly dispersed in the wee hours Saturday morning, with lawmakers still at odds over certain policy details and top officials still scrubbing the legislation to ensure it complied with strict Senate budgetary rules.
But Mr. Manchin's blunt condemnation of the measure on Sunday confirmed what many Democrats had feared: that after months of exhausting work, the legislation will have to largely be rewritten if there is any remaining chance of securing Mr. Manchin's vote. It remains unclear whether such an overhaul would be able to retain enough liberal votes in either chamber.
It also upended the precarious détente within the party on Capitol Hill, as House moderates fumed that they had voted for a measure that would not become law and liberals accused Mr. Manchin of single-handedly torpedoing their ability to deliver on the campaign promises that had delivered them control of both Congress and the White House.
"We knew that Manchin and the Senate could not be trusted to pass Build Back Better when the time came to pass it," Representative Jamaal Bowman of New York, a progressive Democrat, said in an interview. "And that is where we stand now."
Biden's ​​Social Policy and Climate Bill at a Glance
---
Card 1 of 7
The centerpiece of Biden's domestic agenda. The sprawling $2.2 trillion spending bill aims to battle climate change, expand health care and bolster the social safety net. Here's a look at some key provisions and how they might affect you:
For months, Mr. Manchin had huddled privately with Mr. Biden and his top officials in an attempt to secure a compromise. His objections had already forced the White House to substantially curtail the scope of the package and remove certain pieces, including the creation of a clean electricity program and a plan to ban new oil drilling off the Atlantic and Pacific coasts.
But Mr. Manchin on Sunday appeared to close the door on further substantive talks, complaining that his colleagues had been spending months employing tricks to make the legislation appear less costly rather than truly paring it down.
"The nonpartisan Congressional Budget Office determined the cost is upward of $4.5 trillion, which is more than double what the bill's ardent supporters have claimed," Mr. Manchin said. "They continue to camouflage the real cost of the intent behind this bill."
In that statement, Mr. Manchin expressed concern that Mr. Biden's marquee bill would move the nation's economy away from fossil fuels too rapidly, "at a rate that is faster than technology or the markets allow," and warned of "catastrophic consequences."
Some liberals demanded that party leaders hold a vote on the Senate floor on the legislation, despite Mr. Manchin's comments.
"I think he's going to have a lot of explaining to do to the people of West Virginia," said Senator Bernie Sanders, the Vermont independent who heads the Senate Budget Committee.
"We've been dealing with Mr. Manchin for month after month after month," he added, speaking on CNN's "State of the Union." "But if he doesn't have the courage to do the right thing for the working families of West Virginia and America, let him vote no in front of the whole world."
In his appearance on Fox News, Mr. Manchin expressed willingness to hold a vote on the measure.
"Just vote," he said. "I've been saying that. Just vote. If that's what people need to show where they are, then vote."
Chris Cameron and Jim Tankersley contributed reporting.