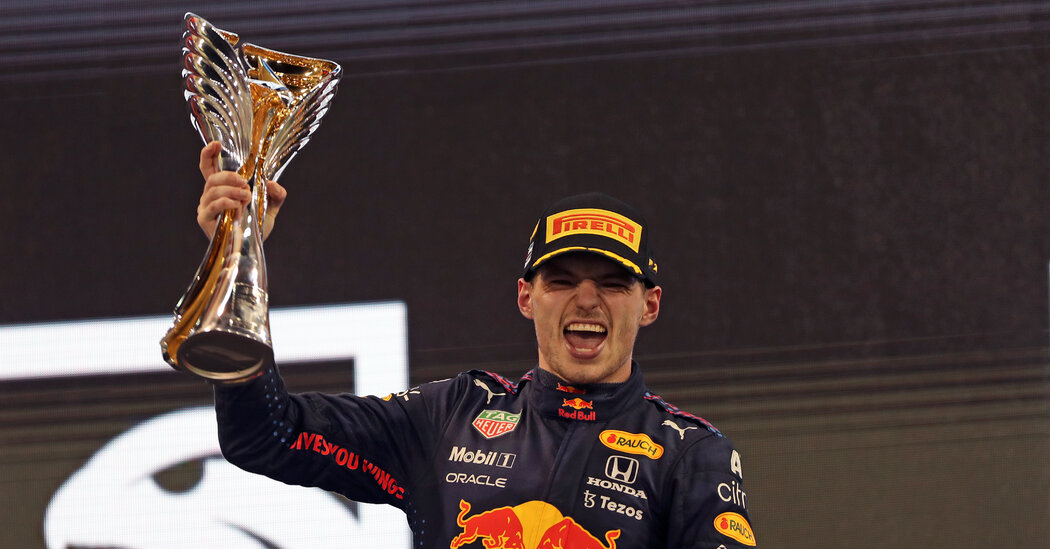 Max Verstappen won his first Formula 1 world title on Sunday after the championship was decided by a last-lap overtake of his rival Lewis Hamilton in the Abu Dhabi Grand Prix.
Hamilton looked set to win a record-breaking eighth drivers' championship as he led Verstappen by 11 seconds with six laps remaining in their winner-takes-all finale, which they started tied on points.
But a late crash toward the back of the field caused the safety car to be deployed, which slowed the field so the track could be cleared. It wiped away Hamilton's lead and set up a one-lap shootout with Verstappen when the race resumed.
Verstappen was able to catch Hamilton on fresher tires before overtaking him on the inside at the Turn 5 hairpin. He pulled two seconds clear to win the race and secure the championship by 8 points.
Verstappen, 24, is the first Dutch Formula 1 champion. His fight against Hamilton, 36, has been one of the most dramatic in recent Formula 1 history after multiple crashes and close on-track fights between the drivers. It is the closest championship result since 2012, when Sebastian Vettel of Red Bull beat Fernando Alonso of Ferrari by 3 points.
"It's been an incredible season, not only this race, but incredible battles," Verstappen said. "It's been tense, the competition. Almost every race we've been pushing each other to the limit. The ultimate goal was the world championship. But now that happened. It's just insane."
The race result was subject to a protest from Mercedes, which claimed that the race director had not followed his own rule book with the late restart and that the result should have been taken from the penultimate lap when Hamilton was leading.
The team lodged two protests, but they were both dismissed by the stewards. Mercedes had 96 hours to consider appealing the ruling.
Verstappen's victory ended a four-year streak of championships for Hamilton, who congratulated his rival and thanked his Mercedes team for doing an "amazing job," calling it "the most difficult of seasons."
The Abu Dhabi Grand Prix ended a unique Formula 1 season. While the pandemic forced the cancellation of many longtime races, the racing series scrambled to add new ones. When the checkered flag went down on Sunday, it closed Formula 1's longest season.
Events planned in China, Canada, Singapore, Japan and Australia were canceled, but races were added in Portugal, Turkey and Qatar, which hosted its first Grand Prix in November.
"We were able to bring home a calendar that will take us to 22 races this year, showing how strong the system is and how good the relationships are that we have around the world," said Stefano Domenicali, the chief executive of Formula 1.
The record calendar, up from 21 races in 2019, was positive news for Formula 1 as it tried to recover from the impact of the coronavirus pandemic. Revenue jumped, rising 12 percent in the third quarter, compared with the same period last year, but the longer season has also taken a toll on teams. The Haas team said workers had quit because of the added workload and constant travel.
Günther Steiner, team principal of Haas, said a handful of his staff members were leaving to find jobs outside Formula 1, partly because of the growing calendar.
"A few people just don't want to do the 23-race schedule next year," he said, adding that one engineer had just started a family and planned to leave. "In general, I would say we have got a little bit more turnover than the years before, but not a lot."
It is not about to get easier. The calendar will grow again in 2022 because of the addition of the Miami Grand Prix. Twenty-three races — including the return of the Saudi Arabian Grand Prix after its debut last week — are scheduled from March 20 to Nov. 20. About a month has been cut from the season to avoid a clash with the FIFA World Cup. To accommodate that compressed schedule, races will be held on back-to back Sundays 11 times, up from eight this season, giving teams less time to rest. Twice there will be events on three straight weekends.
Andreas Seidl, team principal of McLaren, said holding more races in a shorter season would "make it even more intense between the first and the last race."
"But it is positive seeing how big the interest is in the different countries," he said. "We as a team are highly interested in the commercial growth of Formula 1."
Still, senior officials are conscious of the schedule's cost to team personnel, including the drivers.
Lando Norris of McLaren said it was becoming "harder" to find time to rest and recover between races as more Grands Prix were added. He called the amount of travel "one of the toughest things."
"It does take a toll on you," he said. "We're directly at work less than the mechanics and the engineers. But our side of the job is a lot more physical, and it's still mentally draining, how much you've got to focus, how much time and effort you put into thinking about all these things and trying to improve and so on."
Vettel, who now drives for Aston Martin, warned that Formula 1 "mustn't neglect that we are a group of people and human beings traveling around the world."
The objective, he said, should be that "we have a sustainable way to run our season, not only for our environment, but also looking at the human resource."
Teams are taking steps to ease the burden. Many allow people to miss some races to stay fresher over the season. Some teams offer financial incentives for working more races and book more comfortable hotels at the end of a long trip.
The expansion may also not stop at 23 races. Qatar and China have contracts to each host a race starting in 2023, which would create a 25-race schedule, the limit under Formula 1's regulations.
Franz Tost, the team principal of AlphaTauri, feared that the saturation of races could also be too much for fans, causing some to lose interest.
"This is what worries me more: not because of the workload, it's because people get overloaded with races," Tost said.
Frédéric Vasseur, the team principal of Alfa Romeo, said a potential 25-race calendar should be considered "a positive first, because it means that Formula 1 is doing well and perception of F1 is improving."
"We have to take care that the fans won't lose the motivation," he said. "That is important. But for the team, I don't think it will be a mega issue."
Kimi Raikkonen of Alfa Romeo is retiring from Formula 1, ending a 20-year career. When he made his debut in 2001, the calendar had only 17 races, the majority of which were in Europe. He did not finish Sunday's race.
Raikkonen, 42, said the growing schedule was not a factor in his decision to retire. But he did urge caution over the impact it would have on those working in Formula 1.
"They are doing long days, especially if there are issues with the cars," he said. At the race in Mexico, he said, they worked overnight. He added, "It's hard for them."
"The problem will burn out a lot of people," Raikkonen said, "and it's not going to be good for anybody."