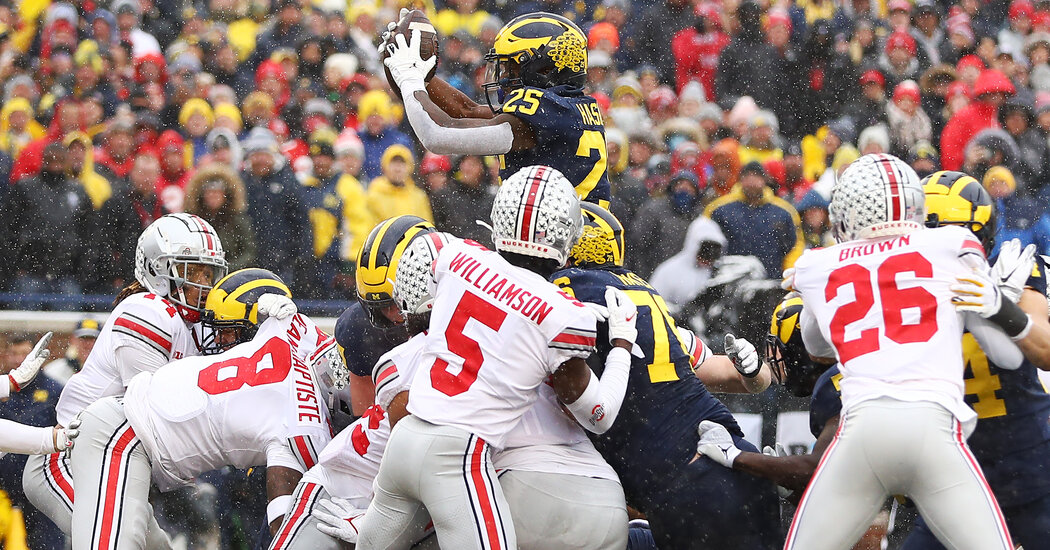 Shaw delivered the ball to his own 22, a far finer place than Ohio State had started from when it last had possession. The Buckeyes began another northward march, toward Michigan's student section and its band and almost too many maize-shaded pompoms to fathom, much less count.
For eight plays, they diced up the Michigan defense: a series of rushes that gobbled up 56 yards, short passes that added up to 19. The sputtering started when, on second down with their own goal line just three yards away, a pass to Chris Olave went incomplete.
The stadium — and if you do not at least fleetingly buy into the notion of home field advantage, test your hypothesis in Ann Arbor some Saturday — thundered and roared and hollered and menaced on third down, forcing a false start.
And then Aidan Hutchinson, who started the day with a share of the Big Ten's lead in sacks, stormed through Ohio State's line to send Stroud to the ground for a six-yard loss. (Later in the day, he picked up his 13th of the year, a single-season record for Michigan, which is in its 142nd season of varsity football.) The prospect for a tied score dimmed, replaced by the Buckeyes' hopes for a 31-yard field goal, which they made.
In the second quarter, though, Stroud and his receivers bubbled up as advertised. Over 99 seconds, Ohio State ran four plays, three of them through the air. The Buckeyes collected 56 yards, none more athletically artistic than the last 25, when Garrett Wilson, aloft a few feet outside of the end zone, caught Stroud's pass. He pushed off with his left foot, seizing just enough power from the home team's turf to cross the goal line. It had taken more than 19 minutes, but Ohio State, at last, had the lead.
It was gone about five minutes later, when Haskins took his turn going aloft in search of a score, tumbled atop and across a pile of defenders for a score.
After all of that, Michigan held the narrowest of edges, 14-13, at halftime.
Ohio State's first effort after the intermission fizzled. Michigan's did not.