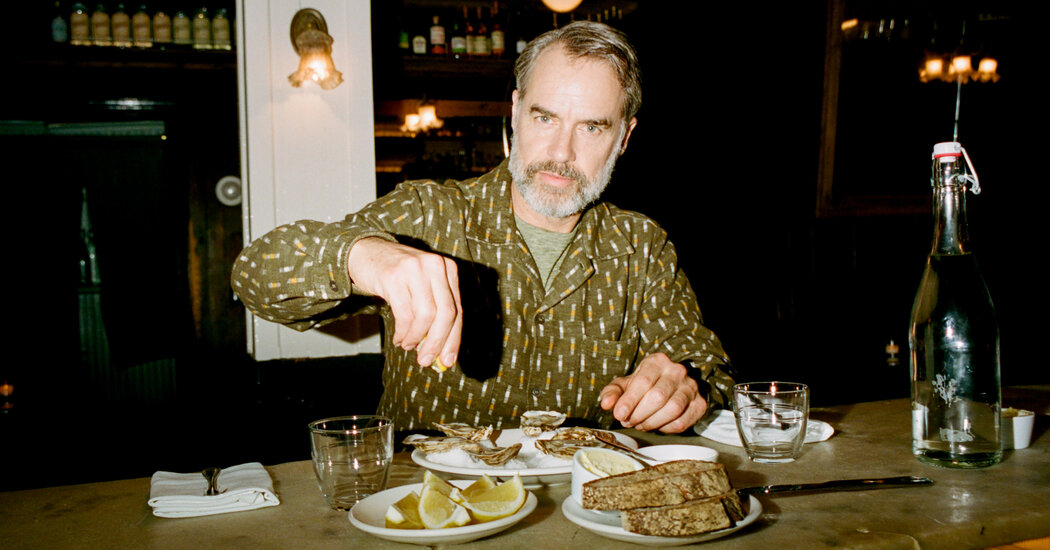 With a raised eyebrow and the kind of smile that makes his fans swoon, the actor Murray Bartlett tipped his head back and slurped a freshly shucked oyster.
This was on a gleaming morning just before Thanksgiving at Marlow & Sons, the restaurant that Mr. Bartlett, 50, frequented when he lived in the Williamsburg neighborhood of Brooklyn. A star of the HBO dramedies "The White Lotus" and "Looking," and the Netflix revival of "Tales of the City," he moved to Provincetown, Mass., two years ago. But he still stops in whenever he can.
"I'm a groupie, really," he said.
Marlow & Sons is where he first learned to eat oysters. "I learned from the best place," he said. And the week before, just as Marlow & Sons reopened for dinner, its chef, Ryoko Yoshida, had offered to teach him how to shuck them.
Ms. Yoshida had also lent him a book, Mark Kurlansky's "The Big Oyster: History on the Half Shell," to fill him on the bivalve's cultural history. He hadn't read it yet. But that morning, dressed in the grays and browns of a forest in winter, he was eager to get to work.
He met Ms. Yoshida behind the stone bar and she handed him a taupe apron and a small, plastic-handled knife. Behind them sat a platter of ice, mounded with dozens of Eel Lake oysters imported from Nova Scotia, their whorled shells colored brown and taupe.
"They're very plump and have a very nice salinity, a beautiful mineral finish," she said.
She and David McQueen, the restaurant's director of operations, had also provided sliced lemons and a mignonette of shallots and vinegar. A plate of fresh bread and salted butter were set out nearby.
Mr. McQueen asked if Mr. Barlett had ever shucked an oyster before. He had not.
"How are you with knives in general?" Mr. McQueen asked.
"I cook a lot," he replied. "Often with blunt knives. I get into a slightly meditative state when I cook, and so I feel like I will slip and cut myself if it's too sharp."
"This should be fun!" Ms. Yoshida said.
With effortless friendliness and a smoldering smile that makes his mustache dance, Mr. Bartlett seems to find most things fun. An Australian who immigrated to the United States in the early 2000s, he broke out with an episode of "Sex and the City" and didn't catch another real break for years.
But his roles as Dom in "Looking" and Mouse in "Tales of the City" — both gay men confronting a younger generation and its mores — made a mark. That mustache helped. And his turn as Armond, the decompensating manager of a luxury resort in "The White Lotus" solidified his one-to-watch status, just as he approached 50.
He thinks he knows why it took him so long. He spent years trying to give casting directors what he believed they wanted. Finally, in his 40s, he began to give himself. Mindful of stereotypes, he feels a particular responsibility to portray gay characters with full complexity and humanity, even if that humanity takes him to some strange places, as in the pas de deux between Armond and a suitcase in "The White Lotus" finale.
"This is not a character that holds back," he said.
Behind the bar, Ms. Yoshida showed him how to hold an oyster, pointing out the hinge, where the knife would enter, and the adductor muscle, which would need to be sliced at its top and bottom. Wrapping one hand in a dish towel, she gripped her oyster, and then with her other hand, used the knife to wriggle through the hinge. The oyster popped open, audibly.
Holding the oyster flat so that the liquor didn't run out, she showed how to check for dirt and bits of shell. Then she plucked the top off ("The reveal!" Mr. McQueen said) and offered Mr. Bartlett the oyster.
"Oh wow," Mr. Bartlett said, swallowing. "That's really good. The flavor seems delicate, subtle. It's lovely."
Mr. Bartlett took his turn. With a death grip on the knife he approached the hinge and promptly broke off a bit of shell. Ms. Yoshida told him to keep going. And to put more force into it. "There we go," he said, popping it open. With the top off, he placed the oyster on a mound of damp salt.
Mr. McQueen offered him a shucking job. "If this acting thing doesn't work out," he said.
"I'm down," Mr. Bartlett said. "Like shuck one. Eat one. Not terrible."
"Get to work!" Ms. Yoshida said.
Mr. Bartlett opened more oysters, quickly and without error. "Because I broke the first one, I'm overcompensating," he said.
Once he had shucked half a dozen, he surveyed his harvest — even the one with the broken shell, which he referred to as "my shame oyster" — and then sat down to eat.
"I'm going to eat my shame," he said. And did. "Delicious," he said. "You can taste the ocean. It feels like the ocean in a way that nothing else really does."
Mr. McQueen told him that now he could head to any of Cape Cod's celebrated oyster farms and buy a fresh sack. "I've always wanted to do that," Mr. Bartlett said.
And a few days later, on Thanksgiving, he did. "Yes I wanted to show off my new shucking skills!" he wrote in an email. "Apparently I'm an impressive shucker."