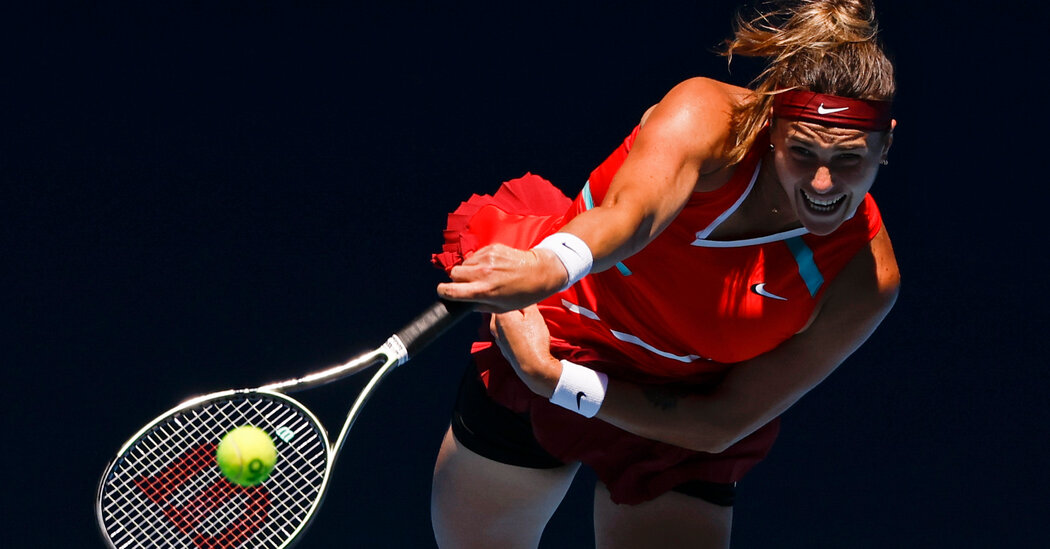 MELBOURNE, Australia — Thursday was another rough day for the leading women at a major tennis tournament. Garbiñe Muguruza, the No. 3 seed, and Anett Kontaveit, the No. 6 seed, lost within five minutes of each other in their second-round matches at the Australian Open after playing in the championship match of the WTA Finals in Mexico in November.
Thursday's setbacks were hardly surprising in the spinning roulette wheel that is the women's game, which is so unpredictable and deep in talent that Emma Raducanu, as a little-known 19-year-old British qualifier, managed to win last year's U.S. Open title without dropping a set in only her second appearance in a Grand Slam tournament.
Raducanu was seeded 17th in Melbourne, and as if to prove the point she made in New York again, she was beaten in the second round on Thursday, 6-4, 4-6, 6-3, by 98th-ranked Danka Kovinic.
The prospects were not looking much better for second-seeded Aryna Sabalenka. She has more cabinet-rattling power than anyone in the women's game, but she also has developed the yips on her second serve: a sudden inability to rely on the muscle memory that she had acquired throughout many years of pounding tennis balls and opponents into submission.
On Thursday, in a 1-6, 6-4, 6-2 victory against 20-year-old Wang Xinyu of China, Sabalenka was not just missing second serves, she was missing some of them by 15 feet or more as they landed closer to the baseline than the service box.
In her opening service game alone, she made six double faults and finished the first set with 12, losing the set, 6-1. Some in the crowd began closing or covering their eyes as if not to intrude on her grief.
A double fault gets personal. True, it counts no more or less than a groundstroke that lands long, a misjudged volley that is parried wide or a drop shot that lacks the steam to make it past the net.
But the serve remains the only shot in tennis over which a player has total control, from the toss to contact, and when it goes off, or, worse yet, completely off, the psychology gets tricky, particularly when the serve is the cornerstone of one's game. (See the strapping Sabalenka, who is nearly 6 feet and can rain down aces.)
"If you see me serving on the practice court, it's perfect; it's an amazing serve," she said this week.
"I just. I think it's all about in here," she said, pointing to her head.
Double faults have been a recurring problem for her despite her rise in the rankings, and there were signs of bigger trouble in November at the WTA Finals near Guadalajara, Mexico, where she hit 19 double faults in a round-robin loss to Maria Sakkari.
But the off-season clearly did not help her resolve the issue, and she has been double-faulting at an unsettling clip since arriving in Australia. There were two lead-in tournaments in Adelaide, and she lost in the first round of both to opponents ranked far below her: hitting 18 double faults against Kaja Juvan and 21 against Rebecca Peterson.
Mark Philippoussis, an imposing and big-serving Australian who lost to Roger Federer in the 2003 Wimbledon final, felt for Sabalenka and sent her a text after her second defeat, offering to help as soon as he had finished his television commentary duties.
They went on court that night.
"We served a lot, and he gave me some tips about what I should focus on during the game when I'm like struggling with my serve," she said. "And my coach was there. They had a nice conversation. We had a nice conversation."
In fact, Sabalenka said they talked much more than they served. "Maybe a few hours," she said in Melbourne. "But I was really worried going here about my serve, what was going to happen in the match. But I just tried to stay positive during this practice week."
A combustible competitor even in better times, she said she has also done her best to stay positive with the Australian Open underway. Her service problems are not behind her, but she rallied to defeat Storm Sanders in three sets in the opening round on Tuesday despite 12 double faults, most of which came early.
"I was thinking a lot on my serve," she said. "I tried to control everything, and that's not how it works. I have muscle memory, and I just have to trust myself, and that's what I did in the middle of the second set."
But the problem quickly resurfaced against Wang, and she had to pull off a greater escape: 19 double faults is the equivalent of giving away nearly five service games.
"There's just so much overthinking going on," said Roger Rasheed, a veteran Australian coach who has worked with Lleyton Hewitt, Grigor Dimitrov and Gaël Monfils. "She is technically fine, but the moment she misses her first serve, she is already in trouble as the mind is controlling her in a negative way."
The Australian Open has certainly seen worse in the second round from a star. In 1999, Anna Kournikova, a 17-year-old Russian who was seeded No. 12, served 31 double faults against Miho Saeki of Japan.
"I'm really frustrated about it, like everybody who's watching," Sabalenka said. "When I practice, I have no problem, but when I come to the line, something happens. I'm just going to have to fight through it."
She finished the match by putting a towel over her head in her chair — not the usual Kournikova approach — but she had won in three high-wire sets.
Consider that foreshadowing for Sabalenka, who powered through her problem to a degree by hitting her second serves as hard as she typically hits her first. She also tried to focus on her strengths, not her weaknesses, and, in truth, played some phenomenal, acrobatic offense and defense from the baseline once the ball was in play.
"I've already had a lot of experience with playing without the serve, and I kept telling myself you have enough other shots to win the game even without the serve," Sabalenka said with a shrug.
But this does not seem like a sustainable approach for winning her first Grand Slam singles title at this Australian Open. "It just puts unwanted pressure on the rest of her weapons: no room to breathe," Rasheed said.
Kournikova, after all, did not make it past Round 4 when she had the yips. Next up for Sabalenka: Marketa Vondrousova, a French Open finalist and Olympic silver medalist who is seeded 31st this year.