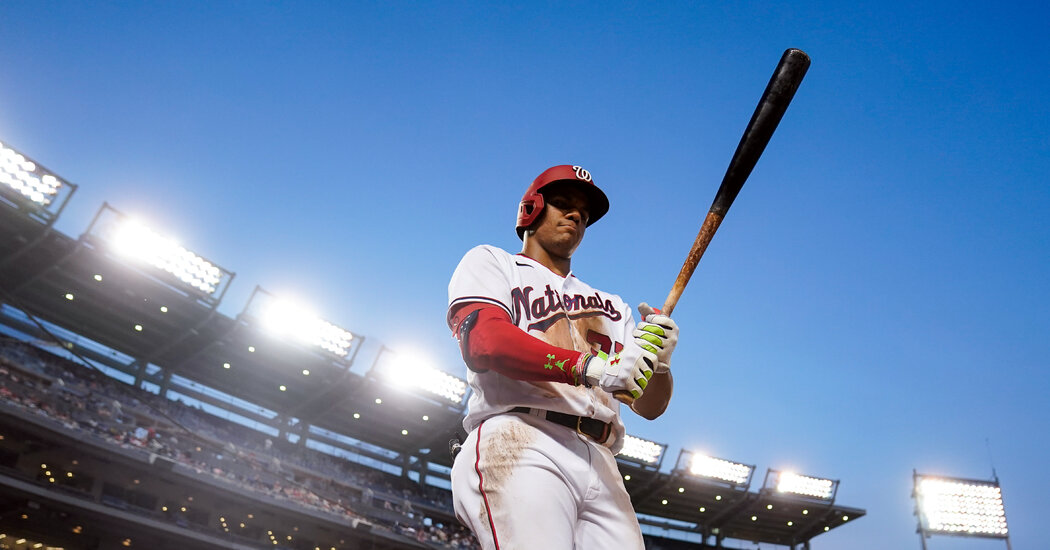 In what could end up as one of the biggest trades in baseball history, outfielder Juan Soto of the Washington Nationals was expected to head to the San Diego Padres in a blockbuster deal that was tentatively agreed to by both teams Tuesday.
The deal, according to people directly familiar with it who are not authorized to speak publicly yet, is pending a few factors, including the approval of Padres first baseman Eric Hosmer, whose limited no-trade protection clause allowed him to block a trade to 10 teams of his choosing.
Soto, 23, had been the subject of intense trade speculation for many weeks. It is rare that a slugger that talented and that young is shipped away. The most similar move in recent years was when the Los Angeles Dodgers acquired Mookie Betts from the Boston Red Sox, but even in that case, Betts was 27 — four years older than Soto.
But after the rebuilding Nationals failed to sign Soto to a long-term contract extension — he turned down the latest effort, a 15-year, $440 million deal that would have been the largest contract in baseball history — the team began entertaining offers for the outfielder. Soto is slated to reach free agency in 2025, so a contending team would have him under its control for the next three pennant races even without an extension.
The Padres, with a deep farm system, agreed to fork over several of their best young players and prospects in exchange for Soto and first baseman Josh Bell, a free agent at the end of this season. In the agreed upon deal, according to the people familiar with the details, the Padres would send Nationals shortstop C.J. Abrams, the right-handed pitcher Jarlin Susana, the left-handed pitcher MacKenzie Gore, Hosmer and outfielders Robert Hassell III and James Wood.
Abrams, who made his major league debut in April, and Gore, who recently landed on the major league injured list with an elbow injury, were each once the Padres' top overall prospect. Hassell currently holds that title, according to M.L.B.'s prospect rankings, while Wood, a 6-foot-7 center fielder, ranks third. All (except Hosmer) are 23 or younger.
Soto's expected addition to the Padres would vault them into World Series contention. Trailing the Dodgers by 12 games in the N.L. West race through Monday, San Diego is in a prime spot to nab one of the league's three wild-card spots. Soto would join a dangerous lineup that includes the All-Star third baseman Manny Machado, shortstop Fernando Tatis Jr. (who is expected to return from a wrist injury soon), the All-Star second baseman Jake Cronenworth and Bell, who was hitting .301 before the trade.
Soto, a two-time All-Star, hit .246 with 21 home runs and an .894 on-base plus slugging percentage in 101 games for the Nationals in 2022. He won the World Series in 2019, a batting title in 2020 and the Home Run Derby last month. Since his rookie season, in 2018, only nine players have accumulated more wins above replacement, according to FanGraphs.
Hosmer, 32, signed an eight-year, $144 million deal with the Padres before the 2018 season, a sign the rebuilding franchise wanted to begin contending. Compared with his time at Kansas City, where he won the 2015 World Series, Hosmer has largely underperformed in San Diego, particularly in power hitting. But he was seen as a team leader and was hitting .272 in 90 games for the Padres this season. After this year, he will be owed $39 million over the final three years of his contract.
Whether he approves the deal — or the Nationals and Padres complete the trade anyway — one of the biggest names in baseball appears to be on the move, shifting the balance of the sport.