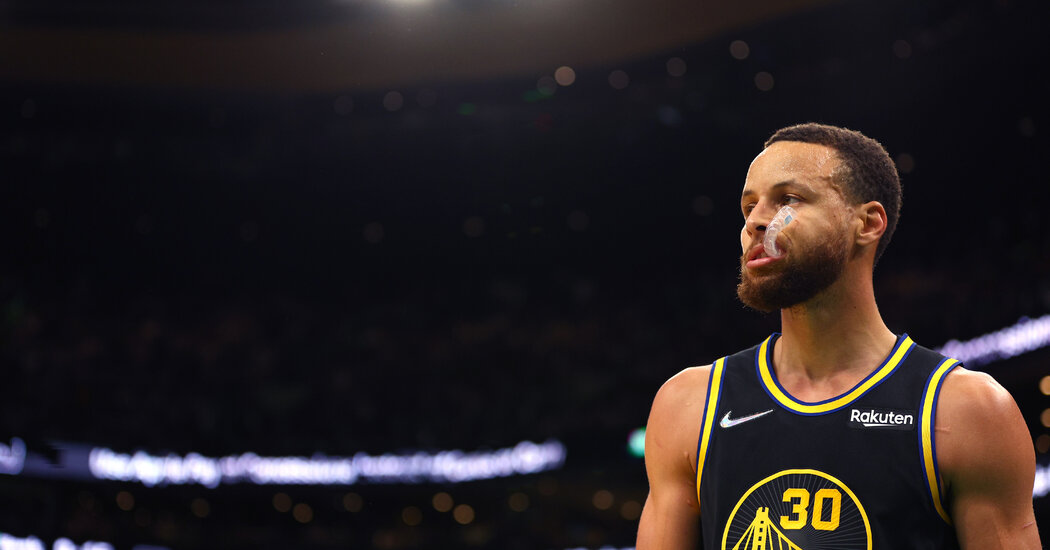 BOSTON — Stephen Curry was demoralizing the Celtics when he decided to improvise. After he dribbled to spin past Marcus Smart, who happens to be one of the N.B.A.'s most ferocious defenders, Curry found himself sizing up Robert Williams, a 6-foot-9 center whose sneakers might as well have been filled with concrete.
Curry took a hard dribble, leaving Williams in his wake, before he rose from the court to sink a running 12-foot floater that extended Golden State's lead in Game 4 of the N.B.A. finals Friday night.
It was a scene that felt familiar but new, the same but somehow different. Curry has spent his career filling games with parabolic 3-pointers and dazzling drives to the hoop. But now, at age 34, having spent the past couple of seasons wandering through the basketball wilderness with his teammates, he has been busy staging a renaissance.
And it was his performance — 43 points and 10 rebounds on a sore left foot — that had basketball fans buzzing ahead of Game 5 on Monday night in San Francisco. The series is tied, 2-2.
"He wasn't going to let us lose," his teammate Draymond Green said.
Aside from Curry's relatively slight stature — at 6-foot-2, he is a shrub in the N.B.A.'s forest of redwoods — it might be difficult for ordinary humans to relate to him. He is a highly trained athlete and the greatest shooter who has ever lived. He has won two N.B.A. Most Valuable Player Awards. The architect of an expanding entertainment empire, he golfs with former President Barack Obama in his spare time.
And for five seasons, from 2014 to 2019, Curry sat atop the basketball world.
Few people ever become the best at anything, and wins can feel elusive. You get stuck in the slowest checkout line. You deserved that job promotion. You want to be able to buy a house in that neighborhood, too. But Curry helped the ordinary masses feel like winners alongside him, even if they rooted for his team to lose.
As Curry led Golden State to five straight N.B.A. finals appearances, winning three championships, opposing fans would turn out early for games just so they could watch him warm up. At Madison Square Garden, where the lights are low and the court is a stage, the M.V.P. chants were for him. In Los Angeles, in Houston, in Philadelphia and in Miami, cities with All-Stars of their own, the roars and the crowds, the oohs and the aahs — they trumpeted his arrival.
Along the way, he pushed his teammates to turn basketball into high art. They shot with precision. They moved with the grace of ballet dancers. And in a sport saturated by supersize egos and enormous paychecks, they relished passing to the open man.
And then came Kevin Durant, all arms and legs and 25-foot jumpers. After losing to LeBron James and the Cleveland Cavaliers in the 2016 N.B.A. finals, Golden State had successfully recruited Durant to sign on as a free agent. Was it a cry for help, an acknowledgment that the team had room for improvement? Or were the rich just getting richer?
"We were the evil empire for a while," Rick Welts, the team's former president, said in a recent interview.
Durant, of course, was fearsome before he joined Golden State. After being named the league's M.V.P. in 2014, he described his mother, Wanda, as the "real M.V.P." in an emotional speech. The callousness of the current era eventually turned that expression of humility into a meme, one that would soon be turned against him: Between Durant and Curry in Golden State, who was the real M.V.P.?
That question — from social media trolls, television personalities and needling sports fans — was a dig at Durant, but its sharp edge wounded Curry, too. Golden State had become too good.
Sure enough, Durant was a force in back-to-back championships, the latter a four-game sweep of the Cavaliers. There was a sense of joyless inevitability about Golden State: Anything short of a championship was a failure.
And then the dynasty crumbled. In the 2019 finals, Klay Thompson and Durant sustained serious injuries as the Toronto Raptors staged an upset to win their first title. Thompson sat out the next season after knee surgery. Durant left for the Nets in free agency. And Curry broke his left hand, missing all but five games as Golden State finished with the worst record in the N.B.A.
In a matter of months, the league's most dominant team had morphed into a renovation project. Making matters worse, Thompson ruptured his Achilles' tendon in a workout before the start of last season, and Golden State fell short of making the playoffs again.
This season, nothing was guaranteed. Golden State had gone from indomitable to vulnerable, a battered version of its younger self. But the team was not totally broken. Thompson's return in January after a 941-day absence was celebrated as a triumph and no small medical marvel. He soared for a dunk in his first game.
The finals have been a microcosm of Golden State's long road back — a beautiful struggle. After splitting the first two games of the series in San Francisco, Golden State lost Game 3 in Boston, and Curry injured his left foot in the final minutes when the Celtics' Al Horford landed on him in a scramble for a loose ball.
Afterward, it was left to Thompson to offer some hope, saying he was "getting big 2015 vibes," a reference to the 2015 finals, back when Golden State trailed the Cavaliers, 2-1, before engineering a comeback to win it all, the team's first of the Curry era.
More broadly, Thompson cited Golden State's postseason experience as a positive. When he was younger, he said, there were trapdoors everywhere. Prone to feeling anxious when trailing in a series, he was likely to be overconfident with a lead. Now, he was older but wiser.
"You can't really relax until the final buzzer of the closeout game," he said. "That's the hardest part about the playoffs — you have to deal with being uncomfortable until the mission is complete."
Curry slept well after Game 3, he said, and kept his left foot in a bucket of ice whenever possible. The emphasis was on recovery and mending his achy body. (Steph Curry: Just like us.) He knew only one thing for certain: He was going to play in Game 4.
Precisely 75 minutes before Friday's opening tip, Curry appeared for his pregame warm-up routine. Clad in black, with the notable exception of lavender-colored sneakers, he started off by making five layups. He then moved to the left elbow, where he hoisted a series of shots with his left hand, which is his off hand, and missed nine in a row to the delight of hundreds of early-arriving Celtics fans.
But over the next 20 minutes, something strange but not entirely unexpected happened: The crowd began to murmur in admiration and appreciation as Curry sank 136 of 190 shots, including 46 of 72 3-pointers, a few of them from just inside halfcourt. Fans broke out their cellphones to record the moment for posterity. Children yelled for autographs.
"People think his shot is like Ken Griffey Jr.'s swing — it's so pretty that you think he never has to work on it," Bob Myers, the team's general manager, said in an interview during the regular season. "But that is anything but true. When you peek behind the curtain, you see the work."
Once upon a time, Curry's feats seemed magical — and they still are. But in recent seasons, as Golden State wandered through a wasteland of injury and uncertainty, Curry and his teammates revealed that success does not happen by accident, that it takes great effort and determination. Sure, they are still basketball savants, but they are savants who have shown the world their homework.
"Win, lose, whatever it is, however you play, you have to keep coming back to the well to keep sharpening the tool kit and finding ways to evolve your game," Curry said. "That is the hardest part of what we do."
After helping force the Celtics into a late turnover that essentially sealed Friday's win, Curry and Thompson celebrated by swinging their arms in unison. Thompson, who knows Curry better than most, said his teammate had never played a finer game in the finals. Curry was asked whether he agreed with Thompson's assessment.
"I don't rank my performances, though," he said. "Just win the game."
At this stage, he knows what matters.