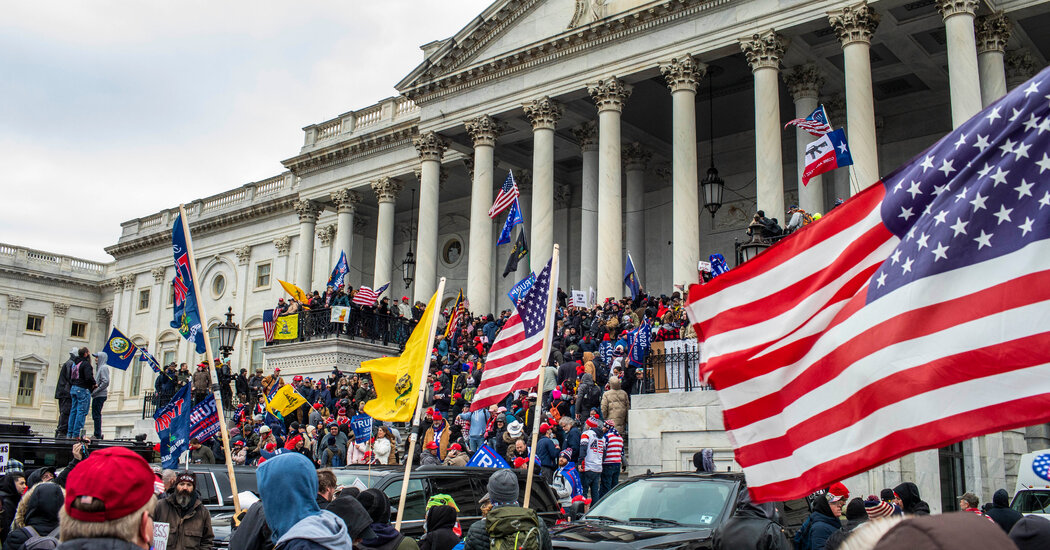 "He said, 'If you turn me in, you're a traitor,'" Jackson Reffitt testified as his father sat across the courtroom, unable to meet his eye. "'And traitors get shot.'"
Mr. Reffitt's lawyer, William L. Welch, put on a muted and abbreviated defense, starting with an opening statement that lasted not much more than three minutes. He called no witnesses and presented no evidence, but argued to the jury that prosecutors had rushed to charge his client, who, he claimed, had never physically assaulted the police.
A wild card in the case is whether Judge Dabney L. Friedrich decides in days to come to toss out the government's central obstruction charge against Mr. Reffitt — one the government has used in hundreds of similar cases instead of more politically fraught crimes like sedition or insurrection.
Capitol Riot's Aftermath: Key Developments
---
In the months leading up to the trial, several defense lawyers, including Mr. Welch, challenged the use of the obstruction law, claiming that prosecutors had stretched it beyond its original intent as a way to curb activities like shredding documents or tampering with witnesses in congressional inquiries.
But 10 federal judges — including Judge Friedrich — have upheld the statute, saying it can be used.
Only one federal judge in Washington, Carl J. Nichols, has said the law does not apply to the Capitol attack, dismissing the count in the case of another rioter from Texas on Monday.
Judge Friedrich ruled before the trial began that she might toss the charge if she did not believe the evidence supported the claim that Mr. Reffitt had acted "corruptly" in disrupting Congress's work, as required by the text of the law.
To that end, prosecutors sought to show that he had acted corruptly, not only introducing evidence that he confronted officers outside the Capitol, but also that he waved the crowd on to continue their assault on the building even after he was subdued.