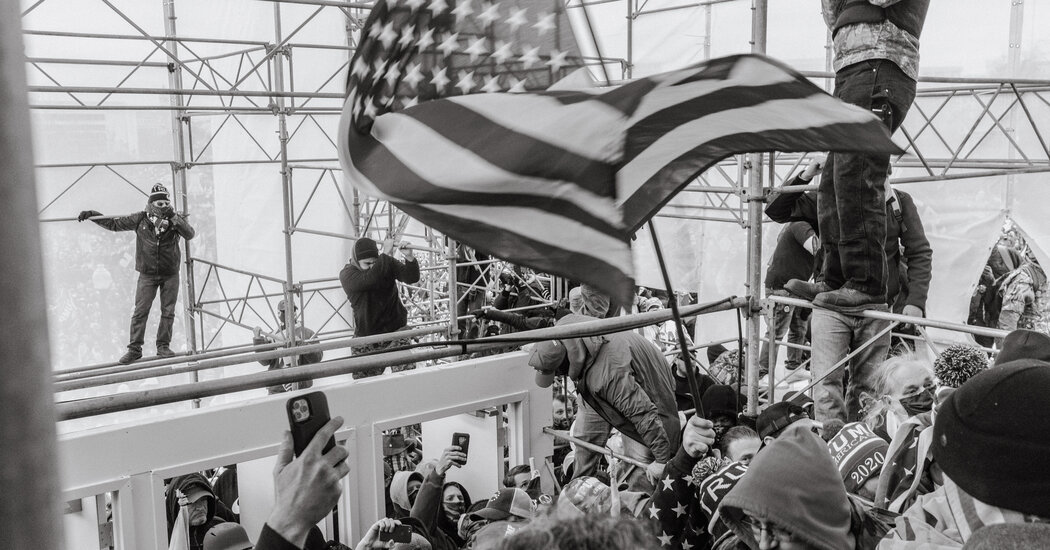 The Case of Ray Epps
In a hallmark of the times, what many Americans are willing to believe about Jan. 6 — a day thoroughly documented in real-time by journalists, participants and cable TV, and reconstructed in the hundreds of cases being assembled by federal prosecutors — is determined by their politics, not by the facts. And amid a seemingly never-ending pandemic marked by confusing public-health messaging and government mandates, these fictional and conspiratorial accounts of the riot carry an obvious appeal, especially for Trump supporters alienated from mainstream institutions after his tumultuous presidency and election loss.
"When I talk to folks on my side of the aisle, they'll have a litany saying, 'They lied to us here and flip-flopped on this,'" said Sean Spicer, Mr. Trump's former press secretary who now hosts a show on Newsmax. "There's such a belief that the mainstream media and most of our major institutions are not looking out for people anymore." He added, "So when someone throws out a conspiracy it's, 'Why not? That's equally plausible.'"
Adherents have built up characters to support their claims that antifa infiltrators or federal agents were the ones who whipped up the mob, in some instances doing so as events were unfolding in Washington. One is a man named Ray Epps, a Trump supporter who was captured on video the night of Jan. 5 urging his compatriots to "go into the Capitol" the next day.
Some in the crowd responded approvingly: "Let's go!" rings out one reply.
"Peacefully," Mr. Epps said, just before others began chanting "Fed, Fed, Fed!" at the man, who at age 60 stood out in the far-younger crowd.
Mr. Epps, who lives in Queen Creek, Ariz., where he owns Rocking R Farms and the Knotty Barn, a wedding and event venue, according to PolitiFact, appears in another video taken the next day. He is seen yelling to a crowd: "OK, folks, spread the word! As soon as the president is done speaking, we go to the Capitol. The Capitol is this direction."