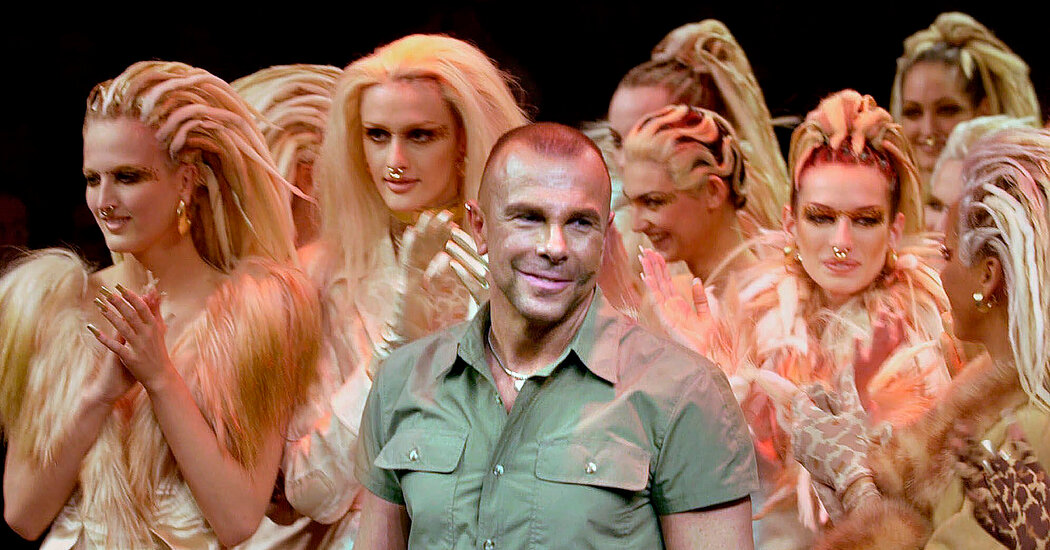 Thierry Mugler, the outrageous, genre-busting French designer who dominated European runways in the late 1980s and early 1990s, died on Sunday at his home in Vincennes, outside Paris. He was 73.
His death was announced on his brand's official Instagram. The cause was not given.
Mr. Mugler was a principal architect of a style that washed away the minimalism of the late 1970s and replaced it with an aesthetic of power dressing that was both bombastic and camp, a comic-book fusion of S&M and high fashion in which a drag queen, a prostitute and a Reaganite social X-ray of "Bonfire of the Vanities" became almost the same person, as if standing before a three-way mirror.
Among those who modeled in his shows were the singer Grace Jones, the drag performing torch singer Joey Arias and that hallmark goddess of Park Avenue arrivistes, Ivana Trump.
Mr. Mugler's silhouette was an inverted triangle characterized by giant shoulders and a nipped waist. He loved latex, leather and curves.
George Michael's "Too Funky" video (released in 1992) was effectively a televised Mugler show.
In it, Linda Evangelista was done up on camera like a space-age Cruella De Vil, wearing a peroxide blond wig and dripping in fur. Another model strode out in a metal Harley-Davidson inspired bustier with actual motorcycle handles sticking out of each side of the waist, rearview mirrors attached to the breasts and a headlight in the center.
As Mr. Mugler cast it, fashion was but a "trick and a game." His role as designer was to furnish women with tools to make fantasy reality. "I don't believe in natural fashion," he told Holly Brubach in The New York Times in 1994. "Let's go for it! The corset. The push-up bra. Everything! If we do it, let's do the whole number."
Manfred Thierry Mugler was born in Strasbourg, France, on Dec. 21, 1948. His father was a doctor from whom he seemed to inherit his surgical precision; his mother was a homemaker whose elegance he was transfixed by. He spent his teenage years dancing in a local dance company, trying unsuccessfully to shake the desire to leave home. "Nothing suited me," he later told British newspaper The Independent. "I found everything very, very boring, was very, very ill at ease and very, very lonely."
At 20 he moved to Paris, where he started making his own clothes — army coats that trailed to the ground, trousers dyed every color of the rainbow. He introduced his own brand i 1974.
Harrods picked it up. The photographer Helmut Newton, the godfather of dominatrix chic, was hired to shoot an early campaign. As Mr. Mugler's name grew, so did the size of his shows.
In 1984, he took over the Zenith, a sports arena in Paris, to stage what was one of the most theatrically ambitious fashion shows since the so-called Battle of Versailles in 1973. Smoke billowed from the stage. Pat Cleveland descended from the ceiling looking like a demented angel. Gregorian chanters chanted.
"No one in fashion came close to the level of theater he created," said Mel Ottenberg, the editor of Interview.
But Mr. Mugler's unabashed embrace of gay iconography overshadowed his spectacular tailoring and construction technique, marginalizing him at a time when the AIDS epidemic was at its peak.
"The outwardness of designers embracing being gay wasn't then a thing," said Paul Cavaco, who was a fashion director of Harper's Bazaar during Mr. Mugler's heyday. "People knew but you didn't really talk about it. It was considered not chic. And here he was sending drag queens like Lypsinka down the runway."
So even at Bazaar, which at the time was arguably the most adventurous American fashion magazine, Mr. Mugler's clothes were largely passed over, Mr. Cavaco said.
By the mid-'90s, there were rumors that Mr. Mugler had become bored with fashion. While stores clamored for his clothes, he started experimenting with film and photography.
Nevertheless, his 20th-anniversary show in Paris was another spectacle. Tippi Hedren opened the show, descending a giant staircase as music from Alfred Hitchcock's "The Birds" played. Her heels were very, very high. At some point, she fell.
The cost of the show was rumored to be close to $2 million. What paid for it, according to Marion Hume of The Independent, was "that thing called perfume."
His was called Angel. It contained the nectarous scents of honey, vanilla, pralines, chocolate, caramel and patchouli, and succeeded wildly despite being derided by many. Jerry Hall was the face of many of its campaigns. And in 1997, it led Clarins, the beauty conglomerate, to purchase a controlling stake in his brand.
Whether Mr. Mugler happily left his brand in 2002 or jumped out of the industry to avoid being pushed as minimalism came back in style (see: Helmut Lang), he continued to work.
In 2003, he served as the creator of Zumanity, a blockbuster hit Cirque du Soleil show in Las Vegas that featured fire-breathing dominatrixes, drag performers like Raven O and Mr. Arias, and musclebound men clad only in their underwear writhing on top of one another. A new generation of pop stars and designers mined his archives for inspiration.
Alexander McQueen's posh punk sensibility and Rick Owens's Mad Max by way of Antarctica vibe were both heavily influenced by Mr. Mugler's work. As was Lady Gaga's early "Bad Romance" look. Beyoncé wore the old motorcycle bustier on the cover of her 2009 album "I am … Sasha Fierce." Soon after, she hired Mr. Mugler to do the costumes for her tour.
By then, Mr. Mugler's own extreme physical transformation into a comic-book, leather gear-wearing supervillain was the source of tabloid fodder. Nude photos of him with pecs wide as a city block leaked across the internet. He started calling himself Manfred.
But a decade later, when red carpets became glorified reality shows in which celebrities competed to outdo one another in the category of campy theatricality, Mr. Mugler staged a comeback.
Cardi B showed up at the Grammys in February 2019 looking like a Disney princess in a flesh-toned Mugler bodice, with sequins across her chest and a blooming skirt that shot up from behind her — a human pearl nestled in a pink shell.
A few months later, Ms. Kardashian attended the Met Gala in a Mugler-designed dress that made her every curve appear to have been drenched in high fructose corn syrup. Those viral looks introduced him to millions of new fans and perhaps led to "Thierry Mugler: Couturissime," a multimedia retrospective of his work at the Musée des Arts Décoratifs in Paris.
Mr. Ottenberg, the editor of Interview, got it in his head to shoot Mr. Mugler for the magazine.
"Every gay guy my age got his Manhunt pictures," Mr. Ottenberg said, referring to the pre-eminent gay digital hookup site of the pre-Grindr era. "I have them! They're not for your story, but I've got them somewhere. So I reached out to him on Instagram and we started talking. I said, 'Can I shoot you naked?' He was, like, 'Yes, but I have to work out for six months prior.' And he did."
The photographs, taken by Steven Klein and published in 2019, are hardly the sort of thing one would see in Vogue or Bazaar. Mr. Ottenberg went on to describe taking them as "the most outrageous moment of my entire career."
That was fine with Mr. Mugler, who once summed up his philosophy as follows: "The opposite of good taste is safe."
Christine Chung contributed reporting.