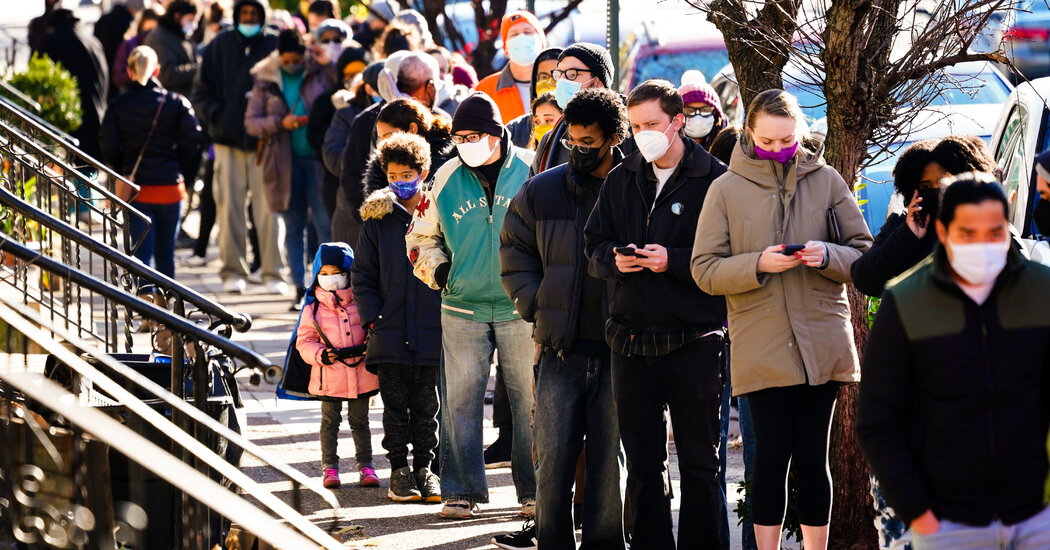 The White House is trying to avoid talk of lockdowns at all costs, and, to the consternation of some, has stopped short of urging people to cancel travel plans, avoid public transportation and the like.
"This is not a speech about locking the country down," Jen Psaki, the White House press secretary, told reporters earlier on Monday. "This is a speech outlining and being directly clear with the American people about the benefits of being vaccinated, the steps we're going to take to increase access, increase testing, and the risks posed to unvaccinated individuals."
But Mr. Biden will also acknowledge that the shape of the pandemic is shifting, the officials said. Breakthrough Omicron infections are common, though scientists believe that the vaccines will still provide protection against the worst outcomes. Many fully vaccinated and boosted people who are getting infected are experiencing mild symptoms or none at all.
Mr. Biden will say that if people are vaccinated and follow other public health guidelines, including wearing masks in public places, "they should feel comfortable celebrating Christmas and the holidays" with their families, one of the officials said.
But beneath those notes of assurance from the president is deep concern among his advisers — and public health experts — about the ability of the nation's hospitals, which are already under great strain, to withstand an Omicron surge. Even if the variant ends up causing less severe disease and a relatively low percentage of those infected need to be hospitalized, experts say, the explosion in cases means it is still possible that hospitals will become overwhelmed.
"That's the big concern," said Dr. Marcus Plescia, the chief medical officer of the Association of State and Territorial Health Officials. "If there are a lot of people getting sick, even if only a small portion of them are getting severely ill, that could still be a huge number of people."
Mr. Biden intends to direct his defense secretary, Lloyd J. Austin III, to "ready an additional 1,000 service members — military doctors, nurses, paramedics and other medical personnel — to deploy to hospitals during January and February, as needed," according to a fact sheet prepared by the White House.