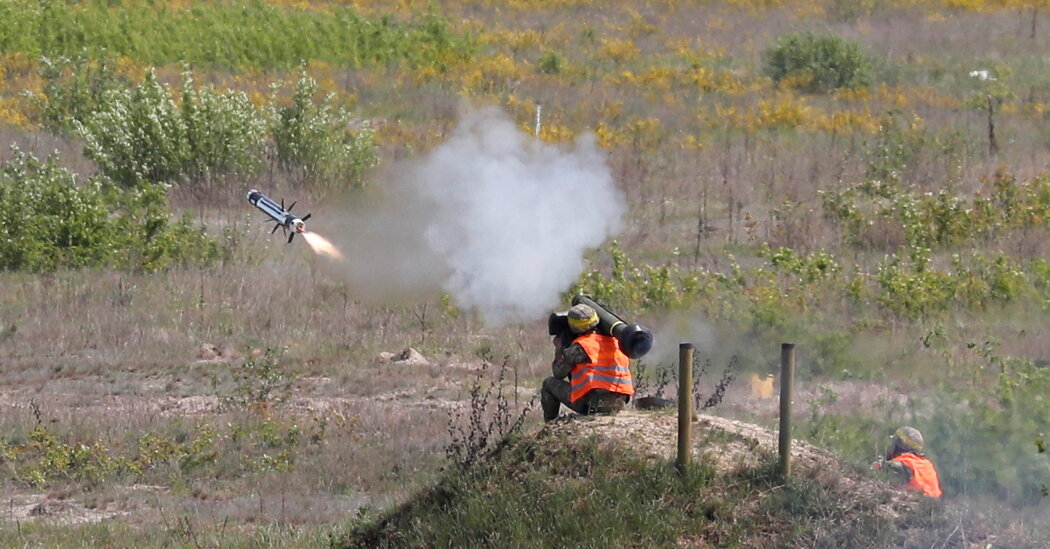 "The number one thing we can do is real time actionable intelligence that says, 'The Russians are coming over the berm,'" said Evelyn Farkas, who served as deputy assistant secretary of defense for Russia, Ukraine and Eurasia in the Obama administration. "We tell them, and they use that to target the Russians."
She said that "we've been nervous about that in the past."
One potential problem with providing actionable intelligence, American officials acknowledge, is that it could lead Ukraine to strike first — the sort of scenario Western officials believe that Mr. Putin has been trying to sell to the Russian public.
This summer, Mr. Putin argued in an article that Russians and Ukrainians were one people and said that the formation of a Ukrainian state hostile to Moscow was comparable "in its consequences to the use of weapons of mass destruction against us."
He has continuously painted the Ukrainian government as the aggressor, backed by the West. But if Russian tanks are moving over the border, and Ukraine targets them, it will be hard for Mr. Putin to make that argument. Russian disinformation campaigns have attacked the Ukrainian government and accused President Volodymyr Zelensky of creating a humanitarian crisis in the country's east, where Ukrainian government forces have been battling Russian-led separatists for years, Western officials said.
Last Friday, Mr. Putin codified what he has long been saying to American and European officials in meetings, demanding that the United States and its allies halt all military activity in Eastern Europe and Central Asia in a Cold War-like security arrangement. That the demand came when Russian troops were at Ukraine's border explicitly linked the deployment to a possible invasion, American officials said.
American and NATO officials privately dismissed the main demands of the Russian proposal, which came in the form of a draft treaty suggesting that NATO should offer written guarantees that it would not expand farther east toward Russia and halt all military activities in the former Soviet republics.
Understand the Escalating Tensions Over Ukraine
---
But the United States also set up talks with Moscow, for January, during which officials said they would tackle the range of complaints detailed by Russia. On Wednesday, Gen. Mark Milley, the chairman of the Joint Chiefs of Staff, spoke with his Russian counterpart, Gen. Valery Gerasimov. Ukraine has sought NATO membership for years — a move that would enrage Russia — but despite the delay, the United States has balked at taking Ukraine's accession off the table.