At the recent board meeting, the CEO of Veltrust, a management consulting and investment firm which recently ranked in the top 10 on the Fortune 100 fastest growing firms in the nation, Jaian Cuttari, announced that a deal that had largely been kept under wraps had been struck between the firm and A.Versace founder, Alfredo Versace an internationally renowned designer famously recognized by his name, who had annual sales reaching a quarter billion dollars and has designed for celebrities such as Michael Jackson, royalties such as Princess Diana and business tycoons.
Although Mr. Cuttari did not go into too much detail in regards to the confidential nature of the venture, he went on to say:
"It is truly an honour to work with a man who needs no introduction, Alfredo Versace, I would go as far as to say he is a national treasure and his return to fashion marks a new beginning filled with innovation and expanding to new frontiers which the luxury industry has yet to reach." – Jaian Cuttari
"Through the utilization of our proprietary assets and diverse talents and skills, both on our side and Mr.Versace's side, we are all looking forward to bringing to life a one of a kind brand the world has yet to witness." – Mr. Cuttari continued.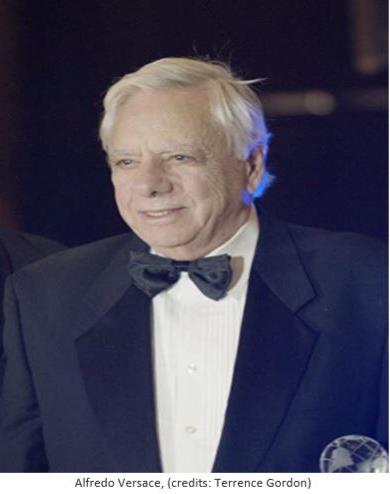 Alfredo Versace was born in Bianconovo, Italy. At a young age he discovered a passion for fashion, creation, and product production. In Florida, 1957 he started creating unique timeless handbags, experimenting in rare and exotic skins.
Alfredo Versace (AV) Store
The first Alfredo Versace (AV) Store was opened when Alfredo was only 20 years old, on 4th Avenue and Sackett Street, Brooklyn. By the mid 60's the second store under the AV Versace name was opened on Crescent Street and Liberty Avenue, Brooklyn. The store's focus at this time was private garment sales, as well as tops, pants and skirts for women.
In 1975 AV Versace opened a showroom on Broadway and 29th Street in Manhattan, with partner John Choi, and started jeans production which was sold internationally. Three years later a showroom was opened on 39th Street and Fifth Avenue and the production of men's clothing began. In the 80's new stores were open in Cortelyou Road, Brooklyn, and 34th Street and Sixth Avenue.
Versace Boutique
The Versace Boutique was opened in 1987 which sold rare perfumes, women's gloves, scarves and elegant tops and bottoms. In 1988 Alfredo was approached by the Paolo Gucci's Organization and began designing, manufacturing and production for their label, while promoting his personal brand. He was the head of the Paolo Gucci label in the early 90's and simultaneously began to trademark the Alfredo Versace brand.
181 Plus Products Within First Year
AV Versace was producing sportswear, women's garments, cosmetics, perfumes and men's colognes at this time. Within their first year a line consisting of 181 products was designed and gross sales of $10 million dollars was made. In the second year $15 million dollars in gross sales was made and 16 new Alfredo Versace clothing stores were opened throughout South Korea.
In 1995 sneaker production began under the Paolo Gucci and Alfredo Versace labels with Foot Locker being their main distributor. They had over 200 customers throughout the United States and sold internationally by 1996.
The new venture by Veltrust and Alfredo Versace, is anticipated to be announced in 2022 and will open up the doors to a whole new world of fashion.