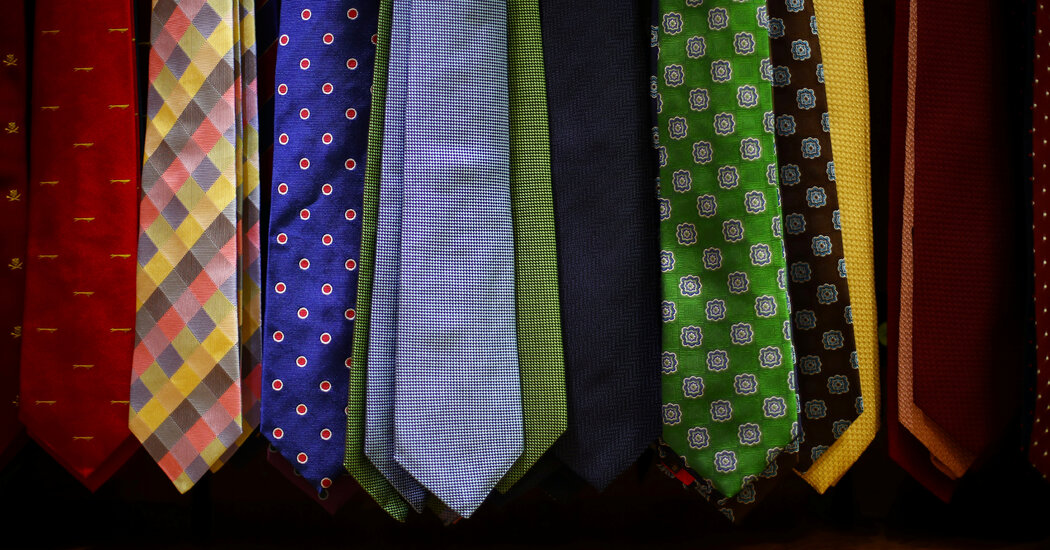 My husband, a scientist/engineer, worked in Tokyo for 13 years where business attire for men is fairly rigid: dark, well-tailored suit, white shirt and tie. Now he is in Silicon Valley, where no one wears ties. What to do with the 50-plus beautiful silk ties in his closet? Even thrift and charity shops do not have a big need. I am thinking of turning them into a psychedelic quilt. Any other ideas? — Kat, San Jose, Calif.
---
I imagine there is an ocean of men with the same problem: a tie rack full of ties and nowhere to wear them.
Silicon Valley is not the only industry where the necktie, once investment dressing and one of the few ways for men to express their individuality in an office setting, has fallen out of favor. Even in the financial sector, ties are increasingly an endangered species, which may be why resale shops are less interested; the market isn't there.
That said, there are still occasions where a tie comes in handy: weddings, court, funerals and Washington, D.C., among them. There's a reason that, when the tech titans testify before Congress, even they emerge in suits and ties. So I'd keep a handful, maybe even 10, around for good measure. The very old-fashioned-ness and establishmentarianism of the tie can sometimes be an advantage.
And ties are still generally expected in job interviews, so there are charities like Career Gear, Vietnam Veterans of America and Suited 4 Success created specifically to help men get back to work (they're the male equivalent of Dress for Success), which are looking for donations of more formal professional costumes. The RealReal will also accept ties by name brands like Hermès, Brioni and Ralph Lauren if you want to go the resale route.
As for the rest, you have the right idea: upcycle. Ties are often made in gorgeous silk colors and patterns, and they can be put to all sorts of fantastic next-use scenarios. Erin Beatty, a designer whose new brand Rentrayage is entirely devoted to upcycled garments and homewares, suggested thinking about a skirt.
"Start by pinning the ties all together with the narrowest part on top until you get your waist measurement," she said, and sew from there. Ms. Beatty also suggested that the ties could be used to add some pizazz to a button-down shirt by opening the side seams and inserting a bit of silk. "Suddenly you have a one-of-a-kind shirt that everyone will notice," she said.
If you are looking for inspiration, Etsy has an entire section devoted to repurposed ties that have been given new life as pillows, pins, patches, scarves, bracelets and so on.
If all that seems too much, or if more complicated sewing is not one of your skill sets, Ms. Beatty had a simpler suggestion: "Simply cut them up and sew them on as patches," she said. "Cover half the back pockets of your favorite jeans or the top one inch of a patch pocket on a shirt."
Never, she added, "underestimate the power of trimmings."
Your Style Questions, Answered
Every week on Open Thread, Vanessa will answer a reader's fashion-related question, which you can send to her anytime via email or Twitter. Questions are edited and condensed.