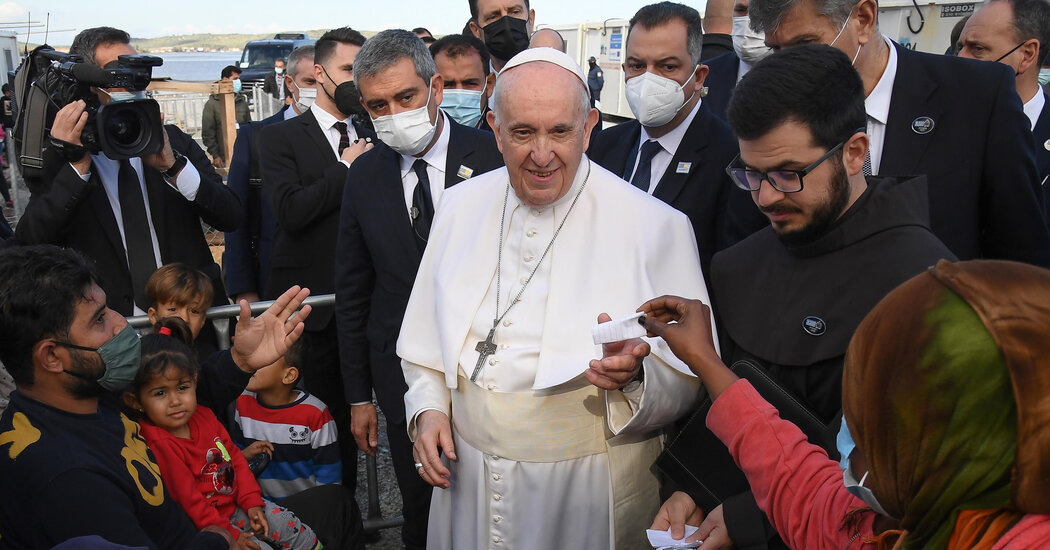 The last time Pope Francis went to Lesbos, in 2016, he found misery and desperation at Moria, one of Europe's biggest refugee camps at the time.
The island had become a main landing point as a vast migration was underway, with hundreds of thousands of migrants, desperate to live in Europe, arrived in Greece.
During the pope's emotional visit at the time, children presented him with drawings. One showed children drowning in the sea. The other showed the sun crying.
"The children have these things in their minds, and it will take time before these memories go away," he said. "If the sun is able to cry, so can we. A tear will do us good."
In the years after his visit, the situation worsened. The camp's population swelled to 20,000 people and it became notorious for what volunteers described as a mental-health crisis. Refugees waited in daylong lines for food, dozens shared a single toilet, and incidents of violence, including sexual assault, increased.
Amid those dire living conditions, plus restrictions brought on by the pandemic, some of the migrants set fire to the camp in September last year, destroying the facility and leaving homeless the 12,000 people, mostly Afghans, who had been living there.
Now, only about 2,000 migrants live on Lesbos in what Greek government officials describe as largely improved conditions. But to groups that support migrants on the island, the emptier camp symbolizes a new era of migration in Europe — that of tighter border security, tougher deterrent tactics and deals with neighboring countries to keep migrants from coming.
"Their plan was to make a camp that looks better, but it is still not at the standard of living conditions that people should have access to," said Marion Bouchetel, a lawyer with Legal Center Lesbos, which provides legal support to asylum seekers.
After many migrants were transferred to other camps, granted asylum or repatriated, what remains is a temporary camp, called Mavrovouni. And while the government notes that migrants get three meals a day, sleep in metal containers and have access to medical, legal and psychological assistance, local activists point to detrimental conditions such as insufficient shelter from the rain and the cold, and restrictions on the asylum seekers' movements.
As the pope arrived on Sunday at Mavrovouni, a look inside one of its prefabricated buildings revealed that it was uninhabited, empty except for bunk bed frames. But many were packed.
At container No. 345, Wais Rostami, a 25-year-old Afghan, emerged carrying his 2-year-old son, who was born in the camp. Mr. Rostami had left Kabul, where he said he was a police officer, two years ago but said that his asylum application had twice been refused.
He said that he didn't know much about the pope, and that he hoped the Taliban's return to control Kabul and the rest of Afghanistan would persuade the authorities to let him stay in the European Union.
"I'm waiting," he said.