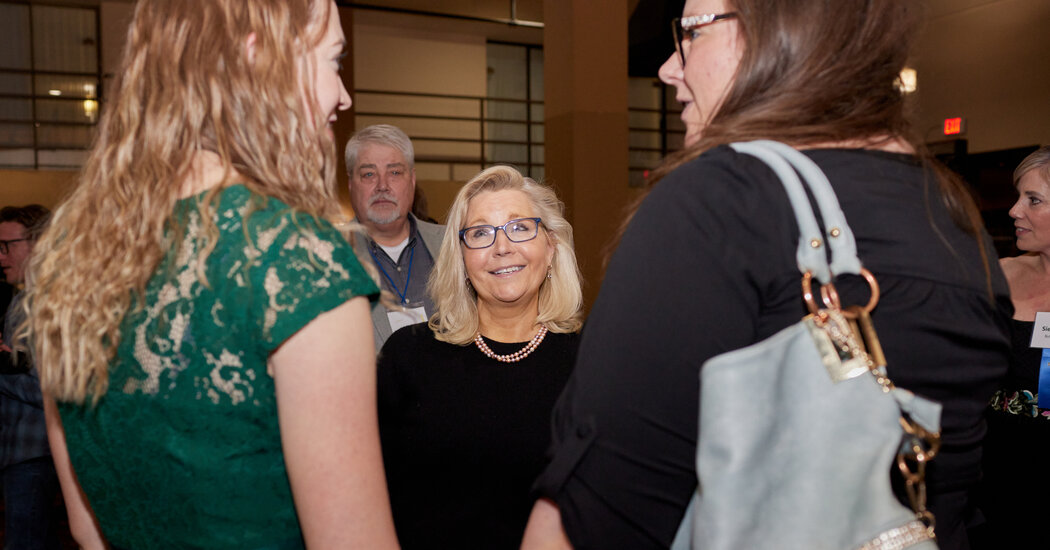 ROCK SPRINGS, Wyo. — The women arrived in red formal gowns, the men in suits and tuxedos. They posed in a photo booth with a cardboard cutout of former President Donald J. Trump and bid on auction items including a Glock pistol in a gift basket.
Saturday was the biggest night of the year for Republicans in southwest Wyoming — a prom-themed fund-raiser at a Holiday Inn that drew 150 of the most active conservatives in Carbon, Sweetwater and Uinta counties.
But Representative Liz Cheney, the Republican who has represented Wyoming since 2017, was nowhere to be found. She spent Saturday night 230 miles away with a group certain to give her a friendlier reception: reporters and media executives at the annual gathering of the Wyoming Press Association.
The wrath that national Republicans have unleashed on Ms. Cheney — the Republican National Committee voted to censure her the day before the Rock Springs gala — is nothing compared to the fury she is encountering from Wyoming Republicans. The state party not only censured her but adopted a resolution to effectively disown her.
Yet her response has been to become strangely invisible in her home state.
Ms. Cheney hasn't appeared at a state Republican Party function in more than two years and hasn't been to an in-person event for any of the party's 23 county chapters since 2020. Her vote to impeach Mr. Trump last January and her decision to take part in the House investigation of the attack on the Capitol on Jan. 6 have forced her into a kind of exile from Wyoming's Republican Party apparatus, in a state where Mr. Trump won 70 percent of the vote in 2020, the highest percentage in the country.
"She speaks about her conscience, but you weren't elected to do what you think is right, you were elected to do what the people want you do to," said Sam Eliopoulos, a Cheyenne businessman and Republican who is running for a seat in the State House. "She didn't do what the people want her to do. At the end of the day, that's it."
Ms. Cheney's focus on events in Washington rather than Wyoming is all the more striking given that she faces a well-known primary opponent who has been endorsed by Mr. Trump and the state Republican Party. And it is raising questions in Wyoming about whether she is counting on Democrats to bail her out in the August primary — or even whether she really is battling to hold on to her office.
In an interview on Saturday in Cheyenne, Ms. Cheney tried to put to rest those questions and resisted the suggestion that she cared more about the fight with Mr. Trump than about running for re-election.
"I'm not going to convince the crazies and I reject the crazies," Ms. Cheney said of Wyoming's Republican leadership. "I reject the notion that somehow we don't have to abide by the rule of law. And the people right now who are in the leadership of our state party, I'm not trying to get their support because they've abandoned the Constitution."
The heated Trump antagonism and Ms. Cheney's light public schedule — she skipped the state fair and has appeared at just one in-person Wyoming event between Veterans Day and the press association gathering, according to a calendar provided by her office — has prompted an open discussion in the state about the possibility that she might abandon her seat and instead mount a run for the White House in 2024.
Bill Sniffin, a longtime Wyoming newspaper executive who is now the publisher of the news website Cowboy State Daily, said he's bet five cigars that Ms. Cheney will eventually drop out of the House contest.
A Look Ahead to the 2022 U.S. Midterm Elections
"She understands she has to campaign and earn the trust of voters — I would certainly like to see her here more," said Landon Brown, a Wyoming state representative from Cheyenne who is the only Republican in the Wyoming State House publicly supporting Ms. Cheney. For that, he has been denied funding by the state party and expects his own primary challenge for the first time since he took office in 2017.
Ms. Cheney insisted she would be on the ballot in August and dismissed a question about pivoting to a 2024 primary contest against Mr. Trump. She's held dozens of meetings with Wyomingites via videoconference and said she planned to attend a Lincoln Day dinner later this month in Natrona County, which includes Casper and is home to her strongest base of support. And she described a silent majority of Wyoming Republicans who she said do not embrace Mr. Trump's lies about the election.
Speaking to the Wyoming Press Association in Casper, Ms. Cheney joked in response to a question about her political headwinds ("There's a backlash against me? Wait, what?") while trying to stress that her post-Jan. 6 opposition to Mr. Trump is not akin to endorsing Democratic policies.
"I was pro-Trump, and I am proud of the policies of the Trump administration," she told the crowd of journalists. "But he crossed a line you can never cross. Some people, I think, interpreted my vote to impeach him as a vote in favor of Biden or Biden's policies, which it wasn't."
Last summer, Mr. Trump and his allies recruited and vetted candidates to oppose Ms. Cheney. They ended up choosing Harriet Hageman, a Cheyenne land-use attorney and former Cheney adviser who was then a member of the Republican National Committee. Ms. Hageman had plotted against Mr. Trump during the 2016 election, but after Mr. Trump endorsed her she declared him the best president in her lifetime.
Over a sausage quiche breakfast she cooked at her home near the State Capitol in Cheyenne, Ms. Hageman said in an interview that she could not name any issue on which she differs from the former president. And she said that Ms. Cheney's break with Mr. Trump has left her incapable of being an effective advocate for Wyoming in Washington.
"She's using her seat as Wyoming's representative to pursue her own agenda," Ms. Hageman said. "That's not our agenda. We don't agree with what Liz Cheney is doing."
Ms. Hageman said she didn't know who the legitimate winner of the 2020 election was ("I don't know the answer") and couldn't say if former Vice President Mike Pence had the authority to block congressional certification of President Biden's election ("I'm not an elections attorney").
"I wasn't there on Jan. 6," she said. "I can't tell you everything Pence did or didn't do. What you need to understand is that, for most people out in the real world, none of us really care that much about what happened on Jan. 6."
Ms. Hageman has taken full advantage of Ms. Cheney's diminished profile in the state. While Ms. Cheney's movements are complicated by the presence of a Capitol Police detail she was assigned since she began receiving threats after joining the Jan. 6 committee, Ms. Hageman has clocked more than 11,000 miles driving to Wyoming events since she entered the race in September. And she was a star of the Rock Springs conservative prom, where her campaign sponsored the dessert table of brownies, cheesecake and pie.
At the gala, the master of ceremonies was Joey Correnti IV, chairman of the Carbon County Republican Party, which censured Ms. Cheney four days after she voted to impeach Mr. Trump last January. Mr. Correnti pushed the state party to issue a similar censure weeks later and, in November, to adopt a resolution to no longer recognize Ms. Cheney as a Republican.
Mr. Correnti wore a bright red tuxedo jacket and a gold lapel pin with the "Let's Go Brandon" phrase that has become a stand-in for an insult against Mr. Biden. He celebrated from the stage the Republican National Committee's censure of Ms. Cheney, which described the attack on the Capitol and events that led up to it as "legitimate political discourse."
Many Republicans in attendance agreed.
Anita Vonder Embse had just finished taking a picture with her husband and the cardboard cutout of Mr. Trump — all three of them flashing the signature thumbs-up — when she said there was "nothing wrong" with the rioters' attempt to block Congress from certifying Mr. Biden's victory.
"People had every right to go in there," said Ms. Vonder Embse, a retiree from nearby Green River. "Push came to shove and they shoved. It went to an extreme because it had to."
Private polling in January found just 31 percent of Wyoming Republican primary voters had a favorable view of Ms. Cheney, compared to 60 percent who saw her unfavorably. More than half the state's Republican primary electorate described themselves as strong supporters of Mr. Trump who would not vote for a candidate he opposes.
The state Republican Party chairman, Frank Eathorne, announced at a meeting in November that Mr. Trump plans to hold a rally in Wyoming with Ms. Hageman on May 28, according to WyoFile, a political news website in Wyoming. Mr. Eathorne did not respond to messages, nor did Mr. Trump's spokeswoman.
Ms. Cheney's hope for political survival may rest in Wyoming's lenient rules for primary elections. Democrats and independents can change their party affiliation at the polls, then switch back the next day.
Four years ago, more than 10,000 Wyomingites switched their party registration to Republican to vote in a contested governor's primary, according to data from the Wyoming secretary of state. Mark Gordon beat a field of more conservative candidates, including Ms. Hageman, by about 9,000 votes.
Ms. Cheney said she will not organize "Democrats for Cheney" groups, encourage party switching or bless a political action committee to encourage Democrats to vote in the Republican primary. She did have a one-on-one meeting last summer with Jeffrey Katzenberg, the billionaire Hollywood mogul and Democratic megadonor. After the meeting, Mr. Katzenberg and his wife each made maximum contributions to Ms. Cheney's campaign.
There are no declared Democratic candidates for Ms. Cheney's seat or for governor, limiting the appeal of participating in a Democratic primary.
Toward the end of the gala in Rock Springs, five nominees each for "Republi-King" and "Republi-Queen" gathered on the dance floor for the announcement of the winners. Throughout the night, attendees had signaled their preferred candidates by placing cash into bags.
Mr. Correnti announced the winners: Island and Teresa Richards. Mr. Richards, a former Sweetwater County Republican chairman, wouldn't reveal his position on Ms. Cheney. Ms. Richards, as it turned out, was the only admitted Cheney supporter among more than three dozen people interviewed at the gala.
"This whole crowd is not representative of what's going on with Liz Cheney," Ms. Richards said. "She does have support."
Katie Klingsporn contributed reporting from Casper, Wyo.