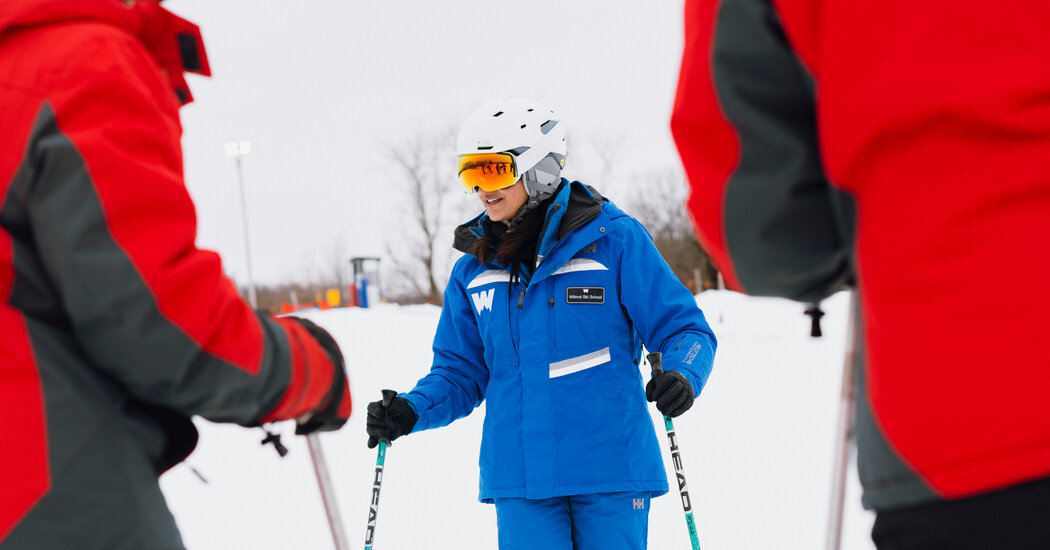 When Tim Pham learned to ski in the 1980s, the sport seemed simpler. He would go to quiet resorts in Northern California like Sugar Bowl, where he would show up any time of day, buy a $35 lift pass, and ski without facing lines or crowds.
"I could just decide I wanted a lesson and go up to the window and ask for one," Mr. Pham, 50, said. "There were no reservations needed or long lines."
He didn't even have the right gear. "I skied in jeans and rented skis," he said. "The boots never fit right, but we didn't care." Afterward, he would head to the lodge, where there was live music and domestic beer on tap for $2.
"I miss those days," said Mr. Pham, who now lives in San Jose, Calif., and works in corporate wellness.
Now, he said, everything is more of a hassle.
In 2017, his local mountain, Palisades Tahoe, became part of Alterra Mountain Company, a huge skiing conglomerate that owns prestigious properties across the country including Deer Valley in Park City, Utah. Since 2018, the company has sold an Ikon Pass, which, at various prices, offers admission to its 47 mountain destinations all season long.
The result: more skiers.
"I used to be able to get to the mountain in the afternoon and ski half the day. Now, if you don't get to the resort by 7:30 a.m., you can't find parking," Mr. Pham said. "Now, on weekends and holidays, there are lines everywhere.."
And don't get him started on the prices. "It costs 200 bucks to ski today if you don't have a season pass. For most people, if you make 20 bucks an hour, that's 10 hours of work, right?" he said. "And beer is five times more expensive. It's all very fancy, and you have to wait in line for drinks. Who wants to wait in line when you've been skiing all day?"
Mr. Pham doesn't want to keep anyone from skiing, but he himself is discouraged. "I think people should be able to have access to the mountain, especially if they pay for a pass," he said. "But the resorts need to step up and make changes. We can't have these crowds anymore."
***
The crowds at ski resorts have heated up long simmering tensions about how much diversity the sport should have and what kind of efforts should be made to get a wider range of people on the mountain.
"People say, 'The mountain is too crowded. We don't want any new people here. Go home, tourists. You aren't a real skier,'" said Kirsten Lynch, the C.E.O. of Vail Resorts, which owns 36 properties in the United States.
Her company sold its season pass, the Epic Pass, at a discount this year: The full pass was marked down to $783 from $979, and the local pass went to $583 from $729. Sales rose 40 percent.
The mountains are so crowded that #VailFail has become a trending hashtag on Instagram, with skiers posting complaints about lift lines and understaffed mountains.
Vail Resorts said that over the holidays, the busiest time of year, 90 percent of lift lines were under 10 minutes, and that overall visits to the resorts are down year over year, as reported in January. But across the country, there are indeed more skiers.
"Last season we saw a record number of participants," said Adrienne Saia Isaac, the director of marketing and communications for the National Ski Areas Association, a trade group, which estimated that more than a million new skiers and snowboarders hit the slopes.
She said that such spikes usually follow snowfall and fresh powder. "However, given that the snowfall was slightly below average in a few U.S. ski regions, the 2020-21 jump can be partially attributed to the realities of Covid," Ms. Isaac said, noting that skiing gives people "a way to get out of their houses, move their bodies, and experience nature with a low risk of virus transmission."
***
In the past five years, many luxury ski resorts have been consolidated under conglomerates like Vail Resorts and Alterra Mountain Company, which has in some ways increased access.
"It used to be really cost prohibitive to go to these resorts," said Constance Beverley, the C.E.O. of Share Winter Foundation, a nonprofit that creates opportunities for youth historically denied access to skiing and snowboarding. Now, budget airlines and season passes that grant admission to multiple resorts have made it possible for more people to ski recreationally around the country.
But the crowds have left some skiers feeling wistful.
"I just don't remember ever feeling frustrated before," said Rebeca Hanrahan, 46, a retired engineer who lives in Edwards, Colo., not far from Vail, the ski mountain, or Beaver Creek. She has dealt with the congestion by skiing early in the morning.
CJ Knight was in middle school when his family moved to Crested Butte, a town in the Rocky Mountains of Colorado. With exceptional skiing at his doorstep, he and his buddies would hit the slopes almost daily and face almost no lines. "I would go skiing midweek after school and hop right on the lift," he said.
Then, in 2018, Vail Resorts bought his local mountain.
"There are days I watch the webcam and say, 'I don't want to go out at all because the lines are too long,'" said CJ, now 15. "I'm looking at one very long one forming now." (Vail Resorts said that the volume of visitors has not changed since it bought Crested Butte Mountain Resort.)
Now, CJ goes skiing early in the morning, when it's really cold, or later in the day, when most people have already hit the après ski scene. He also goes backcountry skiing.
"Of course, everyone has a right to ski, especially if you bought a pass," he said. "I just wish we could have some sort of break from the visitors, a period of time when people don't want to come here."
***
As mountains become more crowded, skiers and resort owners have asked the question: If not everyone can fit, who should be here?
Industry leaders say they need new skiers for their business to survive.
"This sport is predominantly male and white, and it's been flat in the number of ski visits over the past 20 years, which means it's not growing," said Ms. Lynch, of Vail Resorts. "In order to grow, we need to engage all demographics."
Rusty Gregory, the chief executive of Alterra Mountain Company, said, "I think it's an obligation for us to diversify." He added that "being good stewards of the land means opening it up to all."
Skiing has not historically been accessible to Black or brown people, or those who are economically disadvantaged.
"There are so many areas of our recreational life that have been segregated, and downhill skiing is one of them," said Daniel Krymkowski, a sociology professor at the University of Vermont who published a book last year about African American underrepresentation in fine arts and outdoor recreation. "This sport took off in our country after World War II. It was created for affluent white soldiers who experienced it in France and Europe."
"What is interesting about ski culture is that in many ways it builds community by exclusion rather than inclusion," Ms. Isaac said. According to data from the National Ski Areas Association, 87.5 percent of skiers over the 2020-2021 season were white. Black skiers made up 1.5 percent of the group, and Native Americans, 0.7 percent.
Crowded resorts only exacerbate these tensions, said Anthony Kwame Harrison, a professor of sociology and Africana studies at Virginia Tech. "I don't think a majority of skiers are racist," he said. "But if longtime skiers become frustrated because they are seeing ski areas being crowded, when you look at that crowd, who do you immediately identify as being most out of place?"
Ski companies are making different calculations about how to welcome newcomers.
At Vail Resorts, the clearest change is the price of its Epic Pass, which has made access slightly more affordable. The company is also focusing on diversity, equity and inclusion within its company ranks.
As of 2021, Alterra has a newly structured legal and social responsibility division to oversee its D.E.I. efforts, which includes conducting an audit of its company culture.
Vail Resorts has teamed with nonprofits to draw new skiers, especially children, to try out skiing at Vail-owned resorts in an initiative called the Epic for Everyone Youth Access Programs.
***
Alterra, for its part, seems to be in favor of limiting crowds; its Ikon Pass, starting at $729, is considerably more expensive than the Epic Pass. "The higher the price, theoretically the lower the demand," Mr. Gregory said. "We want to make sure we are offering an experience for people that they want to return to."
The company is working with the Share Winter Foundation to bring in newcomers to ski, focusing on days when the mountain is less busy. "This isn't a perfect science by any means," Mr. Gregory said.
Some skiers approve of this approach. "I would probably go to one of the Ikon Mountains if I had a choice. I like how they are handling things better," Ms. Hanrahan said. "I live closer to the Vail Resorts, so I don't really have a choice."
Others are more skeptical. "Don't placate and blow smoke and say we are doing all these outreach programs and bringing kids of color to the mountain," said Henri Rivers, the C.E.O. of the National Brotherhood of Skiers, which has 54 clubs across North America that give Black youth access to skiing. "Real change comes when you make management inclusive, when presidents of resorts and marketing personnel are people of color."
"These kids need to see instructors who look like them, who they can bond with," Mr. Rivers said. "They need to see kids of color getting into the Olympics representing snow sports."
Some skiers, like Micheli Oliver, are taking matters into their own hands by helping new skiers become regulars on the mountain.
Ms. Oliver, a 24-year-old Native American photographer, grew up in Niwot and Berthoud in Northern Colorado, and learned to ski as a little girl.
"There are not as many Black and brown and Indigenous people on the slopes as I wish," she said. "I remember when I was a little kid, my parents couldn't afford fancy gear, and I had ski pants from Walmart. I remember feeling a lot of pressure even then to look better and cooler."
She has made a point of getting friends and family members to the slopes by offering free lessons and, when possible, gear.
"We help each other get access to whatever we need to ski," said Ms. Oliver, who splits her time between Wyoming, Colorado and Vermont. She recalled helping one friend get comfortable with "falling over and getting back up again and battling her fears."
"I was with her when she was a beginner, and now she is really good and kind of a regular," she said. "This is how we can change skiing."