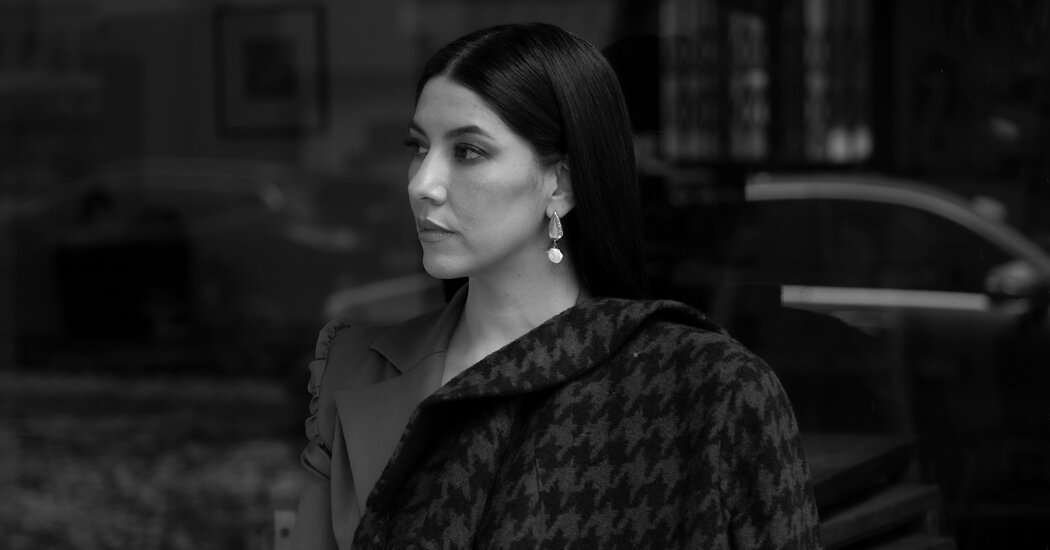 The actress Stephanie Beatriz said goodbye to her memorable breakout role as a stern detective on "Brooklyn Nine-Nine" in September as the hit comedy show wrapped after eight seasons.
"I'll be happy if my name is always connected to Rosa Diaz. That's an honor," Beatriz said of the fan-favorite character.
But 2021 was largely a year of fresh starts for the 40-year-old actress. Early in the summer she appeared as Carla, one of the salon ladies in the film adaptation of the Lin-Manuel Miranda musical "In the Heights." She also became a mother for the first time.
Voice acting, a skill she can trace back to when she and her sister pretended to host radio shows with a Fisher-Price tape recorder, also represents a steady aspect of her output, most recently in Netflix's acclaimed animated limited series "Maya and the Three."
A self-anointed "Disney adult"— her bachelorette party was held at Disneyland — Beatriz felt overjoyed when she was cast to voice Mirabel, the Latina heroine in the studio's 60th animated feature "Encanto," set in Colombia. Becoming part of the legacy of magical tales she grew up watching ("Sleeping Beauty" is a personal favorite), in an adventure about her father's homeland, stunned her.
"When your actual dream comes true, it's very bizarre," she said.
By phone from London, with her newborn by her side, the actress discussed finding Mirabel's voice and reminisced about her favorite animated shows growing up. Here are edited excerpts from the conversation.
You were born in Argentina to a Colombian father and a Bolivian mother, and you grew up in Texas. How do you understand your Latino identity?
I feel like an American Latino, meaning that there's stuff that I cling to that feels specifically American in my Latinidad, which is my love of Selena [Quintanilla] and of country music, because I grew up in Texas. But there's stuff that feels specifically Bolivian and Colombian, and there's stuff that feels very much my experience as an immigrant growing up here from the time I was 2. The thing that I identify with the most about Mirabel is her feeling of not belonging. That's reflective of my own identity in the United States.
In your formative years, did you feel represented in American media?
We recently did a bunch of media interviews and John Leguizamo and I were paired together. He is an icon to me and one of the first Latinos I ever saw on TV. I saw him in the filmed version of "Freak," one of his one-man shows. In that production, he talks about seeing the character Diana Morales in the play "A Chorus Line" for the first time. And so here I am watching this Latino actor talking about watching another Latino in a play and deciding that that was the moment he realized he wanted to be an artist. For me, watching him was when I realized I wanted to be one too.
Tell me about the process of finding and creating Mirabel's voice for "Encanto."
I originally thought that she should sound younger, and I was leaning into a higher pitch. But the directors pushed me toward making her sound more mature. We discussed how she's often had to take care of herself because there are so many stars in her family. It's up to her to make sure that her needs are getting taken care of, and with that comes a level of maturity. At the same time, she's playful. Unlike so many Disney heroes, she doesn't have a sidekick to guide her through the story. Mirabel sometimes is the sidekick and the therapist for her family. She uses comedy all the time. There wasn't some other character doing sight or audio jokes. It was Mirabel, and that was very freeing and fun.
You've found a career in voice performance for popular animated series such as "Bob's Burgers" and "BoJack Horseman." What do you enjoy most about this work?
Five Movies to Watch This Winter
---
Voice work is one of the only places where it really doesn't matter what you look like, meaning that you can suddenly become a toucan or a princess or a monster. Your face is not the most important part, and your imagination has no bounds. When you're in that recording booth, you close your eyes, and you follow the lead of the animators and the director. I've been very lucky in that it has been a big part of what I've done and that it was something that I could continue doing over the last two years during this global pandemic.
What excited you about voicing Chimi, a character with a traumatic past, in Jorge R. Gutiérrez's Mesoamerican-set animated epic "Maya and the Three"?
Jorge is such a giving creator. I would drop anything anytime to work with him again. There's a lot of pain in Chimi, which is something that excites me about both "Maya" and "Encanto." People underestimate the ability of children to access and understand their own emotions. We do them such a disservice when we talk down to them. We don't think of them as these incredible little minds. In their own different ways, both projects address this by saying, children are capable of naming, discussing and moving through very adult emotions, because they're just human emotions at the end of the day.
Besides the Disney classics, what cartoons were you watching on TV as a kid?
I watched a ton of stuff: "Animaniacs," the old Road Runner and Bugs Bunny cartoons. I loved Tom and Jerry, the eternal battle of good and evil. Also, the "Batman" animated series with Mark Hamill as the Joker. It was so smart and adult. That was my after-school block. But then I was also heavily influenced by "Sailor Moon," which was on TV early in the morning in Texas. My sister and I would get ready for school around 5 a.m. and I would turn on "Sailor Moon."
Given that "Encanto" features a racially diverse cast of Latino characters, I wonder what your thoughts were on the colorism controversy around "In the Heights"?
"Encanto" does an amazing job of celebrating the fact that Latinidad does not look one way. Latinos don't look all one way. The film that we made was really strong and John Chu had a beautiful vision for the film, but I absolutely understand why the casting of "In the Heights" gave the Black Latino community an issue. Colorism is real, dark-skinned Latinos aren't given leading roles. That their stories are at the forefront is so important.