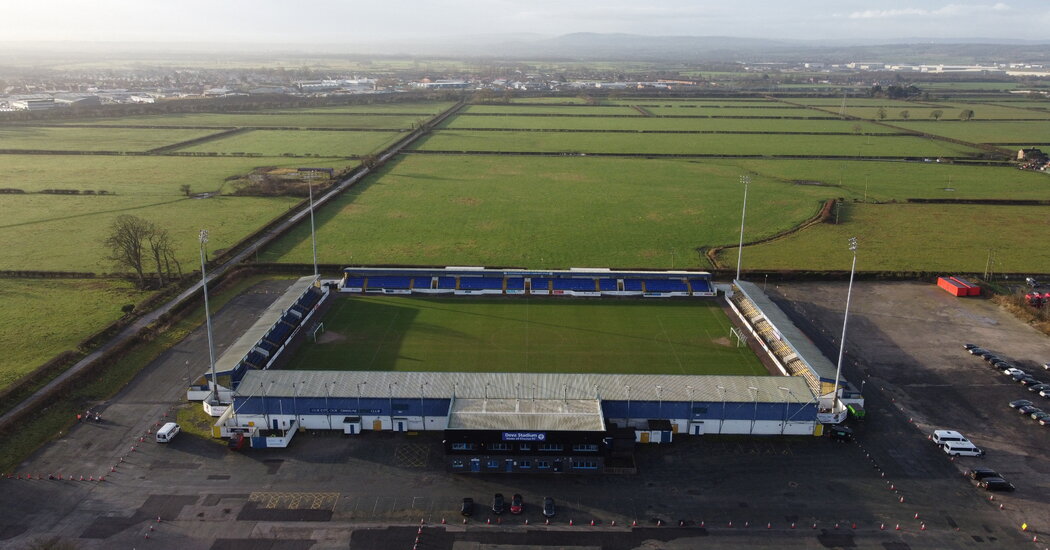 Chas Sumner has heard the quiz question in all its forms. There was the one that asked: "Which club has an international border running along the halfway line of its stadium?" Or this one: "Which soccer team gets changed in one country but plays in another?" Or: "Where can you take a corner in England, but score a goal in Wales?"
The answer to all three, Sumner knew, was Chester F.C., a one-time stalwart of English soccer's professional divisions but currently residing in its sixth tier. For 30 years, Chester, the team he served as official historian, had played at a stadium that straddled the largely nominal line separating England from Wales.
Not that it seemed especially important to anyone. The stadium's location was nothing more than a minor claim to fame and occasional inconvenience: two countries sometimes meant paperwork for two local authorities. Other than that, Sumner said, "nobody even knew exactly where the border was."
That held true until last Friday, when Chester F.C. suddenly discovered it was occupying contested territory. Summoned to a meeting with both local councils — Flintshire, in Wales, and Cheshire West, in England — and North Wales Police, Chester's executives were presented with a letter accusing them of breaking Welsh coronavirus protocols.
Chester had played twice at home over the New Year period, attracting crowds of more than 2,000 fans. That was in line with the rules in England, where lawmakers have stopped short of imposing new restrictions on public gatherings even as the Omicron variant has taken hold, but it contravened the laws in Wales, where the government introduced more stringent regulations on Dec. 26 that limited crowds at outdoor events to no more than 50 people.
Chester did not believe those changes applied in its case. "It is an English club that plays in a stadium that covers both England and Wales," said Andrew Morris, Chester's volunteer chairman. "We play in the English league, we're registered to the English Football Association, the land the stadium is built on is owned by an English council. We're subject to English governance and English policing."
The stadium itself, in fact, was designed to make that status abundantly clear. "Normally, the main stand of a stadium is built facing away from the sun," said Mark Howell, a former board member and still a volunteer at the club. "At Chester, it is right in your eyes, because they constructed the stadium to make sure the front door is in England."
To the Welsh authorities, that made no difference. "Chester Football Club's stadium is in Wales," a government representative said last week. "Therefore Welsh regulations apply."
In response, Chester postponed its match scheduled for this weekend as it sought legal advice on how to pick a way through the impasse.
It was not the first time that the divergent approaches to the pandemic adopted by the four nations that make up the United Kingdom have caused borders that had long been seen as theoretical, even after Wales, Scotland and Northern Ireland established their own parliaments in 1999, to take on a much more solid, more concrete form.
"The border never used to matter very much," said Howell, the Chester board member. "The stadium was built before devolution, so nobody even thought of it. And even afterward, it was not something anyone thought about. There were differences — people in Welsh post codes could get free prescriptions on the health service, and people in English ones could not — but it was not an issue."
Even the trivia questions about Chester were wrong, it turns out. The border does not, in fact, run along the halfway line at Deva Stadium or cut through the field. It runs through the parking lot, and cleaves the club's offices.
Over the last two years, though, the borders that thread between England, Wales and Scotland have become hugely significant. Villages that span them have, at times, found different rules in place for different parts of their populations as one country enters lockdown and another exits. Travel between constituent nations has variously been discouraged or outlawed, with the police effectively preventing freedom of movement within Britain itself.
In soccer, too, the fluidity that has long existed between the English and Welsh leagues has presented something of a problem. The four Welsh teams that play in the English league system — Cardiff City, Swansea City, Newport County and Wrexham — are continuing to play home games, but are prevented by law from doing so in front of crowds of more than 50. Fans are, though, allowed to attend their games on the road: Cardiff, for example, is expected to arrive with several thousand supporters when it plays an F.A. Cup game at Liverpool next month.
The New Saints — a team based in the town of Oswestry, a few miles inside the English border, but competing in the Welsh Premier League — has at the same time been subject to Welsh restrictions. "Legally we might be able to play," said Ian Williams, the club's chief operating officer. "But we are affiliated to the Welsh Football Association, so we choose to fall in line with all of the other clubs in our league."
It is Chester's case, though, that proved the most fraught. The Welsh government alleviated that somewhat on Friday, peeling back its coronavirus restrictions to allow capacity crowds back in stadiums starting next weekend; the immediate problem is at an end. In the longer term, though, the precedent has been set. "They are insistent we fall under Welsh law," Morris said.
Wales offered Chester payments to make up for lost ticket sales, but the club was advised accepting them could jeopardize its registration with the English F.A. Morris was relieved the stalemate was broken by the lifting of restrictions, but the stakes were high. He conceded that if they had remained in place for another month it could have "tipped the club over the edge" into financial crisis.
The consequences could even run further than that. Sumner said that he worries that "the way football is organized between the two countries now comes into question."
"It is a strange fight to pick," he said. "Nobody cared about the border before. Now this has opened a can of worms, and it could cause a lot of damage."
Morris has been conscious of that, too. He has felt, at times this week, as if "the United Kingdom might start falling apart because a sixth division football match could not take place." In talks with the local authorities, he has raised the idea of moving the border so that it encompasses all of the stadium, putting an end to Chester's geographical curiosity.
"That's not on the table," he acknowledged. "I understand why. The border runs through villages and fields all the way down. They don't want to get drawn into horse trading."
He is more hopeful that an accord with the Welsh government can be found, one that crystallizes Chester's status as an English team that just happens to have part of its "stadium footprint" in Wales. It might cost Chester its claim to fame, but it would be the sensible solution. The club that has happily existed in both England and Wales now feels it has no choice but to pick one or the other.