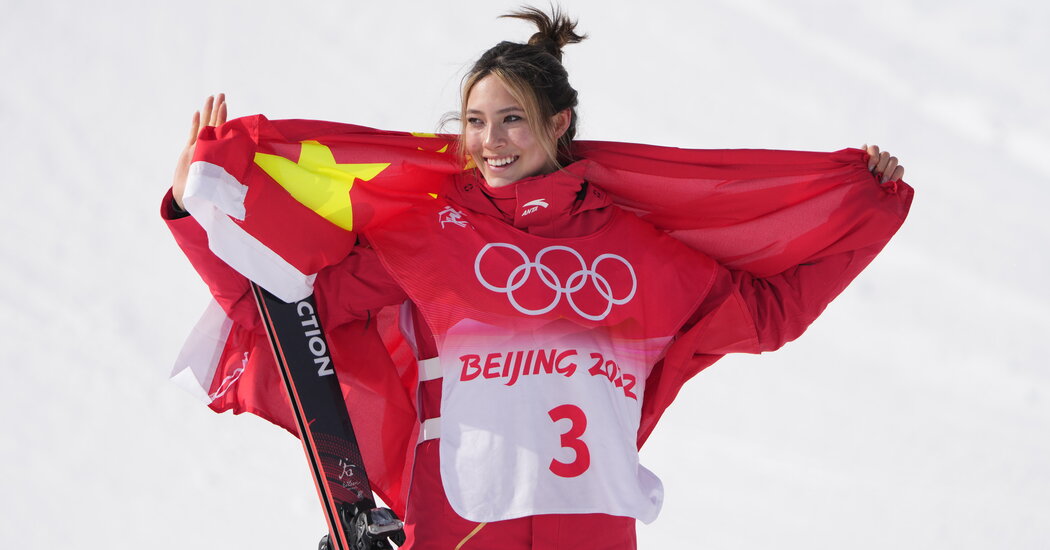 Gu landed a middling run the first time, then fell off the third rail on her second attempt. When she took her final turn, she was in eighth. She stood at the top of the course, took a series of slow, deep breaths, then plunged her hopes, and those of China, down the hill.
She hit trick after trick, including a double cork 1080 off her middle jump, reaching the finish upright and with a smile. Fans rattled the plastic clappers they had been handed — generally obeying pandemic-era instructions not to open their masked-covered mouths to cheer — and watched her every move. Phones and cameras were pointed her way.
In Gu's growing shadow, Maggie Voisin of the United States had hoped to quietly reach the podium. Still only 23, Voisin was making her third Olympic appearance. In 2014, at 15, she was at the Games in Sochi, Russia, but broke a leg in training before her competition. At the 2018 Games, she finished fourth. She arrived in China hungry for a medal, having been through a pair of debilitating knee injuries and the suicide of her brother.
Voisin wore his Army dog tag under her uniform and a smile on her face after finishing fifth.
"I'm still really, really proud of myself and what I was able to accomplish here — a fifth place among all these incredible women is a really great result," Voisin said. "I knew that it was going to be tough to crack the top three, that's for sure."
She was quick to compliment Gu, who spent a couple of years with the U.S. national team before announcing, in 2019, that she would compete for China, in part to help build the country's winter-sports market.
"That girl deserves it all," Voisin said. "I've never met anyone that works as hard as she does. She's so dedicated, so determined. I'm really, really happy for her."