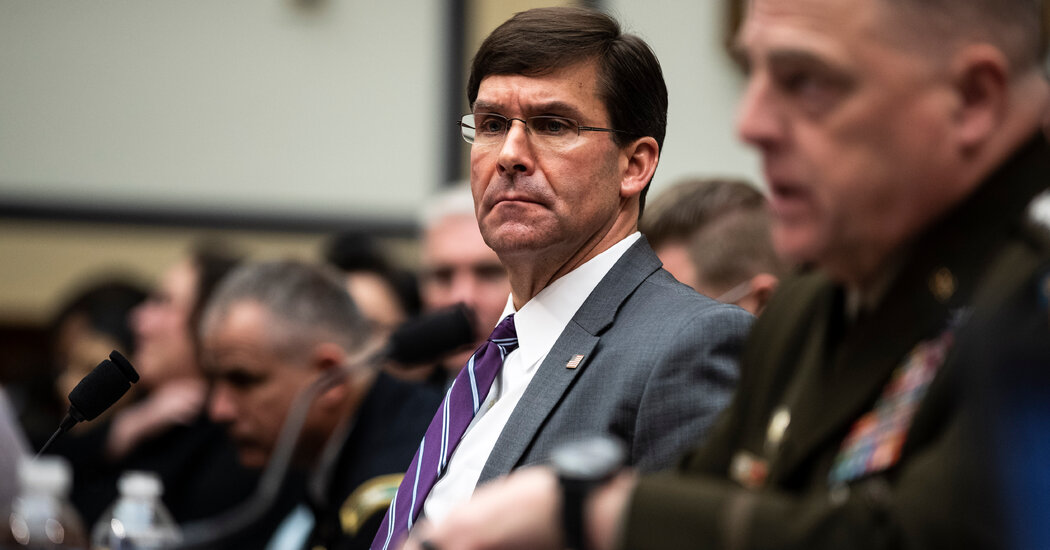 On Nov. 8, Mr. Esper emailed his successor, Defense Secretary Lloyd J. Austin III, about his concerns. When he submitted the manuscript for review in May, Mr. Esper wrote, he was confident it contained nothing that was classified or compromised national security, a view he still holds.
But when the office returned the manuscript to him last month, "multiple words, sentences and paragraphs from approximately 60 pages of the manuscript were redacted," Mr. Esper wrote. "No written explanation was offered to justify the deletions."
Mr. Esper said that in follow-up conversations, the office was not able to confirm that "the redacted items contain classified information or compromise national security."
He said that some of the redactions "asked me to not quote former President Trump and others in meetings, to not describe conversations between the former president and me, and to not use certain verbs or nouns when describing historical events."
"I was also asked to delete my views on the actions of other countries, on conversations I held with foreign officials, and regarding international events that have been widely reported," Mr. Esper continued. "Many items were already in the public domain; some were even published by D.O.D."
He said that in another redaction, defense officials sought a change to information that the department had made public in January 2020. Mr. Esper never heard back from Mr. Austin. But for a week, he asked the department to justify its redactions and edits. Instead of a justification, he received notice a week later that his amended manuscript was ready.
Mr. Esper did not identify specific aides in the prepublication office with whom he was speaking, but he described them as professional in his interactions. In his email to Mr. Austin, Mr. Esper wrote that on Nov. 5 he had discussed the review process with the defense secretary's chief of staff, Kelly Magsamen, and the department's director of administration and management, Michael B. Donley, to try to advance the process. They suggested that he sit with the unit proposing most of the redactions "to try to find compromise language."